How a group of die-hard fans banded together and saved the San Jose Earthquakes—for now
By Gary Singh
AT NOON on a warm August day last year, somewhere between 1,000 and 1,500 people jam Plaza de Cesar Chavez. They have gathered to rally round San Jose's major-league soccer franchise, the Earthquakes. This is more than just a pep rally, however. The team needs saving. Ever since January, rumors that the franchise will be sold and moved have thrown local fans into crisis mode.
Many people are decked out in vivid blue Quakes jerseys; almost everyone sports at least one article of blue clothing. Quakes fans from all over the Bay Area bash on drums, chant, scream or wave banners while San Jose City Council members approach the stage. Time Deli & Catering has contributed 1,000 free hot dogs. TV cameras abound, including one crew all the way from the BBC. Krazy George, who began his pro cheerleading career with the Quakes 30 years ago, has flown out from New York to hang for the weekend.
One fan shows off a binder filled with tickets from every single Quakes game in the 1970s. Players from that decade are in town for the team's 30th anniversary celebration, which is timed to coincide with this rally in order to raise public awareness about the plight of the team.
Colin McCarthy, founder and president of Soccer Silicon Valley, a fan-driven group created to keep the team in town, stands onstage at the podium.
"Instead of Raider Nation, it's going to be Earthquake Planet!" he shouts.
A thunderous roar erupts from the audience. McCarthy's declaration marks a major kick-start for an emotional fan effort to keep the Quakes in the Bay Area.
Brink of Destruction
The first inklings of doom came last January 2004, when Anschutz Entertainment Group (AEG), the Earthquakes' corporate investor/operator, announced that unless a new solution to the team's stadium situation emerged, it could only commit to keeping the team for the 2004 season.
The Quakes currently play their games at Spartan Stadium, but the stadium, built for the San Jose State University football team in 1933, isn't configured right for soccer and, more importantly, belongs to Spartan Shops, an auxiliary of San Jose State University—thus the Quakes don't have complete control over all the revenue streams.
One possibility, albeit a faint one, was selling the Quakes to Club America of Mexico's First Division, but that would probably mean relocating the team to Houston, Texas. Although threats and bluffs are standard operating procedure in professional sports ownership negotiations, to Quakes fans, it appeared that the buzzards were circling.
In response, seven die-hard Quakes boosters mobilized last spring to form Soccer Silicon Valley. The August rally was the high point of a long, diligent year during which these fans orchestrated a massive behind-the-scenes theater of operations to help keep the franchise here. As a result, the Quakes—seemingly a team always on the brink of destruction despite winning two championships in three years—will still play in San Jose for the 2005 season. But what happens after 2005 remains up in the air.
Know of any other instance when seven fans came out of the woodwork and saved an entire professional sports franchise? Unlikely. If the Quakes do wind up staying for the long term, one might suggest a film version of Soccer Silicon Valley's efforts, as there have been Hollywood/sports fan/romance flicks with a lot less passion than these committed fans embody. Their efforts may even change the way future fans relate to their teams.
Call to Arms
McCarthy, a sandy-haired attorney at the downtown San Jose law firm Robinson & Wood Inc., decided last January not to run for re-election as president of Club Quake, the team's official fan club. Instead, he joined together with six others to create a grassroots group hoping to find a solution for a new stadium and, eventually, a new local investment team to purchase the Quakes. The group became known as Soccer Silicon Valley (SSV).
"I tried a couple of things as Club Quake president that never really took off, because there was no imminent threat," McCarthy articulated over lunch at downtown's Flying Pig Pub.
"AEG came out and said there would have to be some sort of improvement, or they'd consider moving the franchise. ... I realized that as Club Quake president I wasn't able to do what I needed to do to keep the team here, so I didn't seek re-election and decided to branch off and form a group."
Attorney, community booster and sports fan Don Gagliardi joined McCarthy immediately. "I can't think of what I'd like to do on a Saturday night in the summer—there's nothing I enjoy more than going out to the stadium and watching the Quakes. So that really inspired me to get involved to save the team. ... I got involved when Colin gave his call to arms." Fans Jay Hipps, Mike Turco and Carol Vartuli-Marin also jumped on board.
Meanwhile, John Jussen, a fervent soccer fan whose family owns Time Deli & Catering on Bascom Avenue, decided to wage war on another front. Jussen, who grew up attending Earthquakes matches with his family when the team played in the old North American Soccer League (NASL) in the 1970s, says he wants to pass on the tradition to his own kids. He can't fathom San Jose without the Quakes. He even flew his family out to Washington, D.C., last spring to vacation and watch the Quakes play their first road match against D.C. United.
Since his two kids attend the same preschool as those of Jim Cunneen, CEO of the San Jose Silicon Valley Chamber of Commerce, Jussen went ahead and approached Cunneen after a school function last spring.
"I cornered him outside, and actually, my wife was a little embarrassed," Jussen said over the phone with a laugh. "I said, 'Hey Jim, we need to come up with a solution for the Earthquakes.' If San Jose wants to be an international city, then they should keep the Quakes because soccer is an international sport."
The resolute Jussen told Cunneen that the team had just won the 2003 championship with a Canadian coach in a game where a Danish guy scored the Quakes' first goal. He continued, and I'm paraphrasing, by informing Cunneen that San Jose has the most famous American player, Landon Donovan, and he's owned by a German team, Bayer Leverkusen, so everyone in Germany knows who we are. Teams from Mexico, Portugal and Latin America are playing here this year, for crying out loud. With a new stadium, the Quakes will put San Jose on the international map. Cunneen responded enthusiastically and said they should set up a meeting.
Jussen enlisted former NASL Quakes player, general manager and U.S. Soccer Hall of Famer Johnny Moore and brought him to that meeting to help present the case for keeping the team. They informed Cunneen that with a brand-new team-owned stadium complex, the Quakes could play host to European teams that would train here in the summer. National youth tournaments could also take place in the San Jose area. The MLS All-Star game and championship game would likewise come to San Jose.
Graphic designer and soccer journalist Jay Hipps then learned of Jussen's efforts and invited him to join the initial meeting of what was to become Soccer Silicon Valley. They all congregated in April at Britannia Arms downtown and decided over beers on the group's name.
Like Jussen, Tony Huston grew up watching the original Earthquakes in the 1970s with his parents. A big but unimposing dude with a shaved head, Huston says that when he does have kids, he wants to imbue them with the tradition.
When the relocation rumors first began circulating last January, Huston had collected about 1,000 emails to see what he could do. "I got invited down to the Brit, and we decided to get things going," he explained. "I was trying to do my own thing; Colin was trying to do his own thing; and we just all came together, which I think was kind of the best thing that ever happened."
Although McCarthy is SSV's main spokesman, he clearly conveyed that all seven members play their own significant roles, and the group's diversity quickly became its strong point.
"Everybody contributes to the process," McCarthy explained. "Everybody's got their own specialties they bring to the table. Jay Hipps is a former soccer reporter and media guy, so he's got a lot of connections and a lot of experience in public relations. Carol [Vartuli-Marin] has got a lot of corporate marketing skills and corporate presentation skills, so she's been able to bring in a lot of that. ...Tony Huston brings connections to soccer people, a business savvy and an enthusiasm that is infectious. And Don Gagliardi is the political guru."
McCarthy continued, "We all have a different perspective, a historical kind of database that we're bringing to these investors, telling them about what's going on, what [they] can do to change the situation and what are the scenarios that have to work. And we're doing that from a fan's perspective. Which is something that I think is unique. I don't think it's really been done in sports."
On a broader scale, the group's ambition has already ignited fires underneath other citizens and motivated them to change things beyond sports in their communities. Hard-core fan Dean Davidson said that SSV's efforts overwhelmingly convinced him that ordinary folks really can make a difference. "Every time I see those guys, I tell them they inspire me," he explained in a three-page-long email. "You never thought your voice could ever get heard. ... It was due to these folks that I am now active in fighting against the sprawling growth in my own Evergreen neighborhood."
Davidson has attended pro soccer matches in San Jose since 1974 and plans his family's vacations around the team's home schedule. He believes that the Quakes are a fantastic asset to the city of San Jose, as the players constantly work with the local communities and youth teams. He lauds the affordable family nature of the games and the accessibility of the players.
"My parents used to take me and we had season tickets and now I'm taking my kids," he recalled. "It seems like a tradition, it's a great family time. [The Quakes] are great role models for my kids because after a game, whether they win or lose, they sign autographs until the last kid is there. What kind of pro sport are you going to find that in? ... There is no better way to win over new fans than to be able to see your favorite player on the field and then talk with that player after a game. You can just see it in the kids' eyes! Sometimes, the players actually stop by the tailgate parties!"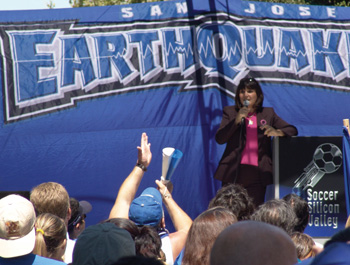 Photograph by Jay Hipps
Rally Round the Jersey: Santa Clara Mayor Pat Mahan spoke on behalf of the Quakes at the August rally; San Jose Mayor Ron Gonzales was nowhere to be found.
Play It Out
By August 2004, stories began breaking that AEG was on the verge of finally cutting a deal with Mexico City's Club America, which had every intention of moving the Quakes to Houston. Rabid fans spewed violent language in the online message boards while the doom and gloom settled in. The buzzards circled closer.
On Aug. 19, the day before Soccer Silicon Valley was to stage the downtown rally, AEG came to San Jose to break the bad news that it was indeed intending to sell the club after the 2004 season. Chief executive officer Tim Leiweke and chief operating officer Scott Blackmun met with Quakes players that morning in the Hilton San Jose & Towers, the official team hotel.
Later that morning, Leiweke and Blackmun met with Quakes GM Alexi Lalas and SSV members at the Earthquakes' offices downtown and everything suddenly changed. SSV showed up in business attire and indeed moved the mountain they intended to. They articulated their passion and persuaded AEG, a multibillion-dollar company, to officially establish a window—a Sept. 17 deadline—to let SSV attempt to find local investors to buy the club.
SSV actually got Lalas, Leiweke and Blackmun to temporarily leave the meeting to discuss the matter among themselves. After returning, AEG OKed the window and gave SSV exclusivity for that window—promising in writing that they wouldn't sell the club out from underneath them.
"We showed [AEG] what progress we had made," said McCarthy, "and they were smart, and they said, 'Look, there's been a lot of progress here and let's let it play out.'"
Jussen explained that they said to AEG, "Hey, we realize that things haven't been going great here, and we're [here to be] your source locally to get stuff done."
He continued, "[AEG were] looking at us and going, 'Wow, these guys actually care.' I think they may have been under the impression that nobody gave a crap about what was going on. ... They didn't realize, I don't think, the extent of the passion of the fans."
Putting it into the overall context of SSV's accomplishments as a whole, Huston agreed: "I think we were able to show that there is passion, and there is fan support here. We were able to show that this team can be marketed, considering everything that SSV has done with no money whatsoever, I think it made some people realize that if they really made a go at it, good things could happen here."
Staying Alive
The Aug. 20 rally proved a smashing success. Santa Clara Mayor Pat Mahan addressed the crowd. Quakes GM Alexi Lalas spoke and introduced the current team. Hall of Famer Johnny Moore took the stage and introduced the 1970s Quakes one by one.
Fans gobbled up hot dogs, waved banners and cheered while youth teams arrived in full uniform. Krazy George banged on his snare drum and screamed while TV crews infiltrated the crowd. The entire fan-organized event made the Baseball San Jose rally a few months earlier look like a Baptist old-folks social.
And to celebrate the Earthquakes' 30th anniversary, when they played against Dallas that weekend, the team wore retro throwback jerseys from the NASL days. Old-timers from the NASL played a short reunion game beforehand. And while lined up on the field, the current Quakes stunned the crowd by unfurling a long banner that read, "Keep us in San Jose"—a surprise act devised by three players: Troy Dayak, Ronnie Ecklund and Jeff Agoos. Ironically, two of those players are now no longer with the team, but the gesture drew a standing ovation.
"It just shows how much we want to stay here," Dayak said in the locker room afterward. "This is our town; this is our home. The first game in MLS history was here. We want to continue to have that history here."
The rally provided a chance for several potential investors to approach Soccer Silicon Valley, including one who wound up going public: Tony Amanpour of First Portfolio Mortgage Planners and Bankers, an Iranian-American with a taste for very expensive clothes. A lifelong soccer fanatic and a U.S. resident for 27 years, Amanpour said he had first set his sights on the Quakes franchise a few years earlier. He claimed to be spearheading an investment team who would pool their resources and take over the club. He even flew out to Dallas for the team's final 2004 road game to appear in the broadcast booth at halftime.
When Amanpour missed the Sept. 17 deadline, AEG agreed to extend it to the end of October. But by that time, Amanpour still could not mobilize his team of investors, because there was no absolute guarantee a new stadium would ever happen. He undoubtedly enjoyed his moment in the spotlight, but after two months of negotiations, SSV finally decided to part ways with him.
"He exhausted his possibilities and wanted to move to a position behind the scenes," McCarthy said.
Amanpour's offices in the Pruneyard Towers are now shut down, and his office phone is perpetually busy. He was reported to have been converting his company into one that manufactures software for mortgage businesses.
The entire sequence of events threw a significant wrench in the situation, and since AEG's talks with Club America had supposedly soured a bit, AEG finally announced on Nov. 9 that it would indeed keep the team in San Jose for the 2005 season, while looking for new investors and a stadium solution. Season tickets for 2005 went on sale that day. For SSV, the fans and the team, it was a victory, albeit a small one.
"[AEG] wants MLS to be successful, and they recognize that to be successful, you need to be in Northern California and the Bay Area," said McCarthy while wolfing down a plate of chili at the Flying Pig.
Both AEG and SSV continue to hold discussions with potential investors, but the entire situation has morphed into a quintessential chicken-and-egg scenario. An investor won't buy the team if no stadium deal is possible, and local municipalities won't work toward supplying land and building a stadium if there's no solid owner for the team.
McCarthy said, "It's which comes first—the investor or the stadium. We're trying to drive both situations as best we can and meet and marry them, play matchmaker a little bit, getting the right people together and doing that."
Tony Huston says each person in SSV has a different business background, but none of them has experience in selling a professional sports franchise and getting a stadium built.
"The whole Tony Amanpour thing was a definite learning experience," Huston admitted. "It taught us how we should be dealing with investors and the different questions we need to ask. We were a little pissed off, but we all realized that we learned a big lesson through the whole thing, which is helping us as we move forward."
Simply buying the team would only cost a few million, but the deal, in AEG's view, is directly tied to solidifying a new stadium scenario. The investor must have the capacity to sustain millions in initial losses and have a long-term vision for the sport. By AEG's estimate, a soccer stadium would cost between $60 and $70 million.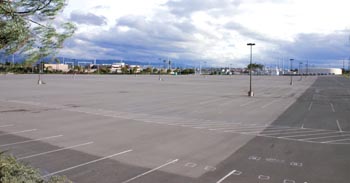 Photograph by Felipe Buitrago
Field of Dreams?: One possible site for a new stadium is the overflow parking lot at Paramount's Great America, across the way from the Santa Clara Youth Soccer Park.
Point of Contention
Formed in 1996, Major League Soccer (MLS) has 12 teams, with plans for several more expansion teams in the next decade. The league plays a 32-game season from April to November. It is the first major nationwide soccer league since the NASL, which existed from 1967 to 1984.
The worldwide soccer powers-that-be agreed to hold the World Cup in the United States in 1994 in exchange for promise that a major league would emerge again. As the league's primary investor, AEG helped launch MLS. The conglomerate currently owns five MLS teams as well as the Los Angeles Kings hockey team and five other hockey franchises in Europe. AEG first stepped into Quakes territory at the beginning of the 2002 season when it partnered with Silicon Valley Sports & Entertainment, the business and marketing arm of the San Jose Sharks. At the end of 2002, AEG became the sole operator/investor of the Quakes.
Their main beef with 70-year-old Spartan Stadium, the Quakes' current venue, is that the franchise doesn't own the stadium, so it doesn't reap all of the revenue from parking, concessions, luxury boxes and naming rights. By now, AEG also probably believes that simply remodeling Spartan is the equivalent of putting lipstick on a pig.
Instead, AEG says that the future of MLS depends on team-owned soccer-specific stadiums with capacities of between 20,000 and 30,000, like the Home Depot Center in Los Angeles and Crew Stadium in Columbus. Similar soccer stadiums are on tap for Dallas, Chicago and New York/New Jersey as well. The term, "soccer-specific," is somewhat misleading, as the stadium would also host major outdoor concerts and other events in the off-season, in order to generate further revenue for the team.
It makes sense. The Oakland A's are looking for a new place to play because they claim they can no longer make enough money sharing a stadium with the Raiders. The A's are one of only three Major League Baseball squads still sharing a stadium with an NFL team. The San Francisco 49ers have been trying for years to swing a new stadium to replace aging Candlestick/3COM/Monster Park. The San Francisco Giants have enjoyed considerable success with SBC Park, even though the team had to finance it privately.
Although the Quakes' average home attendance in 2004 was 13,001—an increase of 24 percent from the previous season—McCarthy explained that Spartan Stadium in its current state is not a satisfactory long-term answer.
"The reason why Spartan is an obstacle right now is that it's not allowing the team to be as successful at it could be," he explained. "This is a sophisticated market where you have sophisticated sports fans who know what a good venue is, and unless they're avid soccer fans, Spartan Stadium in its current formation does not allow or attract people outside of the hard-core Earthquakes soccer fans. When people talk about it as a solution, I think it is a solution but it has to be under the right circumstances."
Jussen, who sat on the citizen committee to get the San Jose Arena built, agrees. During the raucous post-rally party at Britannia Arms downtown, TV reporters hounded SSV folks, the old-time NASL Quakes players and current fans. Since much has been made of the Quakes' attendance problems in recent years, Stacey Hendler of KGO grilled Jussen about it on camera, and he huffed and puffed his way through an answer, his eyes bulging out of his head.
Recalling the interview later while raising his voice, he explained what he said to her: "The attendance problem is the stadium. ... If they get the money from their own stadium, then they'd have more money to advertise, so people like you would know how fun it is to go to Earthquakes games! If you're talking about attendance problems, it has to do with revenue. It's a revenue problem, not an attendance problem. It's mostly because they don't control the revenue."
Spartan Surroundings
Spartan Stadium is owned by Spartan Shops, an auxiliary of SJSU that calls itself a "self-supporting Campus Benefit Organization." Remodeling the stadium was originally an option, and stadium director Anne Palmer said that Spartan Shops spent about a year discussing renovation plans with AEG, although the effort never reached the point of who would control the revenues. To remodel the stadium correctly, she said, simply would have cost too much.
"The bulk of our investigation had to do with what kind of renovations we would do and estimating the cost," she explained. "Once we got the reports of what we would get for our money and estimated costs, we realized that it wasn't really a good financial model for either AEG or Spartan Shops and San Jose State University. At that point, AEG started to look at other alternatives. We never really even had a negotiation with AEG about who would get what in terms of the revenue streams. It didn't get that far because it didn't work out in the big picture enough to get to that level of detail. It wasn't like there was any horrible negotiations that caused them to go a different way. It was more about the renovation cost of the stadium, what we would get for that, and [it turned out] there wouldn't be enough income sources to pay for it regardless of who split the money."
Palmer also explained that AEG and the Quakes have always shared the revenue streams with Spartan Shops. "It's been the same way since the first year of the contract where they've always shared—for every game—in the parking, concessions and merchandise," she said.
Palmer also explained that the rental fees with AEG, which are based on a percentage of ticket revenue with a minimum and maximum, haven't changed at all since 2004. "The fee structure is the same as last year," she said. "Nothing else was requested."
Meanwhile, Soccer Silicon Valley went straight to work behind the scenes in search of a new stadium location. The group found one potential site in the overflow parking lot of Paramount's Great America, right across the way from the Santa Clara Youth Soccer Park. The land is owned by the city and leased to Paramount/Viacom. SSV submitted a "Preliminary Stadium Proposal" to the city of Santa Clara. The city evaluated AEG's term sheet, a document outlining the basic financial and operating parameters.
The Santa Clara City Council then further deliberated on the matter, with Scott Blackmun of AEG making a presentation at the council's September meeting. In the agenda report for October meeting, the council put forth some guidelines, including no use or obligation of general fund monies; no tax increase on Santa Clara residents; the name of the team must be the Santa Clara Earthquakes; Paramount/Viacom must agree with the whole thing.
At presstime, the project is "lying in state," so to speak, until a reputable investment team emerges. Soccer Silicon Valley is speaking with many potential investors, but won't say who they are.
San Francisco Mayor Gavin Newsom, who understandably wants the team to move north, also stuck his nose into the situation. Although no investor has gone public, he's still interested in finding the Quakes a San Francisco home.
And in SSV's most recent newsletter, the group says that a new city has emerged with a potential stadium site at a location they "hope to make public in the coming weeks."
"[AEG] had not had any success in getting an investor, and we at SSV through our rally, through our media outreach, and our stadium outreach, have been able to generate an interest level in this franchise that hadn't been generated before," McCarthy said. "AEG helped create the circumstances that made that possible by saying they were going to move the team."
Which makes one immediately wonder if it was all just a bluff.
Jussen doesn't think so. "They were serious," he said. "They were definitely going to either fold the team or move." If it was indeed a bluff, SSV called it and won, even if it's only a temporary win.
"With everything that's been going on over the years, the fans were getting extremely frustrated," Huston explained. "Everyone kind of felt like our voices weren't being heard. We're not happy how things are being dealt with, the turnover in the front office, people just felt like they weren't being heard. The biggest thing SSV was able to do is provide a vehicle for the fans and give them an opportunity to say 'this sucks' and 'we want to be treated properly.' A lot of the fans feel like they have a role in the process now."
"I was resigned when I heard the team was moving," fan Dean Davidson said. "I thought, 'that's it, it's gone, they're going to pull the plug.' Then these guys came out and started pushing. These guys inspired me to go out and make a difference. ... [SSV] all have day jobs but they're doing this, and, it's like, if it wasn't for them I fully believe the Quakes wouldn't be here next year. It's a long road ahead, but I'm there for the long haul."
Battle On
Even though the buzzards have drawn back somewhat, they will descend again this summer if SSV and/or AEG fail to hammer out a stadium deal. But the members of Soccer Silicon Valley remain optimistic and dedicated to the Quakes. They continue to fight, battle and scrape their way forward. They continue to infiltrate city council meetings and, in some cases, they even go door to door to help certain pro-stadium folks like Kevin Moore get elected.
"This whole thing has really taught me that if you truly believe in something and you work really hard for it, that there will be people rallying behind you to give as much support as you need," said Huston. "That's been one of the most amazing things that we've all talked about here. A lot of the fans were pissed off, but they had no way of expressing it. They saw a group come together and truly believe in what we were doing, and that made it much easier and much more fun."
What's more, now that Lamar Hunt has put the Kansas City Wizards up for sale, that MLS team is in the same situation the Quakes are in. They are in need of a new stadium and owner. Taking inspiration and direct advice from SSV, a team of hardcore fans in Kansas City just recently mobilized and are now planning to orchestrate a group based on SSV's model. It's called Heart of America Soccer Foundation. SSV sent them an entire treatise of advice, and to the fledging outfit's astonishment, SSV member Don Gagliardi even pledged to purchase a few Wizards season tickets to donate to the cause.
"The first thing we did is call Tony Huston and took it from there," explained Greg Cotton, an attorney and member of Heart of America. "We talked for 45 minutes; he gave us a bunch of pointers about interfacing with the front office, how to generate season ticket sales through youth soccer and how important that's going to be. We talked about budget and operating expense shortfalls that you never really consider when pitching the team to investor. ... His enthusiasm and his willingness to help us out was, to be honest, stunning. Just really, really generous."
"If there's one thing I'm disappointed in," McCarthy concluded, "it's that we weren't able to get a successful resolution for the Quakes sooner. Because at the end of the day, that's who you're doing this for. It's for them. This is a team that works so hard on the field and doesn't give up. ... You want to repay that. These guys are working so hard, and you want to do the same. From our aspect, we can do that as professionals in this community. We can work to help stabilize the situation for them. We knew that they all want to stay here. We tried our best, and we're still trying."
---
Send a letter to the editor about this story to letters@metronews.com.
---
[ Silicon Valley | Metroactive Home | Archives ]