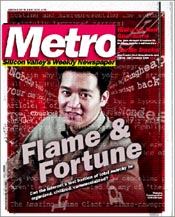 For the Week of
January 14-20, 1999
Cover: Usenet or Losenet?
Thor Iverson describes the now common tragedy of anarchy in the newsgroups. Usenet tamer Bill Lee believes his company, RemarQ, will bring order to the usenet and eventually build a real community there
News: History Lessons
Valley history buffs are taking their collections and going home in response to the new historical museum director's grand plans to make the exhibits less Eurocentric.
Saratoga: Deputies arrest teen from Saratoga for possession of pipe bombs, hazardous materials.

Cupertino: Rancho annexation: 'the rest is mere formality.'

Los Gatos: Officials get first look at feasibility report on parking garage downtown.
Laddies Night: Sundays out behind the Arena have taken on a whole new twist.

Public Eye: Leslie Nichols faces fallout from his decision to disband the grand jury.






Troupe Maneuvers: Writer Quincy Troupe makes literary and musical intersections in a new series at the SJ Museum of Art.



Europop With a Thousand Faces: Espen Lind, the Merrymakers and Cassius head a new European musical invasion.
Movin' on 'Up Up' With Ani DiFranco: Rough, cocky and vulnerable, Ani DiFranco rewards her fans' obsessions on her new album, Up Up Up Up Up Up.
New Century Moves: Stuart Canin winds up a stellar tenure with New Century Chamber Orchestra.
Audiofile: Reviews of the latest CDs by RetroMotive and various artists.



Not So 'Civil' Firm: Travolta coasts through A Civil Action.
Watery Graves: In Dreams makes too much sense.



Family Fare: Sunnyvale's Pezzella's Villa Napoli has brought great Italian food to the table for 40 years.



Please don't forget to write! Metro welcomes letters. Like any great work of art, they should be originals -- not copies of letters sent elsewhere. Include address and daytime phone (for verification purposes only). Letters may be edited for length and clarity or to correct factual inaccuracies known to us. Postal: Metro Letters, 550 S. First. St., San Jose, CA 95111. Fax: 408/298-0602. . Emailers, please include name, city of residence and phone number. Letters printed will list email address unless otherwise specified. Letters to the editor are not currently published in the online version of this paper.