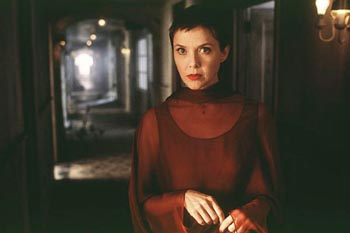 Francois Duhamel

Attic Mode: Annette Bening must clear away the literal and figurative cobwebs in Neil Jordan's 'In Dreams.'

'In Dreams' makes too much sense

IT'S KNOWN THAT if you dream of water, death is near. Daytime reveries of a drowned village fill the head of Claire Cooper (Annette Bening), an author of children's books, in Neil Jordan's latest, In Dreams. Claire's clairvoyance has made her a nervous wreck. When her airline-pilot husband, Paul (Aidan Quinn), back from the cross-Pacific run, accidentally displays evidence of an affair he had in Australia, her marriage starts to crumble. At this point, Claire's daughter is murdered, drowned in a nearby reservoir. At the bottom of the artificial lake is Claire's village, which (like Lexington, on the road between Los Gatos and Santa Cruz) was deliberately inundated when the reservoir was filled. Deprived of her child, Claire falls into apparent madness. The killer of her daughter, who is doing away with other little girls, contacts her in her dreams, describing to Claire how he will next kill her husband.

The name of Jordan (director of The Company of Wolves, The Crying Game, Interview With the Vampire and others) will be recommendation enough to see In Dreams, although what is said about dreams could also be said about this film: In Dreams is always right--and always wrong. As a performer, Bening is not very otherworldly. Her sharp gaze and firm voice make her character look crack-resistant. Claire's money also makes it seem strange that she would be confined to a cartoonishly hideous mental hospital. (It looks like Arkham Asylum, where Batman villains are sent to recoup themselves.) Quinn seems preposterously distracted, as if he were facing nothing worse than a badly unbalanced checkbook. And as the supernatural killer, Vivian Thompson, Robert Downey Jr. is out of control. His apparent ad libs injure the tension. Is Vivian a traumatized child in a man's body or a wisecracking wackadoo? Neither Jordan nor co-writer Bruce Robinson (Withnail and I) have worked it out.

The plot is a disappointment, but Jordan, like Tim Burton, saves his real interest for the series of occasions a script allows. And it is in these individual scenes that In Dreams is chilling. Fish swim over the gravestones in the cemetery; Vivian fills Claire's head with shuddery nursery rhymes. In one special moment of wild horror, Claire's child disappears during a sinister children's theater production of Snow White, leaving behind only the gauze wings of her costume, pierced and hanging on a branch. Yes, Jordan really knows how to make you feel bad. Unfortunately, these shocks are connected with dull exposition and inept cops and psychiatrists. In Dreams is the first film I've seen that could have used a rewrite to make it less logical.
---
In Dreams (R; 100 min.), directed by Neil Jordan, written by Bruce Robinson and Jordan, based on the novel 'Doll's Eyes' by Bari Wood, photographed by Darius Khondji and starring Annette Bening, Aidan Quinn and Robert Downey Jr.
---
[ San Jose | Metroactive Central | Archives ]