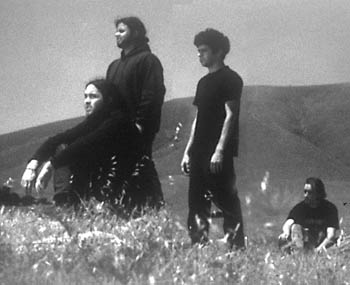 dredg sprouts new visions.

Planting Seeds

dredg debuted new songs to a full house at the Catalyst

By Sarah Quelland

IT SEEMS WHEREVER and whenever dredg has a show, there's a line out the door that doesn't let up until the opening band's time onstage is over. The Los Gatos band's Jan. 5 date at the Catalyst with A Burning Water and Sleepytime Gorilla Museum was no exception. Fans waited anxiously outside in the cold on a Monday night to get into the Santa Cruz club until the show officially sold out.

Following an astounding performance by Oakland's Sleepytime Gorilla Museum--a bizarre and intimidating group of marauders that performs clad in strange costumes and exhibits warped similarities to artists like David Bowie, Björk, Diamanda Galas and Gwar--dredg took the stage to share a number of new songs along with fan favorites from its Interscope Records debut, El Cielo, and its independently released Leitmotif, which was later given national distribution by Interscope.

It seemed as though the band could hardly wait to dive into its new material. After warming up with two dredg standards ("The Canyon Behind Her" and "Of the Room"), vocalist Gavin Hayes announced, "This is for new ears," before the band began playing a new song tentatively titled "The Tan Bark Is Hot Lava," which makes use of Hayes' eerie slide guitar playing. The song transitioned smoothly into another new one with the working title "Planting Seeds," on which Hayes marvels, "Look what I have found / A sea shell in a sea of shells."

The band sounded comfortable playing the new songs, and Hayes seemed to be loosening up and having more fun onstage. He repeatedly thanked people for listening and remarked on how talented Sleepytime Gorilla Museum was and what a privilege it was to witness them live. "We're gonna try some new songs, so hopefully you can bear with," he told the audience, adding, "We have to try some new music to see how it's going."

The new works in progress included "Spit-Shined," "The Uplifting News Channel" and "Jamais Vu," a term that means the opposite of déjà vu and is an experience that feels new even though it's been experienced many times before. The tender but devastated-sounding song has single written all over it as Hayes asks, "Is this what you wanted? / Is this what you needed to hear?" It's possible the song also provides a clue to the potential concept behind dredg's next album.

In addition to debuting the new songs, dredg rewarded listeners with Leitmotif classics "Penguins in the Desert," "Lechium" and "Yatahaze." The band also reimagined El Cielo's "Scissor Lock" by giving the song a fuzzy, distorted and electronic quality. The song saw Dino Campanella abandon his drumset to play a keyboard at the front of the stage. Meanwhile, Drew Roulette sporadically knelt down to play his bass while it was laying on the stage floor.

The increasingly experimental band plans to begin recording the follow-up to El Cielo in March, and the tentative due date for the new album is set for fall. dredg has no new dates confirmed for the area, but Sleepytime Gorilla Museum plays again Feb. 13 at Bottom of the Hill in San Francisco.

HOT TOPIC: With its Warner Music Japan release, Stand Strong, doing well in Japan, Insolence is heading to the Land of the Rising Sun to play Tokyo and Osaka as part of Sonicmania 04. To warm up, the San Jose band plays a special $2 show this Tuesday (Jan. 20) at the VooDoo Lounge in San Jose with SECURITY, Called to Ruin and Zeromind. Visit www.insolence1.com for more info. ... Reunited Bay Area thrashers Death Angel join Deftones for a concert at the Sacramento Memorial Auditorium on Jan. 21. Tickets are $27.50 in advance/$30 at the door and available through www.tickets.com. Look Death Angel's first new album in more than 10 years to come out on Nuclear Blast Records in April. Visit www.death-angel.com for updates. ... Default, Something Corporate, Switchfoot and Story of the Year play Channel 104.9's third birthday bash, held Jan. 30 at the Edge in Palo Alto. Listen to FM-104.9 to win an invitation.

PLAN AHEAD: The Feathers, Jan. 16 at the Caravan; the Paladins, Cacti Widders and the Pimpsticks, Jan. 17 at the Blank Club; the Lawrence Arms, the Ghost, Short Round and A Burning Water, Jan. 17 at the Outhouse in Los Gatos; Rich Robinson (of the Black Crowes), Jan. 21 at the Avalon in Santa Clara.
---
Send a letter to the editor about this story to letters@metronews.com.
---
[ Silicon Valley | Metroactive Home | Archives ]