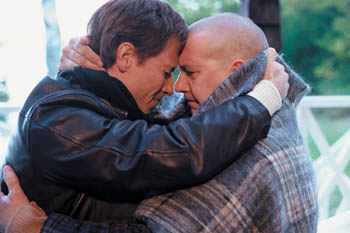 I Feel Your Pain: Because I am stuck to your forehead with Krazy Glue.

Canadian Sunset

A Quebec professor goes in style in 'The Barbarian Invasions'

By Richard von Busack

Middle-age crisis and adolescence have so much in common: the body changes, the moods swing, death always seems to beckon. Denys Arcandís The Barbarian Invasions, a sequel to his 1986 The Decline of the American Empire, is about death as the last stage of this crisis. The comedy/drama tells the story of the end of a person who never truly grew up.

If life is a suffering contest, Rémy (Rémy Girard) came in near last place. He was a well-fed Quebecois college professor, spun like a weathervane by the prevailing winds of theory. Rémy is soft and harmlessness-a man who was never in enough of a position of authority to cause trouble. He has a toothy, easy grin that recalls that other lovable self-indulger: James Gandolfini's Tony Soprano. Rémyís lack of malice complements his lack of morals.

As we saw from Decline, Arcand's droll but melancholy story of the sexual revolution, Rémy is a lifelong sensualist, a coaster who has lived for good food, good sex and good books. In the 17 years since the setting of the first film, he has never distinguished himself as a thinker. When cancer cuts short his career, his last class of history students all but yawn in his face as he leaves the school.

Presently, his residence is an awful bed in a crumbling Canadian hospital. As in his film Jesus of Montreal, Arcand shows us the hospital's Third World-like squalor. Coils of electrical wiring hang over the halls, where patients are lined up in their gurneys. The bad situation is made worst by baffling bureaucrats, and thieving, featherbedding union thugs. It is disillusioning to see that in some circumstances Canadian hospitals might be as bad as our own.

Like a Christian Scientist with appendicitis, Rémy the left-wing prof endures, saying that he voted for socialized medicine and now he'll face the consequences. Fortunately, Rémy is rescued by his estranged son, Sébastien (Stéphane Rousseau), a businessman who immigrated to London, where he earns more than 12 times Rémy's salary.

Sébastien is a fixer, wise in the way of a well-placed bribe. Soon, Rémy enjoys a private room and is as much back to his comfortable life as a man with terminal cancer can be. His mistresses return for a series of wine and cheese soirees; he flirts with them, propped up in bed. The dying man has a stash of illegal heroin, reputedly stronger than his pain medication. The needles are brought by an intriguing young addict: a kind of angel of death, named Nathalie (the hypnotic Marie-Josée Croze, who played the troubled sister in Atom Egoyan's Ararat).

The Barbarian Invasions, which starts very realistically, grows more fanciful when Rémy leaves the hospital turning into an Epicurean's fantasy of the perfect death at a Canadian lakeside. As he lies dying, Rémy is surrounded by friends who somehow untangle themselves from their work, their spouses and their children long enough to hang around for a drink and a chat.

The women from Decline have given up exercising and let themselves get plump. The gay member of the gang, Claude (Yves Jacques), has settled into a nice sinecure in Italy. In the evening, they lounge around wrapped in blankets on the verandah of a cabin and pick up the rhythms of the conversations they held long ago. Once, they wept over hypocrisy and infidelity and conducted hair-splitting discussions of politics. Now they couldn't care less. Settled and sated, theyíre beyond illusions about themselves and what they need. All, particularly the dying man among them, are at peace.

What Arcand means by the Barbarians of the title is a race of people who can't read--by implication America, with its endless hustling and maneuvering. The theme doesn't quite fit; the title is less apt than The Decline of the American Empire, where we saw how the self-indulgence was a response to the end of their ideals. Like the Chekhov characters they resembled, Arcand's Montreal ditherers exhausted themselves on affairs because of their political impotence.

At his death, Rémy's key achievement is merely living through the change from the walled-up arch-Catholic Quebec of his youth to the anything-goes present--thus the brief but on-the-topic detour to a basement where all the worthless relics of Quebec's churches are kept, wrapped in plastic, tended by an elderly priest (Gilles Pelletier). The old father canít figure out why the worshippers all went away for good, right in the middle of the year 1966.

So here's a warning: Anyone who hates baby boomers and everything they stand for could not find a more harrowing cinematic experience, and I mean not even at The Big Chill. On the other hand, those who cherish the idealism of that age will find this one charming, irascible film. Rémy surrenders to the embrace of capitalism in the same way, once upon a time, a profane old lecher might have expired in the arms of a priest. It isn't the political principles that comfort Rémy at last; it is the pleasure he takes in sex and reading, in personal freedom and good conversation. Those pleasures are what linked this jolly, silly man to eternity.
---
The Barbarian Invasions (R; 99 min.), directed and written by Denys Arcand, photographed by Guy Dufaux and starring Rémy Girard, plays at selected theaters.
---
---
Send a letter to the editor about this story to letters@metronews.com.
---
[ Silicon Valley | Metroactive Home | Archives ]