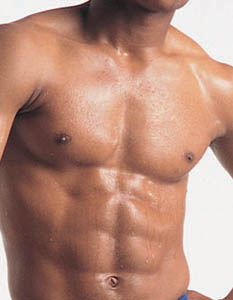 Biter

Men's Club

Nickel Spa treats men like women ... and women like pink bunnies

By Gordon Young

DESPITE BEING of Scottish and Dutch descent, and thus one of the whitest people in the world, I'm part of a select minority when I visit the newly opened Nickel Spa in San Francisco's Castro. I'm straight.

Nickel, which started in the "fashionable" (i.e., gay) Le Marais section of Paris before setting up shop in New York's "trendy" (i.e., very gay) Chelsea neighborhood, advertises itself as the country's only men-only spa. No women allowed, unless they're hired help. The goal is to attract a clientele that's at least 20 percent heterosexual. So far, I'm the first.

Publicity for the new spa is being handled by Marie-Laure Fournier, a linguistically flamboyant French woman. "Nickel products prepare the man for all aspects of his life," she tells me. "The party ... the sex . ..the hangover."

Standing in the lobby of the spa, she enthusiastically details the various scrubs, waxings, massages, balms and unguents to help men deal with life's holy trinity. I sample the Lendemain de Fete, a facial "shock treatment" with caffeine, green coffee and menthol. It's all tingly and costs $40 for a 2.6-ounce tube. Maybe there's a bit too much menthol, because I start to tear up as we run through the rest of the extensive product line. So extensive, in fact, that I lose track of what's supposed to exfoliate and what's supposed to invigorate.

I do distinctly remember the Mauvais Poil shaving gel ($15, 4.22 ounces), which Marie-Laure promises is "very stimulating" and loaded with ginger extracts. And not just any ginger extracts. The press kit claims the ginger is "believed to be from the Garden of Eden in the Middle Ages." Hadn't God closed paradise to the general public long before the medieval period? No matter, Marie-Laure pops the cap and quickly fires a stream of the blue-green gel across the spa, narrowly missing a kill shot to my forehead. "Oh God, I couldn't control it!" she screams.

The cream has touched down on the left man-breast of a shirtless model featured in a larger-than-life poster adorning the wall behind me. I grab some tissue to clean up the mess and happen to make eye contact with a well-groomed man glancing into the spa as he walks down the street. The sight of me, tears running down my face, buffing lather off the hairless pectoral of the poster model is too much for him. He quickly looks away in disgust.

"It sure smells good," I offer.

"As a woman, I am in love with a man who smells like that," Marie-Laure exclaims. "So sexy ... wow! Brings out the beast in me. She comes out. Or he comes out. I don't know the gender of my beast."

Eventually, the spa general manager, Eric Ruimy, joins the tour. He points to a cobalt-blue door off the main reception area. "The blue door is the transition from everyday life to what we like to call the Nickel zone," he says. "No women are allowed beyond the blue door except masseuses and aestheticians."

I am shown a "signature" stainless-steel sink in the locker room. "The spa is actually set up to have a submarine feel," Eric explains. "It's very, very masculine."

"That's right, you won't see any ...," Marie-Laure pauses for the perfect word, "any pink bunnies coming out of this locker room."

Eric offers me a forced smile. There is an awkward silence. "Let me show you our eight treatment rooms," he says.

I learn that "nickel" is French slang for spotless, and the spa does have a medicinal cleanliness about it. "We take cleanliness very seriously," Eric says. "Nickel is Ferrari boutique clean." This time it's Marie-Laure's turn to give me a look of incomprehension.

Finally, my hands still sticky with everything from pistachio extract to oxygenated corn oil, my face tingling with nalidone and hot pepper, I retreat to one of the treatment rooms for a massage. Marie-Laure wishes me luck. "Your body will be relaxed into its proper place," she calls out as she waves goodbye.
---
Send a letter to the editor about this story to letters@metronews.com.
---
[ Silicon Valley | Metroactive Home | Archives ]