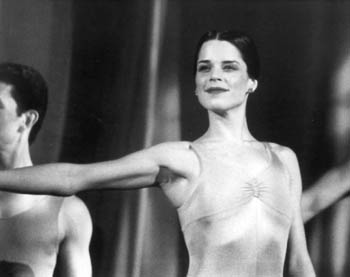 Photograph by Matt Dinerstein

Stepping Out: Long hours of practice pay off for Ry (Neve Campbell) in 'The Company.'

Party of One

Neve Campbell steps forward as a ballet dancer in Robert Altman's 'The Company'

By Richard von Busack

TAKE A MUSICAL and fill it with airy romance, backstage heartbreak or mistaken-identity plot--or, instead, do what Robert Altman has done and fill it with glancing sketches of a ballet company--and at heart, any musical is essentially basically marvelous routines knitted together with filler. Altman's The Company concerns a lead dancer and follows the ins and out of a single season. Malcolm McDowell plays the head of the company. He seems based on the similarly gruff Paul Taylor.

Certain milestones are observed, even if we can't read the writing on them, so to speak. We see both the bachelorette party and the wedding of a dancer we don't really know. Christmas and New Year's Eve come and go. A lead ballet dancer, Neve Campbell's Ry, short for Ryan, starts a romance with a sous-chef.

The rest of her troupe--the real-life Joffrey Ballet of Chicago--become about as indistinct as the chorus in an old Hollywood musical. Except, that is, when they're dancing. Altman's innovation comes in really stressing, without words, that a professional dancer's life consists of almost nothing but dance--nothing, that is, besides discipline, short wages and the potential for injuries.

Campbell was at her best in the movie Panic, where she played the troubled girlfriend of a reluctant Mafia hit man. She has a moment where she tells her psychiatrist about a lesbian tryst. Seeing that the story isn't shocking her doctor, she decides to change the subject, finishing off the anecdote abruptly with "and then we were off to the races."

Despite that particular instance, it's easy to dismiss Campbell. She displays city-bred intelligence, impatience and orneriness, but in most of her roles she's been like Lili Taylor for lightweights. The fact that she played a girl called "Salinger" in TV's Party of Five says it all. Isn't that like seeing a movie about a Cape buffalo hunter named "Hemingway?"

When dancing, however, Campbell is a different creature. Who knows what kind of ordeal it was to get back in shape after some 10 years away from the ballet. And she's a dramatic presence, particularly outfitted as a Spanish dancer, her hair scraped back, with red, red lipstick on that too-firm, intimidating mouth.

Barbara Turner's script (co-written with Campbell) is a set of incidents that connects the bits between the nine ballet numbers. Except for the Ice Capades-like fantasia at the end, all the dances are things of beauty. Particularly haunting is the excerpt from the MOMIX production of White Widow, an Angelo Badalamenti/David Lynch/Julee Cruise piece, performed by a dancer on a swing, gowned in a long skirt, spinning under pale white-blue light and snowflake-shaped shadows.

Ry's theme is "My Funny Valentine," performed here in versions by everyone from Elvis Costello to Lee Wiley; this reflects Campbell's pas de deux with the Joffrey's Domingo Rubio, with choreography by Lar Lubovitch. The piece is staged outside in a concert shell at a Chicago park. The sequence depicts a woman swayed by the force of her emotions, malleable in the hands of her lover. It's scored to a piercingly sweet version of "My Funny Valentine."

Altman contrasts the passion onstage with a thunderstorm brewing. First the weather pelts the stage with dead leaves. Then it distracts the audience with the initial heavy raindrops, and it's uncertain which will arrive first: the finale or the deluge. The scene has tension you never expect from a dance film. And this scene stresses how much concentration a dancer must have, without dumping myth on top of them.

Still, as a character Ry hardly exists. Turner, who cooked up heavy-handed tales of the music world in her script for the 1995 film Georgia, comes through again with only the most standard backdrops. Ry has the requisite needling stage mother who drinks too much. She has sores on her feet, and the usual el train rattling away outside her window. This old train seems all the more borrowed after seeing that Ry owns a very expensive bathtub in her studio apartment, a prop that suggests she could afford a better place to live.

But the moment that reveals Altman's craft shows in Ry's courtship with Josh (a strangely subdued James Franco, who usually has a little more devil in him). The couple communicates via pantomime, signaling to each other across the floor of the noisy dance bar where Ry works as a cocktail waitress. In the morning after their first night together, Ry and Josh make breakfast as a team in her kitchen.

While the camera work in this scene is a little stilted, too heavily italicizing what we're watching, we get the idea. This intimacy tells us everything without words: all is still new and tentative between the lovers, and yet all has gone well so far. In having a romance in which the communication is done with gestures, we have throughout in The Company the sense of artists whose lives are woven inseparably with their art.
---
The Company (PG-13; 112 min.), directed by Robert Altman, written by Barbara Turner and Neve Campbell, photographed by Andrew Dunn and starring Campbell opens Friday at selected theaters.
---
---
Send a letter to the editor about this story to letters@metronews.com.
---
[ Silicon Valley | Metroactive Home | Archives ]