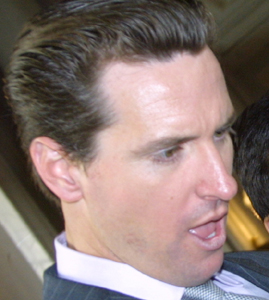 Newsom.

The Fly

Class Clowns

Mayor Newsom, we have a problem. We didn't want to believe those rumors about your college days at Santa Clara University, where you supposedly kept a tanning bed in your dorm room and had an appetite for debutantes. So we attended your inauguration in San Francisco last week in the misguided belief we'd actually get a few minutes face time with you. Instead, we were forced to endure the informative yet long-winded speech by actor Ed Asner. We were then herded through metal detectors with a thousand other people on our way to greet you in your City Hall office, standing in line for nearly an hour until you passed us with your entourage to attend the swearing-in ceremony of new District Attorney Kamala Harris. That's where we ran into two guys you saluted as you passed us. They claimed the three of you were the outfield of the '89 Bronco baseball team. That's fishy, we said, because you never showed up on any of the varsity rosters even though you supposedly had a partial scholarship. What's up with that, we asked the two guys, who identified themselves as Tim O'keeff and Terrence O'boyle. They said they didn't know about the rosters but that you played left field and were fast but couldn't bat too well. We asked them if you ever hit a game-winning homer or anything noteworthy, and they said no. About the only heroic thing you ever did was save one of them from choking on a peanut. Choking on peanuts isn't too funny and neither is fibbing to reporters. According to an SCU spokesperson, neither a Tim O'Keeff nor a Terrence O'Boyle ever played varsity ball for the Broncos. So what gives, Mayor Newsom? We're suspicious because the San Francisco Chronicle leapt over your college days in an in-depth December profile. And it raises alarm bells when friends of yours go to great lengths to lie about your past. We promise not to ask you whether you smoked pot--you've already dodged that question from reporters. But we are curious whether you got blitzed on the senior Booze Cruise, played hackeysack at Reggae Sunsplash or tuned out at Bronco Bust. Take it from another former baseball player who has been in the news lately, Mayor Newsom. As Pete Rose might tell you, you can't run from your past forever.

Soccer, The Sport

The Fly was amazed to see San Jose Magazine editor and publisher Gilbert Sangari insult last year's Major League Soccer champions, our very own San Jose Earthquakes, in his column this month. Failing as a spokesman for our city, Sangari coughed up this uninformed passage under the headline "A City Jinxed": "San Jose is now officially the 10th largest city in the nation. It is also the only city in the top ten that has only one professional sports team. Our San Jose Sharks are beloved, but doesn't the tenth largest city deserve to be a big league town in more ways than one?" It sure does. Not only is soccer undeniably the world's most popular "professional" sport, the Quakes also happen to have one of the greatest players, Landon Donovan, America has ever produced. The Redlands native has been featured on the cover of Sports Illustrated, appeared on David Letterman's show and earns a six-figure payckeck--all the trappings of major-league success. While they definitely don't pump up San Jose's economy like the Sharks, the Quakes recently won their second professional championship in three years. They are easily the most accomplished professional sports franchise this city has seen in its 226-year history. They've put San Jose on the international map--much more than the Sharks have. Sangari should have been able to remember the Earthquakes moniker--its heritage dates back to 1974 for crying out loud. Maybe Quake fans should change their motto from "We Believe" to "Pretend the ball is Gilbert."

Muslim Spin Doctors

One of the still-quiet claims to fame of the Bay Area is that, in a post-9/11 world, it's become one of the nascent planting grounds for authentic Muslim scholarship in the nation--scholarship that's uncompromisingly traditional, not scholarship that filters through patterns set by Western university religious-studies departments. Indeed, after the destruction of the World Trade Center, San Jose State University grad Hamza Yusuf, whose Zaytuna Institute in Hayward serves as a sort of madrassah of the West, made the obligatory rounds of the national news media to assure the public that Muslims weren't out to kill Americans. While the mainstream media, not atypically, lost interest after the expected initial flurry of surface-level coverage, Zaytuna and Yusuf were far from done. Last summer they convinced Berkeley-born Zaid Shakir, another American Muslim scholar of high national repute, to leave his Connecticut community for the Bay Area to teach at Zaytuna. Both Yusuf and Shakir have capitalized on the more curious media from places like Canada and England to keep debate going beyond the idiosyncratic interest of the American media. And just this weekend, Fly witnessed Zaytuna (in conjunction with the South Bay Islamic Association in San Jose and the Rumi Bookstore in Fremont) raise $50,000 for the Brooklyn-based imam Siraj Wahhaj at a Newark restaurant. Wahhaj was the subject of a Wall Street Journal profile two months ago painting him as preaching "self-help and militancy," a description traditionalists reject.

Documenting a Double Take

It isn't often that a piece of art causes tangible change, change you can feel or touch. However, a trip to Hewlett-Packard's website, after a few difficult minutes of searching, reveals the Palo Alto company's latest efforts at social responsibility. The corporate initiative focuses on environmentally and socially aware standards for HP suppliers, which now include health, safety, labor and human rights concerns. More than 80 percent of HP's products are produced through "alliances and partnerships" (read: outsourcing). The new code of conduct, according to one knowledgeable observer, is "remarkably comprehensive ... but implemented in different ways by different company divisions--but [there are] no real mechanisms to enforce it." Just another corporation trying for good press through an unveiling of social responsibility, you ask cynically? (HP could use good press. It's been shamed since at least the first Gulf War, when it was revealed HP was selling technology to Saddam's Iraqi Atomic Energy Commission in spite of Saddam's well-documented human-rights indiscretions.) Well maybe. But not so fast. There's more to this initiative than meets the eye. Word has it that the new standards come as a result of Secrets of Silicon Valley, the 2001 documentary on the haves and have-nots of this area's "new economy." HP's official line on the matter is that the new standards are a continuation of policy that's always been a part of the corporation's mission. "Most definitely, Secrets of Silicon Valley was an external trigger, but those are just external events that happen each year that support our position," explains an HP rep. Directed by Berkeley-based filmmakers Alan Snitow and Deborah Kaufman, the documentary followed the struggles of a passionate young Indian-American who made parts for HP through temp agency Manpower. The worker complained about the quality of the air at his job site, which he claimed caused breathing problems. He was fired but eventually won his wrongful-termination complaint at the labor board. HP (and Manpower) huffily dismissed the film after it screened, but now it appears aesthetics just might have pulled a fast one.
---
Send a letter to the editor about this story to letters@metronews.com.
---
[ Silicon Valley | Metroactive Home | Archives ]