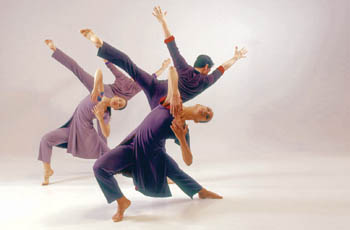 Re-Creating Psalm: A scene from José Limón's 'Psalm'

Grace Under Fire

The José Limón Dance Company brings two of the famed Mexican-American choreographer's most renowned works to San Jose

By Marianne Messina

MEXICAN-BORN José Limón was a 21-year-old art student in New York, out on the town, when he saw sensational Austrian dancer Harald Kreutzberg perform. Kreutzberg had a mercurial, Gothic, ambisexual intensity, radically outré in the 1929 dance world, where male dancers generally played gallant hoists to female leads. Limón dropped his painting career and became a dancer.

During his career, Limón choreographed male characters who were neither pristine nor gilded. "You think about José's characters," says Carl Maxwell, artistic director of the Limón Dance Company. "They all have worked with their hands. The warrior ... his sword is his right arm--there's nothing soft about him."

They are often men who live by the sweat of their brow, and the roles Limón created (male or female) bring up the sweat quite literally. His late work The Unsung (1970), performed without music, oozes exertion through the sounds of landing bodies and of dancers taking in air. "You'll feel it--the effort," Maxwell explains. "There are very strenuous solos." The Unsung will be performed as part of a Limón Dance Company show at the Mexican Heritage Plaza Theater on Jan. 23.

Limón's flirtation with the force of gravity resulted in a choreography full of impressive suspensions and dramatic falls and recoveries. But the spark of Limón's male characters goes beyond brute physicality. His pairings--Jesus/Judas Iscariot (Traitor. 1954), Othello/Iago (The Moor's Pavane, 1949)--undergo the complex emotional torsion of relationships crammed with power and frailty, warped passion and nobility.

Limón was drawn to epic themes and heroes, as well as to narrative. And in the 1960s, he started taking flak for not getting with the abstract program: movement for movement's sake. Even with its abstract elements, The Unsung re-creates an epic event, a convocation of great Native American chiefs--Sitting Bull, Tecumseh, Osceola. "[Limón] calls the opening section of that dance 'The Pantheon,' or the meeting of the gods," Maxwell explains. "You have the sense that these chiefs have come from everywhere ... and then each one is left to tell the story of what has happened in his place, what was lost. Or invoking those elements that you don't want to be lost."

Both The Unsung and Psalm (1967) grapple with a persistent theme of Limón's: the interplay between individual and community (when Maxwell reconstructed the works, she premiered them in San Jose). Psalm asks how the outcast or martyr evolves from those whose burden he carries. At Limón's death in 1972, Psalm still hadn't come together. "There was something," according to Maxwell, "that wasn't solved with it."

And she never felt quite prepared to reproduce the piece until she discovered composer Jon Magnussen. (Impressed with the results, Maxwell later hooked Magnussen up with Donald McKayle, whose Angelitos Negros is also part of the upcoming Limón Dance Company program.) "Jon really helped me solve the end of the dance to the proper resolution," Maxwell says. "We see [the soloist] intimately as a reflection of what's happening to the entire community. And at the end ... he's being put into the crucible. ... It's one of the most beautiful marriages of music and dance."

In spite of the martyr references and the fire images that Maxwell finds in Psalm, she doesn't see the final image as horrific. "To me that image of putting someone in a crucible is like when you fire a pot to make it immortal. It's also like the birth of a planet or a star."

The Limón Company's one-day performance will not leave out women, romance and song. In addition to the McKayle piece, Maxwell will complement all that masculine pith with Adam Hoagland's Phantasy Quintet. "Adam's piece is very romantic and beautiful," Maxwell says.
---
The Limón Dance Company performs Friday (Jan. 23) at 8pm at the Mexican Heritage Plaza Theater, 1700 Alum Rock Ave., San Jose. Tickets are $25. (800.642.8482)
---
---
Send a letter to the editor about this story to letters@metronews.com.
---
[ Silicon Valley | Metroactive Home | Archives ]