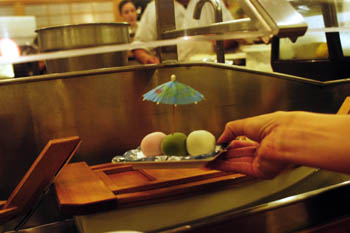 Photograph by Paul Myers

Dango Good!: Rice-flour balls filled with sweet red-bean paste round out dinner at Kazoo Sushi Boat.

Buoyed by Sushi

Cruise on in to Kazoo, where delicious sushi, sashimi or teriyaki guarantees smooth sailing

By Joseph Izzo Jr.

THE FIRST KAZOO opened many years ago along the misty streets of San Jose's Japantown. The family-oriented restaurant served authentic sushi dishes in a cozy environment. In the early '90s, Kazoo spread its good fortune to the corner of Hamilton and Winchester, effectively exporting its patented warmth to a spacious strip mall next door to Charles Schwab.

If you're looking for muted lighting and romantic shadows in which to hide, avoid Kazoo. This is a very bright environment, with overhead fixtures in many shapes and forms casting beams on all patrons at all times. As a result, this place possesses an energy that encourages socializing among its diverse clientele. A big-screen television stands like a monolith in the far section of the room and is watched--or was the evening we visited--by just about everybody.

A conveyor system linking platoons of small wooden boats sits at the center of the room. Transporting payloads of delicious sushi, the boats circle a kitchen alive with eager young chefs who cleave and mold and shape all manner of sushi. Glistening and beautifully composed creations, with sauces and without, moved past our eyes in a ceaseless slow-moving parade. The chefs are fun to watch as they perform their many chores. The bill is figured by how many plates a patron nabs from the circling boats.

We quickly got underway with a six-piece plate of California roll (about $4), which we dipped in soy sauce doused with wasabi. Even before we could finish our first selection, we hastily grabbed a plate of beef tataki ($7.50), a house specialty of rare slices of tender beef infused with garlic and draped over rice blimps.

Though many selections are made ahead and lashed to the boats, special requests can be crafted to order, as were our rolls of fresh tuna in toasted seaweed and ocean-sweet octopus placed over vinegared rice blimps. We also had the kitchen assemble a variety of sashimi--tuna, yellowtail, salmon and snapper--cut in thick, moist slices and served decoratively over shreds of snowy daikon. Each mouth-melting morsel had a texture of silk and a flavor that blew across the palate like an ocean spray.

Kazoo is more than just a sushi bar with a maritime gimmick, however. There exists another kitchen to the front of the restaurant equipped with stoves and deep fryers. Here our teriyaki chicken ($9.25) was prepared in a honey-hued sauce that was thick and sweet (and not at all congealed) against the juicy rectangles of chicken. Ebi (or shrimp) tempura ($10.50) wore a blond greaseless batter that struck the teeth in quick resounding crunches. Yams and green peppers in similar batter accompanied the shrimp.

In addition, we sampled wonderful desserts highlighted by dango ($2.75), sweet balls of rice flour filled with red-bean paste. I put several in my pocket, and when I got home, I followed the chef's instructions and heated them for seven seconds in the microwave prior to popping them in my mouth. Wow!

Kazoo qualifies as a family-style restaurant in all the important respects. To my left and right, I saw mothers and fathers and their children awaiting the treats that sailed by their wide, curious eyes, and the kids' delight was obvious. I saw a little boy in a red ball cap try to capsize one of the boats, and nobody seemed to mind. The chefs just smiled at his antics.

The serving staff caters wholeheartedly to these young citizens, who packed the seats in great numbers that Wednesday evening. Kazoo earns no esoteric status. Access to the boats is easy. Getting out when done is also easy. The bill comes fast, but not furiously. Though traditional sushi is turned out in flawless condition, the chefs hail the new age with innovations that appeal to the eye and the palate--and the child.
---
Kazoo Sushi Boat
Address: 10 E. Hamilton Ave., Campbell
Phone: 408.871.1250
Hours: Lunch 11:30am-2pm Mon-Fri; dinner 5-9:30pm Mon-Fri, 5-9pm Sun
Cuisine: Japanese/sushi
Price Range: $3-$15.95
---
---
Send a letter to the editor about this story to letters@metronews.com.
---
[ Silicon Valley | Metroactive Home | Archives ]