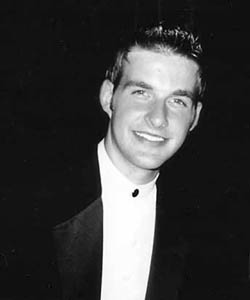 The Tao of Tay: Taylor Eigsti outgrows the child-prodigy tag.

Jazzy Sensation

Jazz legends David Brubeck and Diana Krall know who Taylor Eigsti is. You will, too.

By Yoshi Kato

WHILE SOME have a red-leather Michael Jackson jacket or bad New Wave haircut that haunts their past, 18-year-old jazz piano phenomenon Taylor Eigsti doesn't have any such fashion horrors in his closet. Being interviewed at his home in Menlo Park five years ago, when he was a rapidly rising star on the local scene, he sported a Michael Richards "Kramer" T-shirt and a pair of Stanford basketball shorts.

Fast-forward to 2003. Eigsti looks on this particular afternoon like he could be the good-natured bassist of a punk-pop trio or the lead guitarist of an emo outfit. He shows up wearing a leather jacket and orange Nike T-shirt and sporting a semi-bedhead hairstyle, a pair of earrings and lower facial hair. With his casual style and progressive musical philosophy, it's easy to see him introducing jazz to a wider and younger audience.

Eigsti is home after his freshman semester at USC studying music. The gifted pianist and Radiohead fan entered the undergraduate life with a remarkable four albums to his name, including a live one recorded at the prestigious Filoli Gardens in Woodside and a studio one on the respected Japanese label D.I.W. His dazzling yet deeply felt playing has firmed up his reputation as an established Bay Area musician. He has led his own trios with bassist John Shifflett and drummer Jason Lewis on myriad occasions, including club, amphitheater and festival performances.

"I want to be able to bring my music to a lot of people, but I want to be able to do that without losing any integrity," Eigsti says. While at school, he's been pondering the directions of popular forms such as rock and hip-hop and trying to figure out how to incorporate and improvise on other musical styles. He says he's also been considering interpreting songs by Jennifer Lopez and Bob Dylan.

Over the next two months, he'll have five gigs in locales as far north as Napa and as far south as Los Gatos. First up is a pair of sets Sunday afternoon at San Jose's Hyatt Saint Claire. The show is part of the San Jose Jazz Society's (SJJS) Palm Room Sunday Jazz series, which runs through March 30.

"We're going to be doing a lot of different stuff. It's going to be exciting, because I want to do some new material we haven't been doing before, some music I've been writing at school," he says, "It's like a comfortable blanket or an old pillow to play with Jason and John, because to this day, they're still my favorite rhythm section."

Both the SJJS and the Palo Alto Jazz Alliance (PAJA) helped establish Eigsti as a young performer, presenting him in trio and all-star settings. Established artists and pianists David Brubeck, Diane Schurr, Diana Krall and David Benoit have already sung his praises, and he signed a multialbum deal with the fledgling Beverly Hills­based Bop City label. Combining a classical keyboarding fluency with deep bluesy, hard-bop roots, he continually connects a deep empathy with the source material with technical skills to realize his inspirations.

It's been quite a journey for the young man who first opened for David Benoit at age 8. His highest-profile upcoming gig is on Feb. 8 at the Koffman Auditorium in Alameda. He'll be part of the Alameda Education Foundation's Gala Benefit, performing bassist-trombonist-sometime-triomate Chris Brubeck's symphonic and vocal composition "River of Song" with Michael Morgan and the East Bay Symphony and soloist Frederica von Stade. As for his parallel journey from Bay Area child prodigy to Artist as a Young Man, he notes that "anytime you change emotionally, it's inevitable that you'll change musically.

"And college, of course, has been a big change. That's reflected in the different approach I'm trying to take that's rooted in jazz but is going in a lot of different directions."

Considering his age and how far he's come in such a short time, tracking Eigsti's change will be an amazing thing to witness. The line for the bandwagon begins here.
---
Taylor Eigsti performs at 3 and 5pm on Sunday (Jan. 19) at the Hyatt Sainte Claire Hotel, Market and San Carlos streets, San Jose. Tickets are $15/$10 for SJJS members and available at the door.
---
---
Send a letter to the editor about this story to letters@metronews.com.
---
[ Silicon Valley | Metroactive Home | Archives ]