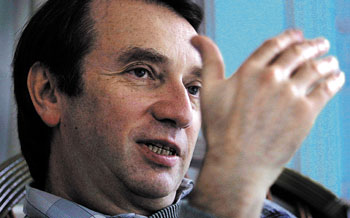 Photograph by Paul Myers

Silence of the Jams

Is it possible that to get out of its decade-long rut the San Jose Symphony had to destroy itself?

By Allie Gottlieb

THE SAN JOSE SYMPHONY could have picked any number of better times to stop playing. The symphony's seemingly sudden midseason halt came this past October, when people were already depressed. The virtual reality of Silicon Valley and the national economy had melted. Thousands of people had been murdered in New York just a month before. The nation had gone into seclusion.

Music, one would think, could help during times like these. But no, according to the symphony's dejected-sounding phone message (which greeted calls as of Jan. 4 but has since been replaced by a less emotional one), the unfriendly economy and the Sept. 11 tragedy had pushed the venerable orchestra over the edge.

Former board members, musicians and other longtime symphony supporters say the reasons given to callers aren't the half of it. And, indeed, the question of what really killed the oldest symphony in the West, which was founded in 1879, garners blame aplenty. Depending on whom you ask, it was a weak board of directors, too much Russian programming, a musically illiterate string of executive directors, an unsupportive community and the burden of playing second fiddle to San Francisco's symphony.

What no one seems to be asking in the analyses of what went wrong, however, is a basic question suggested by the experiences of other cities and acknowledged by some local symphony boosters. Does San Jose even need a symphony? And if so, does it have to resemble the one it lost?

According to well-known local PR flak Dan Orloff, who fields press calls for the symphony, it "would have been prudent" to shut down and rethink the symphony earlier than last October.

Symphony violist and musician spokesperson Kristen Linfante offers a similar take. "It was astonishing," she says, "that we got by this long."

Indeed, the warning signs had been looming for at least four years. In 1997, consultant Bruce Coppock produced a report for the Community Foundation of Silicon Valley that concluded, "The organization currently finds itself in what can only be described as a desperate situation, one which is unsustainable without immediate intervention."

Noting that the organization's finances were in "a deep crisis" and that the absence of an endowment rendered the symphony "highly fragile," the consultant noted, "In many ways, it is remarkable that the organization is still in business."

The consultant urged the symphony to add big donors to the board, discard the existing labor contract when it expired, eliminate its chronic structural operating deficit, articulate a vision to the community, improve communication between the conductor and the musicians and replace top management. To what degree these suggestions were acted upon is tough to determine, given the secrecy that has shrouded the financial operations of the fiscally challenged community-supported nonprofit.

All Together Now: San Jose, as it turns out, is not alone in its symphony woes.

Funeral March
When it came time to pull the trigger, the symphony's demise went like this. On Oct. 18, interim chief executive officer Dick Gourley suspended the symphony's 56-concert season and asked the 32-member San Jose Symphony Board of Directors to resign. On Oct. 27, Gourley, interim financial director Curtis Dudnick and Michael McSweeney, who had chaired the now-defunct board, laid off the symphony's 89 musicians and its 30-person staff. Also idled was the symphony's high-profile conductor, Leonid Grin, who was hired with considerable fanfare almost 10 years ago.
The nine-member Transition Executive Committee, led by former Mercury News publisher Jay Harris, formed to act as an interim board and held its first meeting on Dec. 8 to figure out what went wrong and reconstitute the symphony. The committee then solicited help from an advisory board expected to include 14 members, some of whom were named on Jan. 8.
The advisory board ostensibly represents the valley's ethnic and geographic diversity; its arts and entertainment community; and businesses and social sectors of Santa Clara County and its neighbors to the north. Members include Maribel Alvarez, founder and former executive director of MACLA; symphony musician and drum-shop owner Galen Lemmon; and the Packard Foundation's Nancy Glaze.
Symphony leaders made some initial noise about reopening as early as February or March, but the transition committee is now backing away from such optimistic time commitments. According to a press statement by Harris, the committee intends to share its findings with the public as soon as its research is complete.
"We will ... report our overall findings to the public at a time and in a manner that is consistent with our goal of restoring trust and confidence in the San Jose Symphony which will move forward with new leadership at the staff and board level," Harris stated.
Meanwhile, there has been an audible and lingering community outcry over the symphony's closure. Subscribers, who didn't know what was going on until it was too late to toss in a life preserver, feel jilted. "Never once did [the board] say to the community, we're running out of money, we need help," contends District 6 San Jose Councilmember Ken Yeager.
Yeager, a five-season ticket holder, says he noticed "all the empty seats" at performances and wondered why the symphony wasn't in crisis mode. "If they knew this a year ago, or two years ago, that was the time to say something," Yeager says.
What Went Wrong
Linfante boils down one common perspective. "The board did not hold its own in terms of contributed income and fundraising," she explains. "The budget increased inappropriately with the spending that was going on."
Recent revelations from the transition committee back up Linfante's opinion. In a Jan. 10 press statement, the committee accused unspecified symphony officials of "improperly" using $1.7 million donated by four sources whose identities weren't released.
The money was meant to be saved for a proposed symphony hall and its education center. Instead, the board used it to extend the orchestra's existence by diverting it to cover operating costs and collaterize loans.
The committee also disclosed that symphony officials used $77,000 belonging to the San Jose Youth Symphony, an action the committee's press statement called "particularly deplorable and morally indefensible."
"Indeed, it seems quite likely that had these actions not been taken the symphony would have been forced to suspend operations months or even years earlier," according to the committee's press statement.
As the statement makes clear, the financial problems were underway before the board had a chance to use these particular funds. As its annual budget expanded from $3.3 million a decade ago to $7.8 million in 2001, its deficit grew to an estimated $2.5 million, jumping from about $1.6 million just one year earlier. Right now, the blame for this financial mess is all over the map.
The San Jose Symphony's last three 990 tax forms, which nonprofits file annually with the state's attorney general's office and the IRS, reveal that the organization lost money during the peak of Silicon Valley's economic boom. In the mid-to-late-'90s, the board succeeded in boosting its top line. The funds it raised swelled from the $2 million to the $4 million range. But in 1999, revenue fell again, and at the same time, expenses rose.
The financial forms also show that the symphony's funds came mainly in small gifts from individuals rather than large chunks from deep pockets. That shows broad support for the symphony, but also indicates that the organization had no single large donor to fall back on even in a valley full of high-tech multimillionaires. Ironically, the symphony lost money while performing for corporate donors at its CEO Night in 1999.
On the other hand, the symphony also increased its programming. Tim Beswick, the symphony's interim administrator, has pointed to an increase in the number of performances by some of the musicians. Linfante also blames salary expenses for jacking up the budget. But she says it was the pay for guest artists that didn't earn the "bang for the buck."
Several symphony supporters suggest that the organization was overambitious. "Perhaps there were too many concert dates," says consultant Orloff. According to Association of California Symphony Orchestra's executive director Kris Sinclair, "Maybe there was too much product." Former symphony board chair Doug McLendon declares, "Obviously, you can't support a $7.5 million orchestra. In my estimation, the symphony needs to be a smaller size." Summing up, he notes, "A symphony is an art form, but it's also a business."
As far as conductor Leonid Grin is concerned, the root issue is that people need to stop being complacent and go to his shows. "This is a wake-up call to the community to support all the arts," Grin says. "The community should learn that they should not be asleep. The community should be more proud. People should [get] more involved in the city's programs."
Grin is still under contract to the symphony, although his $150,000 salary has been suspended for the duration. Grin says he doesn't know if the symphony's future will include him: "I'm not involved in meetings or decision-making." He says that for the time being, he keeps busy by studying music and literature. He has upcoming performances with other orchestras planned in the United States, Hong Kong and Germany.
Intermission
Ultimately, the San Jose Symphony could not raise enough money from its supporters to survive. This fact raises the question "Should it even exist?" For most arts and culture lovers, this question is extremely irritating.
"I don't think you have to justify the arts," says McLendon.
ACSO's Sinclair believes San Jose needs a symphony, "because we want to be civilized."
Sinclair says that using empty performance hall seats to call into question the need for the symphony is too simplistic. Perhaps the significance of having an orchestra comes not just from direct use but from what it represents for a community: for instance, a city's constant reaching to expand, to be complete, to represent all the metropolitan options.
Other symphony supporters attempt to define what actually attending concerts means. "There's nothing that sounds like a symphony orchestra," says Wally Malone, president of the symphony's union, the American Federation of Musicians Local 153. "It's a large group of people all performing as one. Until you've heard it, it's hard to know how that makes you feel."
Longtime season ticket holder Delores Dike echoes Malone's sentiments. "There is nothing like a live performance. The seeing as well as the hearing is important."
Dike, a 61-year-old Santa Clara resident, says she loved Grin's programming and thinks that the symphony improved under his watch. She and her husband would show up to concerts early for the tune-up sessions, which she said included preperformance talks by musicians and composers.
Dike also pointed out that her support of the symphony reaches beyond her own direct enjoyment of it. "It's not cheap to go to the symphony," Dike says. "One of the reasons we [did] it is because we believe in supporting the music, as well as wanting to be there."
General-admission season tickets ranged in price from $48 to $562 depending on the series. Despite the cost, a chorus of symphony supporters shares Dike's dedication to "supporting the music." An often-stated explanation for this commitment sounds like this: the symphony is part of the cultural fabric underlying a city. Or at least a world-class city, which San Jose has invested tens of millions of dollars to become.
"There's been no serious debate as to whether we should have a symphony," says transition consultant Orloff. "It's been what kind of symphony."
Rebirthing Options
There is more than one option for any new version of the San Jose Symphony. For one thing, board members and creditors could accept that it will never be a moneymaker, and budget, invest and program accordingly.
San Jose's symphony does not mark the first death by overgrowth in the industry. In the last two decades, Sacramento and Oakland both lost orchestras. They were supplanted by smaller orchestras. The replacements, the Oakland East Bay Symphony and the Sacramento Philharmonic, are completely different entities than their larger predecessors, according to music director Michael Morgan, who splits his time between them.
Morgan is all business when he talks about the way to remake a symphony whose budget is overextended. Morgan says that cash-strapped symphonies can, for instance, choose between laying off musicians or cutting the season short. "You have to figure out the maximum number of services that you can get for the musicians and the maximum salaries," Morgan explains. "Then you have to balance that against what the market will bear."
But that's not all. Morgan adds, "You also have to make sure that the fundamentals are in place--that the community is capable of supporting the services, that the board is capable of paying what it promises to the musicians and that the underlying artistic product is good. If any of those things aren't true, it's going to collapse."
Some members of the transitional team have doubted the need to shut the symphony down even temporarily. But everyone agrees it was time to do something. Violist Linfante, like others involved in the effort to rebuild the symphony, is absolutely devoted to starting it up again.
For now, it seems, the 123-year-old institution is suspended uncertainly in death's waiting room. This is a chance for reflection. "I think the organization had to get to a point where it could relook [at] everything," observes interim chief Dick Gourley.
"I think the reason it will work is because we all know that this is really our only chance," said Linfante. "It has to work now."
[ Silicon Valley | Metroactive Home | Archives ]