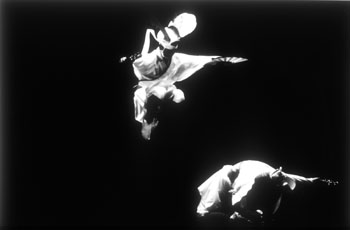 Flying High Again: Akita's mighty Warabi-za returns to the South Bay.

This Farming Life

Through its lively performances, Warabi-za preserves--and updates--Japan's folk traditions

By Todd Inoue

IT'S BEEN FIVE YEARS since Warabi-za visited the South Bay on its inaugural American tour. Those expecting a serious, sedate evening of traditional bon odori dancing or Noh theater were checking their tickets the minute the curtains parted. The stage blossomed into a joyous blur of activity as Warabi-za blended elements of taiko drumming, athletic dance and musicals into a spirit-lifting display of everyday life in rural Japan.

"One of the strongest memories that I had was in San Jose," remembers performer Yuko Maruyama, through an interpreter. "Everyone immediately connected, and it was easy to reach everyone's hearts. They were so kind and hospitable to us."

Warabi-za is a 50-year-old theater group based in the Tazawako Art Village, a combination resort and creative-arts center in the Akita Prefecture of northern Japan. The organization is made up of five touring companies that perform more than 1,000 times a year, including 250 performances in its home theater.

Just like taiko giants Kodo, core Warabi-za members live communally. They share rooms, chores and cooking duties, and practice and study together. Michelle Fujii, a San Jose Taiko member, is training with Warabi-za, learning Japanese minyo singing, shamisen and koto. She's been living among the performers since April 2001.

"It's like a minicommunity where everybody knows each other and takes care of each other," Fujii says. "There isn't as much privacy, but it gives me a very comfortable feeling that I am surrounded by people who care about me, know my name, understand that I have major handicaps here."

A Warabi-za performance incorporates the old with the new. Its dance numbers are rooted in Japanese folk tradition but arranged for the contemporary stage. A shamisen solo reaches David Helfgott proportions. There are no stars--just energy, chemistry and fluid movement. Veteran performer and choreographer Kenji Osakake says the touring show is a compilation of pieces, each depicting various activities of people's lives.

"The audience will see a variety of Japanese dances," explains Osakake, through an interpreter. "The dances are 'old,' but they are still living. These dances are deeply connected to a human's life."

The youthful and playful Bamba Mai is a dance dedicated to the elderly. Bon Mai is about challenge and potential. Dancers balance one plate on each hand and dare themselves to go as fast or as long as they can.

Artistic director Shohei Kikuchi says that Okiage, a working dance about fishermen, is the troupe's most popular piece.

"It shows how working together can be a lot of fun," says Kikuchi. "From building a road together or getting fish, everyone worked together to get the job done successfully. It may have been painful or hard, but there is a sense of satisfaction in working as a team. This idea is very important for life now."

"Anybody seeing the dance can understand the actions--going out to sea, pulling the ropes, hoisting the sail," Osakake adds. "It shows the power of how everyone can work together and help each other out.

Taro Hara founded Warabi-za in 1951. Its original goal was to offer diversion and entertainment while the people of Tokyo picked up the remnants of their lives after World War II. Hara would play folk songs on the accordion while the other two members would sing and dance for the people who had lost practically everything during the war.

In 1953, Warabi-za moved to Tazawako Town in Akita Prefecture, a folk song stronghold. Once the company had moved to this new setting, Warabi-za dedicated itself to preserving the local traditions through education and performance.

In 1974, Warabi-za built its own 650-seat theater. The complex has grown to include museums, a folk arts research center, a hot springs resort and brewery, attracting thousands of visitors and students every year.

Warabi-za began touring internationally in 1989 and has performed in Asia, Europe and the Americas. The significance of the Sept. 11 tragedy and the upcoming American tour isn't lost on Warabi-Za.

"The status of America has changed since the last tour," says Maruyama. "This past year was very difficult for Americans. Going to America, I feel a much stronger and deeper purpose to perform."
---
Warabi-Za performs Friday (Jan. 18) at 8pm at San Jose Civic Auditorium, 145 W. San Carlos St., San Jose. Admission is $25-$30 (Ticketweb). Info: 408.293.9344 and www.taiko.org.
---
[ Silicon Valley | Metroactive Home | Archives ]