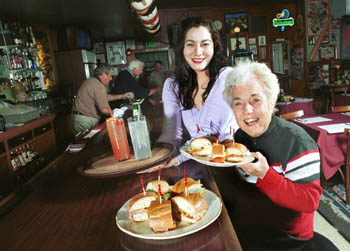 Photograph by Goerge Sakkestad

Cabin Favor: Servers Samantha d'Abo and Joannie Gomez are on a first-name basis with many of the customers at Sam's Log Cabin on Willow Street.

At Sam's, I Am

Good value, an abalone sandwich and megamemories live on at Sam's Log Cabin

By Joseph Izzo Jr.

THE LAST TIME I wrote about Sam's Log Cabin was back in 1987--February 22, to be exact--and I'd come for one of those legendary abalone sandwiches. It cost $6.57, I reported at the time, and was a simple construction of sautéed abalone slammed between pieces of toasted and buttered bread. You can still have it today, but not for six bucks.

Try $35 or more, depending on the market--which is a strange and curious thing these days. Availability, licensing woes and those dern otters keep abalone a precious commodity, and so rare, it's nearly out of reach. You can still get one at the Log Cabin, but you have to call ahead.

But Sam's is more than just a place for a rare and delicious sandwich. What I've discovered and rediscovered, over and over again (especially last year at a dinner for the Friends of Sam Butera, Louis Prima's crooning sax player), is that Sam's Log Cabin is a landmark of rare historical significance with a life and character all its own.

It opened in 1933, the second year of Roosevelt's presidency, the same year the citizens of San Jose lynched Harold Thurmond and Jack Holmes in St. James Park. It was the Great Depression.

The interior of Sam's documents the early days and more, presenting a mind-boggling festoon of memorabilia dating way back to the beginning. Black and white photographs dot the walls as a testament to its 67 consecutive years in business. Pictures of old-time wrestlers and football players and baseball icons like Joe DiMaggio stare down at the timbered quarters from their picture frames. With great interest, I walked through the old wooden rooms looking at all the curios and trinkets displayed there as if in a museum.

In a showcase I saw the original off-sale liquor license bought for $25 by then owner Sam Gibino Sr. The neighborhood at the time was called Goosetown and populated by mostly Italian families.

This last visit, my buddy drove me over in his '31 Model A Ford and parked in the lot next to a metal-flake blue Harley. We entered through the back, which is really the front, and walked through the kitchen into the bar where Dave Gonzales, the manager, was talking football with a couple of bikers. It was a great scene. I quickly grabbed a stool and ordered a martini.

Wherever you sit in Sam's Log Cabin is the perfect place to hear the endless chatter about old San Jose and its cast of colorful characters. One friend told me about the time he asked one of Sam's bartenders for a mint julep. "We don't make 'em," he said, "but if you want some mint, follow me." And that, Bob Russell did--down the street to the bartender's backyard, where the man picked sprigs fresh from the plant, then told him the particulars of the recipe. There's always something going on here, from the morning until the wee hours, or as Gonzales informed me, "... until whenever." Reunions of all categories, live jazz, Dixieland, special dinners and other sundry events are frequently offered. They're a lot of fun and I recommend you get on the mailing list.

As for the food, it's not what I'd call a priority here, but it's pretty good for hearty lunch-style grub--sandwiches, steaks, homemade beans, daily specials, things like that. The spaghetti and meatballs we had on the night of Sam Butera's dinner was reminiscent of those Sunday feeds I used to have at my Aunt Josephine's. Sandwiches come with choice of fries, or potato or macaroni salad, which I prefer over the mundane fries. Both are creamy and pickle-sweet--like diners used to serve--and scooped onto the plate in large amounts atop oversized lettuce.

While chatting with Gonzales that Saturday we had a calamari sandwich ($9) and a coulotte steak ($8.50). The calamari--encased in an egg-style batter and pan-fried--is, in essence, a poor man's abalone sandwich, and one I recommend if your budget is stretched. Though flavors are different--like night and day for those who've eaten abalone--textures are somewhat similar--firm and succulent all at once.

The surprise was the coulotte steak. It was thick and juicy and broiled to a rosy pink at dead center. It came in a pool of garlic-infused mushroom sauce with roasted potatoes on the side. It was a wonderful dish and, at $8.50, a bargain.

It's always a pleasure to rediscover Sam's. Coming here has always been an adventure that has altered my point of view--in one way or the other, for better or for worse. Never have I gone away from this historic landmark near the corner of Willow and Almaden without my imagination piqued to a fever and my eyes wide open, sprung like shutters. I'm looking forward to hearing that Dixieland band--which, I am told, is comprised of local musicians who actually live nearby in the neighborhood. If not music, then how about a nice afternoon chat with one of the veterans? Hear something new about old San Jose.
---
Sam's Log Cabin
Address: 245 Willow St., San Jose
Phone: 408.298.3066
Hours: Open 10am daily until whenever most nights of the week
Cuisine: Lunch style
Price Range: $3.50-$35
---
[ San Jose | Metroactive Central | Archives ]