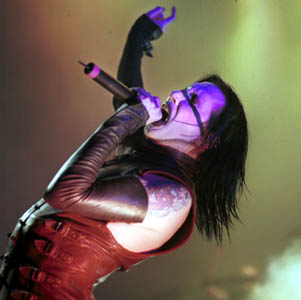 Apathy for the Devil
Marilyn Manson's polished performance at SJSU Event Center was all flash and little fire
By Sarah Quelland
Photographs by George Sakkestad
Marilyn Manson is a constantly evolving artistic unit. Through the years, its image and music have become more refined, and so have its live performances. While past concerts roiled with the very real threat of raw rock & roll rebellion, the most recent one (Jan. 10 at the SJSU Event Center) was as polished as a Broadway production. For a band built on wildly unpredictable stage antics, that's not necessarily a positive development.
The problem isn't that Marilyn Manson's concert was good. It's that it was too good. It lacked the rough, spontaneous dynamic of danger and chaos that used to make the band's shows so fascinating. People go to rock shows for a heightened sensory experience. Fans want to be transported to a place they can't reach by recorded music alone. They pay money to breathe the same air as their heroes and hope to be part of something special--something transcendental. A canned show doesn't live up to those high expectations, and the clever tricks and trappings can't fill the void.
Marilyn Manson has always been a theatrical, visually stimulating band. During its formative years in Florida, it was notorious for throwing bloody chicken entrails into the crowd. Manson himself was prone to cutting himself with broken glass, the proof of those self-mutilating acts permanently scarred across his chest.
Elaborate costumes and scorching pyrotechnics have become Manson staples, and at the ambitious Antichrist Superstar tour stop at the Warfield in 1996, a blizzard of suffocating soapy white snow flurried over the adoring crowd. It's interesting that this stripped-down Guns, God and Government tour, which is stopping at more intimate venues than, say the Cow Palace (where the Rock Is Dead tour was held in 1999), came across as more slickly produced than past tours.
Marilyn Manson is one of the most brilliant figures in modern music. His savvy ability to manipulate public opinion, stir up controversy and push people's buttons is admirable, as is his ability to intelligently maintain his quiet composure in the harsh face of opposition.
His very specific doctrine, which lashes out against hypocrisy, seems genuine, and his honesty has earned him a loyal following composed of kindred spirits that stray in from all over the age and lifestyle spectrum. Perhaps most remarkable is Manson's proven ability to script himself into the role of a rock & roll star, fulfilling the firm desire expressed in "Lunchbox" (from 1994's Portrait of an American Family): "I wanna grow up, I wanna be a big rock & roll star/I wanna grow up, I wanna be, so no one fucks with me."
His boldest album yet, Holy Wood: In the Shadow of the Valley of Death, features smart, provocative lyrics set to an aggressive industrial soundtrack. That's why I'm not questioning Manson's songwriting skills or ripping apart his intriguing philosophies. My gripe is solely in the performance itself.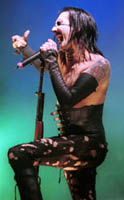 Manson has set a high standard for himself. While people expect straightforward, by-the-book performances from some bands, they expect more from Manson. As a fan who's seen Manson many times before, I left this concert feeling disappointed and realized that the strange blasé feeling I had inside was apathy. I wasn't moved by the live experience and would have probably felt just as satisfied (or unsatisfied) watching a Marilyn Manson concert special on TV. The show was flawlessly average, and it seemed like Manson was just going through the motions. It was just another night on the job.
The plain white curtain concealing the stage had about as much style as a old bed sheet a panicked parent turns into a ghost costume for their would-be trick-or-treater minutes before dusk falls on Halloween. Manson's shadow loomed behind the fabric with his arms inside huge wings that made him look like a giant bat, before the band launched into "Irresponsible Hate Anthem."
Since it only brought one opening band (Godhead), Marilyn Manson performed almost 20 songs from its increasing repertoire. In addition to cuts from the new album ("The Death Song," "Disposable Teens," "The Fight Song," "Cruci-Fiction In Space," "Burning Flag," "The Love Song," "Valentine's Day" and "The Nobodies"), the band fit in favorites from Mechanical Animals ("Great Big White World," "Rock Is Dead" and "The Dope Show") and Antichrist Superstar ("Tourniquet" and "The Beautiful People").
It also performed its sinister cover of the Eurythmics' "Sweet Dreams (Are Made of This)" and dusted off a few old gems from Portrait.... Particularly surprising was the "Organ Grinder/Lunchbox" medley. "Organ Grinder" is an unusual choice, likely revived for this tour since it vaguely ties in with Holy Wood's evolution theme with the twisted lyrics "I had a little monkey, I sent him to the country and I fed him on gingerbread/Along came a choo-choo, knocked my monkey cuckoo, and now my monkey's dead." The band also revisited one of its early trademark anthems, "Cake and Sodomy."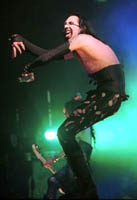 Though the impressive lineup--bassist Twiggy Ramirez, keyboardist Madonna Wayne Gacy (a.k.a. Pogo), drummer Ginger Fish and guitarist John 5--was in top form, one could just imagine Manson's invisible mental cue cards: "Here's where I put on the spidery stilt costume and lasciviously manhandle Twiggy." "Here's where I pull down my pants and simulate sodomy with the microphone." There was nothing shocking about the performance. The most compelling figure on the stage was a psychotic Pogo perched dangerously over the others, maniacally bouncing around his spring-mounted keyboard.
When it was time for the encore, the band exited the stage and returned to perform Antichrist Superstar's solipsistic "The Reflecting God" before leaving again. The stage was still dark as Manson's cover of "Suicide Is Painless" (from the Blair Witch 2 soundtrack) played on overhead speakers, suggesting that the band would come back for another song. Perhaps the absent "Get Your Gunn," "Antichrist Superstar" or "I Don't Like the Drugs (But the Drugs Like Me)."
But without further ado, the bright lights of the Event Center came on, signifying that it was time to exit the building. By the time the crowd of about 4,500 realized the show was over, it was too late to cheer and everyone wandered out into the cold night looking baffled by the band's abrupt departure.
[ San Jose | Metroactive Central | Archives ]