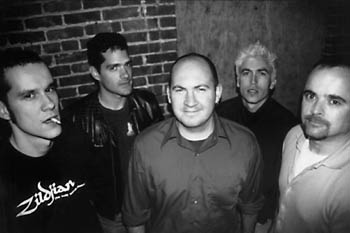 Cats in the Hat Tricks: East Bay-bred Samiam has calmly withstood lineup and label challenges through more than a decade.

Off the Beaten Path

Samiam transcended label woes to go 'Astray' for its latest album

By Marianne Messina

IN THE MID-'90S, the band Samiam was banned from Berkeley's 924 Gilman Street club, landmark birthplace of Green Day, and not for throwing garbage at the crowd (which they had been known to do in their early days, more than a decade ago). The transgression was far more grievous in the punk world: they had "sold out." Whether that meant overindulging in melody, or steadily drifting away from the production sounds of Bad Religion's Brett Gurewitz or simply signing with a major label, it was enough for the Gilman to yank the welcome mat on the Berkeley-bred crew.

"I have felt alienated around here the last couple of years," the band's singer/lyricist Jason Beebout said of the East Bay scene in '98, just after release of Samiam's fifth record, You Are Freaking Me Out. By then, Atlantic Records, the label that landed them in the punk doghouse in '95, had cut them off, and for two years You Are Freaking Me Out--originally recorded for Atlantic--sat in stasis.

When enough time had lapsed for Atlantic to relegate You Are Freaking Me Out to the bargain basement, the band was able to buy it themselves and sell it to Ignition Records, which went belly up a few short months later, just as the band's first single, "She Found You," triumphantly barnstormed commercial radio.

Samiam seems to plod on through adversity like Robocop, as if they're nine-tenths cybercomponents that just don't know any better. For a while the Samiam drum throne had a trap door, dropping drummers out of Samiam and into big touring acts like Beck and Elliot Smith. And the band lost bassist Aaron Rubin a month before touring with You Are Freaking Me Out. They've also had to work around the fact that current bassist Sean Kennerly lives in New York. "After a while we're just like, 'Oh, well, gotta go with the flow," says guitarist James Brogan in his sleepy way.

The band's new video for "Mud Hill" is getting a lot of airplay on MTV-Europe, and the large venues booked for February's 30-day European headlining tour shows they've gone big in Europe. But Brogan looks at that with the same full-restraint emotion he applies to the bad breaks. "We're going to just take this a step at a time. It's been 12 years. We're just trying to see where we're at in our careers."

When you hear the new CD, Astray, you understand immediately why these guys hit the emotional snooze button whenever adversity strikes. Whether the beat is the punk-friendly dexy-gallop or a more down-tempo pop thing, guitars come out full-tilt; thick, in-your-face and charismatic. Beebout lyricizes like no punk would write home about. "You're not as small as they would like you to believe," he sings in his lost-lamb alterna voice. "Believe what you say," he belts out a choked-up chorus. The emotion this band hoards away from the business end of things is all there, in each of 12 very different and potent songs, riding on the subsonic Samiam mantra: Labels come and labels go, but music's where the heart is.
---
Samiam plays as part of the Grand Fanali Presents 2001: A Rock Odyssey series on Saturday, Jan. 20, at 8pm at the Cactus Club, 417 S. First St, San Jose. Wunder Years, Uncle Lucifer and Touched by a Janitor are also on the bill. Tickets are $8. All ages. (408.491.9300)
---
[ San Jose | Metroactive Central | Archives ]