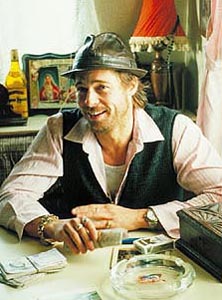 More Than a Passing Brad: Brad Pitt keeps on boxing in 'Snatch.'





Boxed In

Thieves, thugs and fighters jockey for riches in Guy Ritchie's 'Snatch'

By Richard von Busack

IN A WHIRLING TALL TALE of a heist film, a group of Cockney maniacs contend for an 86-carat diamond (played, apparently, by a window crystal bauble from the Camden Lock open-air market). Snatch offers a similar story, then, to director Guy Ritchie's previous film, Lock, Stock and Two Smoking Barrels.

In that film, the contended-for item was a rare hunting gun. The difference between the two is technique. Ritchie, the talented half of the Madonna/Ritchie marriage, has learned a lot about digital photography and editing. The formerly pretentious use of the pixilated camera in everything from The Matrix to Requiem for a Dream finally comes into its own in Snatch. With this flash-story-telling, a kind of cinematic hypertext, Ritchie can load up the histories and misdeeds of what seems like a whole city of criminals.

At first, the twin plots of Snatch don't seem linked. The other subject is illegal bare-knuckle boxing, controlled by a murderous promoter called Brick Top (Alan Ford). Something as valuable and unlucky as the stolen diamond enters the world of these boxing matches. That something is a new fighter, Mickey O'Neill, played by Brad Pitt as a Gypsy Popeye with a lethal punch.

Pitt's O'Neill sports an incomprehensible accent (almost a parody of the Belfast gargle Pitt used in The Devil's Own). The only coherent line Pitt delivers comes when he shuts up an interrogator: "Save yer breath to cool yer parridge."

Pitt does a kind of takeoff of his boxing matches in The Fight Club, but I'm not worried that Pitt will go the way of Mickey Rourke into more and more bare-knuckle roles. Unlike Rourke, Pitt really seems to be enjoying himself; for once, he seems unconscious of the effect he's making (who thought you'd ever say that about Brad Pitt?). He looks scrappy here, alive with half-bright craftiness.

He's the sport of the digital cameras that speed up, slow down and stop-time a climactic fight he's supposed to throw. Because it's an epic, no-holds-barred fight, the altered sound and floating in air seems right, instead of flashy. It's the first new-looking boxing scene since Raging Bull.

There are more than two dozen speaking parts in Snatch, which really feels held together with nothing but centrifugal force. The narration is provided by the peaceable small-time slot-machine operator Turkish (Jason Statham), who introduces the various thieves.

They include his half-pint mate Tommy (Stephen Graham), a kind little Stan Laurel of a man who is trying to learn how to use a gun. Vinnie Jones, the fearsome ex-soccer hero who played Big Chris in Lock, Stock and Two Smoking Barrels, shows up as a leg-breaker named Bullet Tooth Tony. (As he's getting more experience as an actor, the towering Jones is having trouble concealing a very sensitive face. I think he's going to be a star.)

Perennial Slavic villain Rade Serbedzija plays the Uzbek gunman Boris the Blade. Boris is described in some Russ Meyer-worthy hyperbole as "as bent as the Soviet sickle, and as hard as the hammer that crosses it." Another main character is an undisciplined pit bull (uncredited) who devours a squeak-toy and squeaks wherever he goes; he's a dog version of the crocodile with the alarm clock in it from Peter Pan.

The rock star Goldie is introduced as an inept punk, foiled trying to pawn a cubic zirconium. Unfortunately, there are no real women in the film except for Sorcha Cusack as Pitt's mom; she has a rough, eloquent face even though her role is just a few spare lines.

THE IRON in the film is Ford, who steals the thunder out of the upcoming Hannibal. Gary Oldman's skull-faced villain with a barn full of cannibal pigs will be appearing on screen a month after Ford's definitive skull-faced villain with his barn full of cannibal pigs.

Ford, who played the bartender at Sting's club in Lock, Stock and Two Smoking Barrels, is named Brick Top, but his red hair is long gone, replaced by a fluffy urine-gray pompadour. This zombie Roy Orbison has gnashing dentures that haven't seen Polident since the Queen's Jubilee.

He has a parabola-shaped scar on his chin that looks like a rat bit him, and a pair of mismatched eyes--one of them probably glass, the original lost, you suppose, during the course of a wild weekend. Or maybe the rat got it. There was a Hollywood agent of whom it was said that you could easily tell which one of his eyes was glass--the glass eye was the one that had the most human compassion in it. That's Brick Top.

Snatch seems to have neither beginning nor end but instead an urgent "now" throughout. Here's the delightful experience of watching a movie in which all cylinders are firing. Toward the end, there's a moment or two when the action lapses. In these moments, you're struck with the feeling of maybe having taken one too many turns on the Ferris wheel.

On the whole, though, Snatch had me roaring. As in Hong Kong cinema, there's a placid center to all this criminal mayhem, a spot just right for the viewer to sit in and watch the carnival. Snatch is full of cartoon cruelty, of men as crooked as a dog's hind leg.

Ritchie, however, isn't fooled by the belief that violence is an urge boiling in every human heart, or that ruthlessness is backhandedly admirable. The number of men who really want to attack their fellow creatures is a great minority. If left to a friction-free, unemployed life, most want to enjoy themselves in peace. And they'll do so, until some motivating force--such as a diamond the size of a tangerine--rolls in to disturb the natural order of things.
---
Snatch (R; 104 min.), directed and written by Guy Ritchie, photographed by Jim Maurice-Jones and starring Brad Pitt and Alan Ford, opens Friday at selected theatres.
---
[ San Jose | Metroactive Central | Archives ]