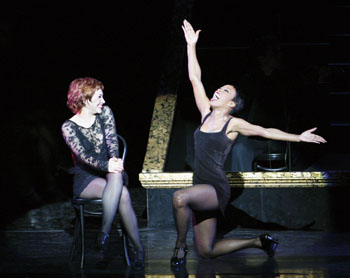 Photograph by Paul Kolnick

Gal Power: Bianca Marroquín and Brenda Braxton seek the spotlight in 'Chicago.'

Windy City Moves

'Chicago' bumps and grinds but isn't sexy enough

By Marianne Messina

THE TOURING version of Chicago currently brought to town by American Musical Theatre of San Jose is a pared-down, lifeless production with all the commitment of a first, off-book rehearsal. As defense lawyer Billy Flynn (Gregory Harrison) assures murderess Roxie Hart (Bianca Marroquín) that the courtroom is just a circus, he sings one of the show's most popular musical numbers, "Razzle Dazzle." Just give them "an act with lots of flash in it," he tells Roxie, "and they'll never catch wise." If only this production had heeded that advice.

It's true that as Harrison does this song-and-dance number, large, colored spheres of metallic confetti fall to the stage. But the scintillating light that darts out all around the performance center is really the pinnacle of this production's razzle-dazzle. The single scenic piece is a deep, three-sided bandstand that swallows up sound, which people in the back rows never hear. On the plus side, Chicago's other popular number, "Mister Cellophane," cannot be killed, and kudos to P.J. Benjamin as the invisible Amos Hart for surpassing the film's John C. Reilly without the cinematic advantage of facial nuance. Benjamin drew wild applause on his exits (especially the one where he gets the cellophane treatment from the band), and the line "I hope I didn't take up too much of your time," had women all over the house cooing in sympathy. At this point in the story, Amos has borrowed from friends and ransomed most of his holdings to engage the high-priced Flynn for his unfaithful wife, Roxie. Of course, Roxie is too infatuated by her new fame as a murderess to notice. With solid song-and-dance chops, Brenda Braxton gives Roxie a spunky rival in Velma Kelly, making me wish I could see Braxton in a more ambitious vechicle.

The other performance that makes this production slightly better than lackluster is that of R. Bean in the very comical role of Mary Sunshine. In a faux-opera parody number, Bean (who also played the role on Broadway) skitters with chimerical aplomb over every theatrical reference possible. For a show promoted as hot and sexy, a show about women in prison and a show whose point is that women use sex to screw the world, Chicago is surprisingly unsexy. No smoldery singing in smoke-filled speakeasies, no slithering, no humping and no piano crawling (heck, no set pieces to crawl on, unless you count chairs, dozens of them). Given all the potentially sexy situations, it's mostly just lost opportunities.

The hanging scene has a titillating build-up in which statuesque, leggy Hunyak (Jillana Laufer) pleads her innocence all the way up the rungs of a representational gallows, but it ends in a limp anticlimax. (Or was it a staging snafu?) The dance action behind the line "give them a show that's so splendiferous" couldn't have been less energetic or taken less command of the space. Dance moves are repetitive tit and pelvic wiggles that grow as tired as computer-generated porn pop-ups. Granted, I'm leaving out the quaking Eddie Cantor hands and a few high kicks—nice high kicks, I might add, in black nylons and fish nets (from all-black costumes that never change). And there are about five seconds of sexy back-bends that very nearly smoke.

On this particular night, even the band was loose—maybe it was all post-holiday cobwebs. But when people come out in the middle of the week and pay top dollar to see live theater that's supposedly of known quality (OK, so they're actually paying for tour buses, union wages and other unmentionables), they deserve better.
---
Chicago, presented by American Musical Theatre of San Jose, plays Tuesday-Friday at 8pm, Saturday at 2 and 8pm and Sunday at 1 and 6:3pm through Jan. 23 at the San Jose Center for the Performing Arts, 255 Almaden Blvd., San Jose. Tickets are $41-$72. (408.277.5277)
---
---
Send a letter to the editor about this story to letters@metronews.com.
---
[ Silicon Valley | Metroactive Home | Archives ]