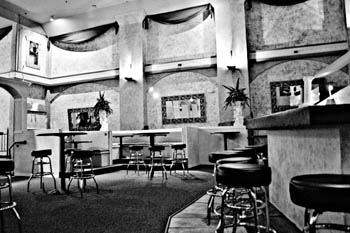 Photographs by Felipe Buitrago

Club Life

By Todd Inoue

Monte Carlo
228 Castro St, Mountain View 650.988.1500
---
Ambience: European flair with columns, booths, cuisine
Amenities: Fine dining, dancing, VIP area, late-night menu. Opens Jan. 20
---
TWO YEARS ago, Mark Savinovic's family opened the Los Altos restaurant Ragusa. On Thursday (Jan. 20), the family expands its empire to Mountain View as the curtain drops off its latest endeavor, Monte Carlo, at the former site of the Limelight Nightclub.
"The space is interesting," Savinovic says. "It's Mountain View. It's coming up slowly. They're making a nice downtown, nice restaurants. That space in the center, the Limelight, was ideal."
Savinovic wants Monte Carlo to appeal to an older crowd rather than the 18-year-olds that formed Limelight's key demographic. To that end, the family will operate a restaurant and coffee shop, serving a menu based on Savinovic's culinary skills—pasta, steaks, salads with European flair. Thursday through Saturday, the restaurant transforms into a nightclub with live bands and DJs spinning '70s-'90s hits, Latin jazz and house.
"It's a dancing club, but it's not for kids," he says. "That's not my goal. I don't need to fill it up with a thousand people. We're shooting for 21 and over and to attract people to come dance."
They renovated the theaterlike space, installing booths around the bar, and brightened up the interior. Savinovic chose the name Monte Carlo to reflect his European heritage and the French Riviera's reputation for fun and leisure. "We are from Europe—Croatia. Monte Carlo is like Vegas in the United States," he says. Here's hoping that they hit the jackpot.

Mulcahy's on the Avenue
1151 Lincoln Ave, San Jose
---
No phone number listed; opening Jan. 18­22; full bar service 5:30­11:30pm; buffet dinner 6­9pm
---
IN NOVEMBER, Gloria Stoddard and Mark Mazzola sold their Willow Glen sports bar, Sharky's, to the building's owner, Michael Mulcahy (pictured left, with his brother Brian). He wants to keep it a restaurant and to that end he recently made aesthetic improvements and purchased a liquor license, which requires that Mulcahy put the restaurant to use to complete the sale.
So this week, even without a tenant in place, Mulcahy celebrates a limited-time only "opening" with a weeklong celebration. From Jan. 18-22, bartenders from C.B. Hannegan's, California Café and other local hangouts will pour drinks. Aqui, Willow Street Pizza and La Villa will offer a buffet dinner each night. $20 gets you a plate and the first premium drink with net proceeds going to three charities: Children's Musical Theater of San Jose, Children's Discovery Museum and the Willow Glen Business and Professional Association.
"We're going to have fun, make money for charity and give exposure to restaurants in Willow Glen," says Mulcahy.
After the Jan. 22, the doors will shut as Mulcahy and family regroup and plan the restaurant's direction and future. Mulcahy says he's had dozens of phone calls and lots of requests for meetings. His intention is to attract a high-quality restaurant and bar operator and he hopes to have a tenant in place by summer.
---
Send a letter to the editor about this story to letters@metronews.com.
---
[ Silicon Valley | Metroactive Home | Archives ]