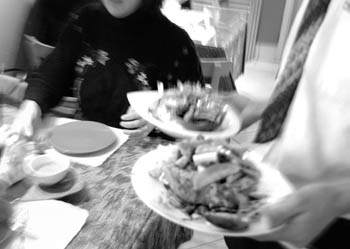 Photograph by Felipe Buitrago

Carry the Two: Choose from over 100 items on Layang Layang's generous menu.

Hooray For Malay

Layang Layang is a top stop for Malaysian food

By Stett Holbrook

THE solitary little building across from Minton's on South De Anza Boulevard in San Jose has housed many restaurants over the years. It was once a Mexican place. More recently it was a kebab restaurant. For almost a year now, it's been home to Layang Layang, a Malaysian restaurant. Judging by the food and the crowds, the place has really found its groove.

Silicon Valley reaps many benefits from its ethnic diversity. Chief in my mind is the variety of restaurants. I think the increasing number of Malaysian restaurants shows that this is one the most exciting cuisines to hit our fair valley in a long time. Malaysian food has the bright, exotic flavors of Thai and Vietnamese food but takes on elements of other cuisines as well.

Malaysia, a nation that borders Indonesia and Thailand (tsunami deaths there were markedly lower than its neighbors'), is a true melting pot that reflects its place on South China Sea trade routes. The cuisine blends food from the native Malay as well as Chinese, Indian, Indonesian and Portuguese influences. Coconut milk, galangal root, shrimp paste, salted fish, chiles and dry spice-based curries are some of the hallmarks of this colorful and complex cuisine.

Layang Layang's clean, fresh flavors and ingredients make it a great entry into Malaysian food. A layang is a traditional Malay kite. A few hang on the brightly colored walls. One wall is festooned with bamboo and palm, giving the dining room a festive, tropical feel.

The huge menu offers well over 100 items, which can make ordering overwhelming. But it's well-designed, and includes a brief primer on Malaysian food and photos of various dishes—a great help to newcomers. Service is fast and friendly, a feat, given how harried the waitstaff can be.

Your first stop on the menu should be an order of roti canai ($2.95), a classic Malaysian snack that resembles Indian naan. Here, it's a cross between a flour tortilla and a crisp shrimp wafer. The best part is the rich curry dipping sauce. I finished off the stuff with a spoon when the bread was gone. Murtabak ($4.95) is another good starter. It's a thin and light Indian-style pancake filled with egg, chicken and onion. I also liked achat ($4.95), a refreshing, tangy salad of pickled green beans, carrots, cucumbers and cabbage in a sparingly applied peanut sauce.

Nasi lemak ($7.95) is Malaysia's national dish and is something of a sampler plate. For $1 extra, I swapped the chicken rendang for the beef rendang. Rendang is a signature Malaysian red curry that's redolent with cinnamon, coconut and other spices. The plate also comes with more of the excellent achat, creamy coconut flavored rice, peanuts and the aggressively flavored sambal anchovy. Shrimp paste, also known as belacan, is Malaysian cuisine's most assertive flavor and it permeates the sambal. It's a funky, salty and somewhat fishy flavor that is an acquired taste for some. OK, many.

Ikan bakar ($17.95) was one of the most intriguing dishes we tried. Available on our visit with stingray or sea bass, the fish is grilled, coated in a sour but rich tamarind sauce and wrapped in a banana leaf. I don't often encounter stingray on menus often so I chose it. Its white, ribbed flesh is clean and meaty and stood up well to the heavy saucing. At the opposite end of the spectrum is the subtle but beguiling Hainan chicken ($7.95). The dish owes its origins to Chinese immigrants from—you guessed it—Hainan, in balmy southern China. The chicken is steamed and served with the skin on and accompanied with a bright red chile ginger sauce atop a pool of sesame soy sauce. It's traditionally served with rice seasoned with shallots, ginger and chicken fat but that's a separate order here.

Other good dishes include kari mee ($6.95), noodles served in a coconut milk and lemon grass broth with chicken and potato; and red kari beef ($7.95), a crock of simmering beef, eggplant, okra and green beans cloaked in a delicate red curry.

With Layang Layang's big menu, it's easy to eat your way past dessert. But don't do that. Ice kacang ($4.95) looks like an ice cream sundae on acid and is not to miss. The towering shaved ice dessert is laced with red rose syrup and caramelly condensed milk. Underneath this many-hued melting mass are red and green cubes of jelly, sweet corn, nutty plum seeds and red beans. It looks like it's from Mars but it's quite good.

Here's hoping the revolving door at this location stops and Layang Layang stays put.
---
Layang Layang
Address: 1480 S. De Anza Blvd., San Jose.
Phone: 408.777.8897.
Hours: 11am-3pm and 5pm-9:30pm Tue-Fri; 11am-10pm Sat; 11am-9:30pm Sun.
Price range: $5.95-$18.95.
---
---
Send a letter to the editor about this story to letters@metronews.com.
---
[ Silicon Valley | Metroactive Home | Archives ]