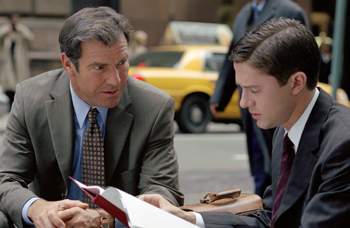 Photograph by Glen Wilson

Downsize This: Dennis Quaid (left) and Topher Grace battle over the workplace.

The System Works

Conflicted 'In Good Company' salutes the rebirth of a salesman

By Richard von Busack

THE CLUMSY probing of a wound isn't good for it, despite how well-meaning the doctor is or how much the patient might need attention. Though it might deserve an E for effort, a bit of ersatz Garson Kanin titled In Good Company fails to put the healing touch on the agony of the workplace layoff.

Dennis Quaid plays a middle-aged sales department head at Sports America (read: Sports Illustrated). At the beginning of Paul Weitz's comedy/drama, Quaid's Dan Forman learns the bad news. His magazine has just been gobbled up by a foreign raider, addressed as "Teddy K." (Malcolm McDowell)—he's so famous he doesn't need a last name. Forman's ad sales department will have a new manager. To the elder man's wrath, the head man overruling him is, basically, a boy—an eager 26-year-old named Carter (Topher Grace). The new methods Carter initiates include business meetings on Sunday, aggressive informality and interdepartmental basketball games. Making the tentativeness of his new job situation worse is the news that Dan's wife just gave him: he's going to be a father again, at age 51. Carter doesn't realize that his optimism won't be enough to overcome the real purpose of his new assignment: he's going to be lopping heads in the name of Teddy K.'s bottom line. Matters worsen when Carter falls for Dan's young daughter, Alex (Scarlett Johansson).

In Good Company starts out with a real problem: the merge-and-purge layoffs that are leaving millions unemployed. And it has a villain, as we see in McDowell's five minutes—the international capitalist is lit as if he's holding a flashlight under his chin, like a boy telling scary stories at summer camp. Even when it does a montage of layoffs, In Good Company is fundamentally terrified of coming off as anti-business. There is synergy galore onscreen and not just during the sequence where a roomful of employees catch that merger magic thanks to Carter's bubbly pep talk. Check out the long, slow product placements for Domino's and Starbucks. So In Good Company retreats from its implications back to the happier, safer terrain of the young love story. This isn't a relief, either. Johansson's Alex is a sharklike tennis player. She is finding her way as a woman, but underacting won't save an underwritten part. And when she turns her attentions to Carter one evening, she displays all the erotic enthusiasm of a department-store window dresser taking the coat off a mannequin.

Grace tries to liven up his gelatinous part with some slapstick klutziness; this is a movie where characters meet for the first time by colliding into each other in a hallway. But his basic business ethos never gets any challenging. He is supposed to do the things he doing already, only more sensitively. Quaid is the standout, getting in touch with his inner Spencer Tracy; he even bluffs his way through a cobwebbed comedy scene: Dan is so old school he doesn't know that sushi is actually raw fish! Despite Quaid's manly gravity, this movie is as authentic a work of rebellion as the car Carter drives: a luxury Porsche with a crumpled fender.
---
In Good Company (PG-13; 109 min.), directed and written by Paul Weitz, photographed by Remi Adefarasin and starring Dennis Quaid, Topher Grace and Scarlett Johansson, plays valleywide.
---
---
Send a letter to the editor about this story to letters@metronews.com.
---
[ Silicon Valley | Metroactive Home | Archives ]