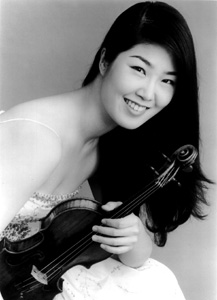 Nightingale Notes: Korean-born violist Ju-Young Baek delivered a dramatic account of Stravinsky's 'Song of the Nightingale.'

Polivnick Makes His Case

Symphony Silicon Valley guest conductor Paul Polivnick led the orchestra in its best concert of the season

By Scott MacClelland

IN PERHAPS its most all-around successful concert so far this season, Symphony Silicon Valley gave its Sunday afternoon California Theatre audience much to cheer. That acclaim was at its most vociferous following violinist Ju-Young Baek's vivid Sibelius Violin Concerto in D Minor. The youthful Korean-born soloist delivered a moody, dramatic, intense account of a work itself famous for those qualities. Moreover, Baek's 1858 Enrico Ceruti—the last of the great Cremonese violin makers—filled the auditorium with a powerful, penetrating tone that cut through even the orchestra's loudest tutti passages. And those tuttis erupted with volcanic force under the urging of guest conductor Paul Polivnick.

Now making her concerto debut in the region, Baek finished her formidable technique under Aaron Rosand at Curtis and Robert Mann at Juilliard. Her opening passages disclosed some momentary intonation blurs, but once under way, her performance soared with technical assurance and expressive authority. For his part, Polivnick proved an attentive and elastic accompanist, a commanding figure before the orchestra, and, with a graceful but purposeful conducting style, a treat to watch.

This was good news indeed. Though obviously a talented maestro and well-respected by the musicians, his previous appearance with SSV, in October 2003, was disturbed by insecurity among the players in the opening Russian Easter by Rimsky-Korsakov and a slipped string during the cello soloist's performance of a Haydn concerto.

Polivnick opened this program with Stravinsky's Song of the Nightingale, a tone poem (the composer called it) that is equally a ballet score very much in the same sound world as his Firebird, Petrushka and Sacre du Printemps (though not heard in this form until six years after Sacre was premiered in 1913).

The scenario of the 20-minute score is based on a Hans Christian Andersen tale that Stravinsky used originally for an opera. In addition to recalling all the most audacious and original inventions of the three earlier ballets, the composer adds a whole new palette of exotic effects using only conventional orchestral instruments. The result, thanks again to the clear vision and direction provided by Polivnick, was a delicious repast of colors, rhythms, gestures and asides, all to tell the story of the nightingale and the Chinese emperor in his porcelain palace. Rich with individual cameos, special kudos go to the solos by flutist Maria Tamburrino (as the nightingale), concertmaster Robin Mayforth (as the mechanical nightingale) and trumpeter Kale Cummings.

Between the Stravinsky and the Sibelius, Polivnick led a briskly charged reading of Mendelssohn's classically modeled Italian Symphony, one in which the orchestra, flush with Mediterranean sparkle, played with high spirit and Mozartian transparency. The second movement, a pilgrim's march that inspired a similar movement the following year in Berlioz's Harold in Italy, moved along smartly, as if the pilgrims were cold. The finale, famous for its charging saltarello and its even faster tarantella, sizzled with fire. When Symphony Silicon Valley gets serious about choosing a music director, Polivnick should certainly be among the field of candidates.
---
Send a letter to the editor about this story to letters@metronews.com.
---
[ Silicon Valley | Metroactive Home | Archives ]