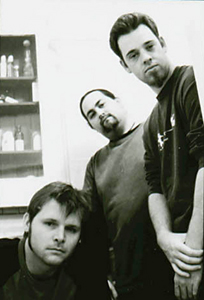 Point 3 finds strength in numbers.

To the Point

Point 3 warms up for the release of its new album

By Sarah Quelland

SOUTH BAY rock trio Point 3 just finished its first full-length, The Short Illustrations of Disproportion, and while an official CD-release bash is in the near future, the band is playing a low-key show this Friday (Jan. 23) at T's Cabaret with My Rival Sun.

Point 3 features Mark Heaps on vocals and guitar, Dave English on drums and backing vocals, and Jeff Croall on bass and backing vocals. The band formed in 2001, and as Heaps explains, the name is symbolic for two reasons: one of the strongest shapes in design is anything with three sides, and many numbers can't be divided evenly and end in 0.33333 to infinity. "For us," he says, "3, as a number, represents strength [and] the idea of never being divided throughout infinity."

Three years have passed, and the name still fits. Passionate and enthusiastic, Point 3 has become an active member of the South Bay's local music scene and a strong supporter of other local bands. Its music is a blend of hard rock, alternative pop and power ballads--a mixture that results from its varied influences, which include the Police, Nirvana, Foo Fighters, the Damned, Stone Temple Pilots and Tool. Songwriter Heaps, who spent his youth living alternately in the Bible Belt and the U.K., listened to everything from Lynyrd Skynyrd to Skunk Anansie to Buddy Holly. He writes from the heart and says his stark lyrics are confessions from parts of his life.

Thematically, his subjects range from a penny-pinching friend who nickeled-and-dimed his friendships to death ("Kings & Queens") to the seedy seduction of New Orleans ("New Orleans") to giving kids the freedom to express their individuality ("Disallowed").

Heaps says "Ashamed" is about feeling persecuted by religious people in the South who judged him for deciding not going to church, an experience that ultimately soured him on organized religion. "Mostly," he explains, "I think people should try to be good and not spend so much time asking for forgiveness after they've been bad."

The song "Do I Belong Here" is a desperate and angry reflection on the celebrity casualties of drugs, depression and excess on which Heaps cries, "Where have my heroes gone?" He says the lyrics are written from the perspective of someone who empathizes with the feelings of artists who pressure themselves into dark places. "The song is a piece of myself being confused about how much talent and beauty in this world could lead to death and why that has to be. I miss having the great artists around who fed and nourished my needs while I was growing up," he relates.

The songs on The Short Illustrations of Disproportion are crudely textured sketches of anger, confusion and vulnerability. The album closes with the sentimental acoustic ballad "Confession" (which features Tub's Don Dias on accordion), and Heaps reminisces, "I remember being 9 years old / Someone stole all of Daddy's gold / And my brothers moved out to California / Next we moved, and everything had changed / Friends were gone, and it always rained."

Visit www.point-three.com for more info on the band and updates on its CD-release party.

HOT TOPIC: RubberSideDown plays new songs from its forthcoming EP, High Noon, at Rockstars and Bitches this Monday (Jan. 26) at Waves Smokehouse & Saloon. ... Moulders Lounge, Otto, Serena Lauren, Sh*t Karate and Teeze! play the next PAC Session held this Saturday (Jan. 24), 3-9pm at Waves Smokehouse and Saloon. The all-ages event includes live painting by Roxanne Zuniga, Roz and Keith Southern; DJs Cole, Asphelion, Tsen and Leks; and a standup poetry open-mic. Visit www.pacsession.com for more info. ... Spy Nightclub, which first made the transition from the Usual to Spy in July 2002, is throwing a special Mardi Gras-style party with Donald Glaude, Armann the Brainchild and DJ K with Drummer Shawni as part of a sneaky second grand-opening celebration next Friday (Jan. 30). Tickets are $10. Visit www.thespynightclub.com for more info.

PLAN AHEAD: Sonic Mirth, the Other Left, ADD and Expose the Flaw, Jan. 22 at the Gaslighter Theater in Campbell; Local Traffic, Shit Outta Luck and Rocky Dies Yellow, Jan. 22 at Gaslighter's Music Hall in Gilroy; the Flames and the Curbs, Jan. 23 at the Caravan; Osmium, Ragweed and Kaos, Jan. 23 at the Blank Club.
---
Send a letter to the editor about this story to letters@metronews.com.
---
[ Silicon Valley | Metroactive Home | Archives ]