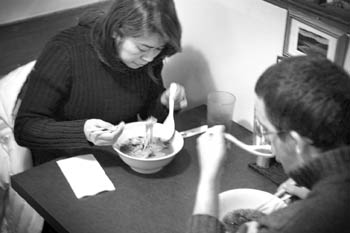 Photograph by Charlie Nucci

Ramen Around: Locally made noodles find a hearty home in the big bowls at Ramen Halu.

Rip Curl

From Japan to San Jose, a surfer boy imports bowls full of warmth

By Todd Inoue

IN JUZO ITAMI'S classic noodle western Tampopo, there's a scene where a sensei teaches an apprentice the proper way to eat a bowl of ramen. The old man explains the protocol: Savor the aroma, "appreciating its gestalt." Caress the soup's surface with the tips of the chopsticks "to express affection," and move the pork from the left to the right side "as if to apologize."

It's a great rewind moment in Japanese cinema, but eating ramen doesn't require silly ritual. Before one darkens the doorstep of San Jose noodle joint Ramen Halu, it's necessary to participate in just one important spiritual cleansing: erase the mental palate of whatever previous ramen experiences (mostly culled from college dorm rooms) clutter the memory bank. Despite fast-food conditioning, there are actual artisanal noodle houses that care about what goes into that big bowl. Tokushima Ramen Do-Henkotu near Moorpark is one. Ryowa in Berkeley is another. Open since April 2003, Ramen Halu is the newest specialty restaurant that pushes the humble noodle and broth dish into the extraordinary.

Ramen Halu's chef, Kumao Arai, worked at a ramen house in Japan before moving to California last April. He is an avid surfer who pads around the dining room and kitchen in red checkerboard Vans. Two custom-designed surfboards hang from the restaurant wall, and small-framed pictures of various surfing spots hover near every table. His own personal surfboard rests in a corner, covered by a sheath.

Arai's other passion is gastronomy, and he shows tremendous pride in a precise yet charming way. Each table has a "Halu Ramen Secrets" flier dissecting the lengths, quality, cooking processes and nutritional information of the bowl's ingredients. About noodles: "These original noodles are notable for a mouth feel and ease in swallowing unique to Japanese ramen. In consideration of San Jose's climate and temperature, we buy our noodles from a noodle factory in San Jose every day." Or, about the green onions: "The aromatic constituents of onions act to promote the secretion of digestive juices and help the workings of the stomach and intestines." He waxes nutritional about spinach, mushrooms, bamboo shoots and so on.

After digesting all this literature, could a bowl of ramen possibly live up to the hype? Can Kelly Slater shoot the tubes? Ramen Halu makes three types of ramen: Shio ramen, with sea salt-flavored broth ($6.50); Tokyo ramen, with soy sauce-flavored broth ($6.50); and the namesake Halu ramen--a savory, thick, pork-based concoction ($6.90). Thick or thin noodles swim in the broth alongside sliced pork, green onions, seaweed, bamboo shoots, spinach and cloud ear mushrooms. Extra toppings like fresh cabbage, corn and boiled egg can be added for a buck each.

The stock in the Halu ramen is luscious and milky with just a bite of saltiness. Flecks of white pork fat float on the top, a reassuring sign to Japan-born ramen eaters, but probably a turn-off to health-conscious Californians. Though murky to the spoon, it was delicious paired with thick, al dente noodles--chewy but fresh and hearty.

Less adventurous types will love the Tokyo ramen, with the thin noodle and soy sauce broth. At lunch, ramen is served with rice and an interesting salad made from okara, a tofu byproduct that Arai seasons with curry. Drinks are limited to tea, soda, beer and Ramune, a refreshing Japanese cider with a bottle that can easily double as a conversation piece.

Eating at Ramen Halu takes some scheduling. The restaurant keeps odd hours, so plan ahead. I was denied twice when I arrived between shifts or when it was closed. The third time proved the charm as all kinds of folks beat back the winter chill with steamy bowls of ramen. Sounds good right now, doesn't it?
---
Ramen Halu
Address: 375-M S. Saratoga Ave., San Jose (near Stevens Creek Boulevard, next to check-cashing shop)
Phone: 408.246.3933; www.ramenhalu.com (in Japanese only)
Hours: 11:30-1:30pm, 6-9:30pm Mon-Tue and Fri-Sat; 6-9:30pm Thu; 11:30-2pm, 5-8pm Sun; closed Wed
Cash only
---
---
Send a letter to the editor about this story to letters@metronews.com.
---
[ Silicon Valley | Metroactive Home | Archives ]