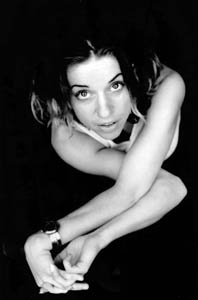 Ani DiFranco gets political in Berkeley.

Reggae Knights

Drunken Starfighter played a casual set in Aptos; Plant 51 goes dark

By Sarah Quelland

SAN JOSE STALWARTS Insolence have been taking their love of reggae to new heights with the new rock and reggae blend, found in songs like "Downfall." Half of Insolence's vocal team, Billy Rosenthal, is taking his own love of reggae one step further by singing and playing guitar with his new side project, Drunken Starfighter. This new South Bay collective pulls from the sunny Jamaican vibes of the '70s and '80s to create laid-back reggae and dub occasionally fired up with smoking surf guitar. Last Saturday (Jan. 18), the band made some new fans at the Aptos Club after a casual session that took on the quality of a live rehearsal. Making a special guest appearance, Insolence DJ Jerry Dalalo added a few of his turntablized touches to the Drunken Starfighter sound. With stoner-friendly material like "Natural," it's not surprising the band was such a hit with the Santa Cruz crowd. Visit www.drunkenstarfighter.com.

Rosenthal has also been spotted recently at Plant 51 fronting the new Bad Brains tribute band the Regulator, which features members of Insolence, Skinlab and Hippie Aggression. Meanwhile, Insolence is excited to be lining up some West Coast dates, including Feb. 9 at the Pound in San Francisco with Bionic Jive, Drist, Zeromind and Love Infinity, and an as-yet-undetermined date at the new Edge (that's the old Edge, old Icon, new Edge) in Palo Alto with Reaction 31, Lica Sto and Kung Fu Vampire. The band heads to Japan on March 11. Keep checking the new website at www.insolence1.com for new dates.

LOCAL MUSIC GETS UPROOTED AGAIN: As of Tuesday morning (Jan. 21), San Jose's Plant 51 has gone on an indefinite hiatus. According to Plant 51 booker Larry Trujillo (editor and co-publisher of Zero magazine), the unexpected closing of the club is due to a change in management. He says that the new management will be working to reopen the club as soon as possible. But he adds, "I have no further information or have any idea as to when the club will reopen its doors." As a result, all shows scheduled at the club have been canceled, and the 44 S. Almaden club will remain dark until further notice. This comes as a particularly brutal blow to local music, since Plant 51 has become the only real club in San Jose to consistently host local and national rock bands. Stay tuned for updates.

STRAND OPENING: The Historic Strand Theater at 7588 Monterey St., Gilroy, has started hosting live music. Upcoming events include an all-ages show by dance/funk/R&B group Juz Cuz Friday (Jan. 24); folk fusionists Previously Lost Dogs Saturday (Jan. 25); and swing dancing with the J.C. Smith Band, featuring Johnny Cosmos, this Sunday (Jan. 26). Call 408.846.8455 for more information.

HOT DONNAS: Rather than getting presents, Channel 104.9 is celebrating its second birthday by giving presents away. Listeners who win tickets to the Donnas concert Friday (Jan. 24) at the new Edge can also win prizes like a new snowboard. Maroon 5, Evanescence and Ama also perform. Visit www.channel1049.com for more info. The Donnas also play the Fillmore in San Francisco on Feb. 26 with Ok Go and Rooney.

HOT TOPIC: Johnny Dilks and His Visitation Valley Boys, Dave Gleason's Wasted Days and the Shut-Ins play the Foothill Stomp, a KFJC benefit concert, Saturday (Jan. 25) at 2pm at Foothill College's Appreciation Hall. ... BeatCity and Pacman Entertainment present a Battle of the Bands Sunday (Jan. 26) at the Gaslighter Theater in Campbell with the Feathers, AM Project, Dragwater, Ingsoc, Skye and Timmy. ... Ani DiFranco, Spearhead, Ozomatli, Saul Williams, and Chuck D and the Fine Arts Militia play the Berkeley Community Center Jan. 31 as part of the Not in Our Name benefit concert for the Central Committee for Conscientious Objectors and the Not in Our Name campaign. Tickets are $30-$80 and available at www.ticketweb.com.

PLAN AHEAD: The Flipsides, A Burning Water, the Matches, Charmless and Rivals, Jan. 25 at the Mitchell Park Center in Palo Alto; 3rd Rail, Something Must Die, Clearing Autumn Skies, Darkin Fluid and Element Unknown, Jan. 25 at Gaslighter's Music Hall in Gilroy; Hippie Aggression and Alien Love Syndrome, Jan. 25 at the Celebrity Cafe in Dublin; Control Theory, Jan. 26 at the Red Devil Lounge in San Francisco.
---
Send a letter to the editor about this story to letters@metronews.com.
---
[ Silicon Valley | Metroactive Home | Archives ]