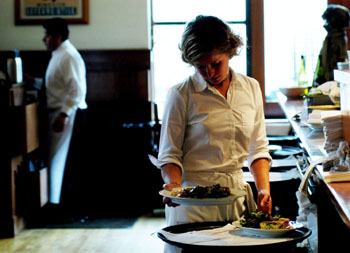 Photograph by Paul Myers

Bistro Busy-ness: An open kitchen and wait station at Left Bank add to its French-inspired atmosphere.

Banking on It

Menlo Park's Left Bank packs in bon vivants determined to bust out the real bistro experience

By Christina Waters

LOOKING and sounding for all the world like a big, friendly brasserie somewhere, vraiment, on the Left Bank of Paris, Menlo Park's welcoming wine bar attached to a cavernous, high-ceilinged restaurant seems to have attracted a following its neighboring bistros can only covet.

Left Bank, with its oversized aperitif posters, its oversized bar and its oversized exhibition kitchen, has achieved critical mass and now burns with its own internal gastronomic flame. An amber glow saturates the atmosphere, and the pleasant noise level fills the room with a cozy urban hum.

The authentically Francophile menu--everything from roast pork with prunes and grandmother's chicken to steak frites and even skate meunière--certainly offers a quick fix of France. But service can betray the kitchen's efforts. Give me a surly professional over an inept one any day.

Par exemple: Despite the presence of a fine wine list--deep in French Burgundies and Bordeaux and rare California specialties--we were almost finished with our appetizers before our wine ever arrived. "I was holding the wine for the entrees," our waiter explained. On what planet is that standard practice? I wondered grumpily. Kelly's crisp, violet-intensive Les Champs Clos Sancerre '01 ($8.50) would have been perfect with her starter of Gambas au Pernod ($7.50), and my (eventually) excellent E. Guigal Côtes du Rhone '99 ($6.25) would have gone splendidly with the opulent Salade Lyonnaise ($6.50) I prematurely enjoyed, along with copious helpings of fine baguette slathered with Normandy butter. The butter is beyond stupendous, and unfortunately will spoil one for almost any other variety, domestic or otherwise.

Both starters were well made. The appetizer of expertly sautéed prawns arrived aromatic with citrus, basil and a splash of Pernod, perfect for dredging with bits of bread. Licoricey Pernod, the backbone of many a Provençal cocktail, was once a fixture on early California cuisine menus, and its haunting flavor made me wish it showed up more often. My salad offered a bounty of frisée slathered with a mustardy vinaigrette and plenty of unfortunately chilly, lean diced bacon. The poached egg on top was perfect and, upon puncture, oozed cozily into the tart dressing.

Entrees maintained the high flavor standards. Kelly's evening seafood special of grilled bluenose sea bass arrived on an irresistible stew of tiny, pewter-gray lentils flecked with tomato ($16.50). The sea bass itself was dry, and the accompanying florets of broccoli were overcooked and limp.

My casserole platter of slow-cooked veal cheeks, however, arrived piping hot and succulent beyond belief. Now this is the whole point of unpretentious, joyful French cookery. A thick band of luscious mustardy meat, another of pampering mashed potatoes and yet another of crisp sugar peas were grouped as close as triplets in an oval serving dish--an altogether successful example of earthy brasserie consciousness.

We wrapped up our trip to the Left Bank with two very French-sounding desserts--profiteroles ($6.25) and tarte tatin ($5.75)--which, as it turned out, were French in name only. An accompanying glass of Tokaji Azsu 1995 ($10), filled with the perfume of musky apricots, was quite memorable, as was a perfect cup of espresso. But the gooey chocolate sauce covering tough puff pastry (the profiteroles), and the three apple halves straddling barely cooked squares of puff pastry (the alleged tarte tatin) are best forgotten. Put another way, a scoop of vanilla ice cream was the highlight of my apple dish.

Kelly defended her profiteroles with a certain amount of guilt: "It has chocolate and ice cream in it, so you can't go too wrong."

Eh bien, a trip to Paris it wasn't. On the other hand, the sheer size of Left Bank--not to mention its sidewalk acreage of outdoor cafe tables and chairs--makes it a sure bet for last-minute dates and large groups. The wine list alone could keep a die-hard Francophile busy until the second coming of Simone de Beauvoir.
---
Left Bank
Address: 635 Santa Cruz Ave., Menlo Park
Phone: 650.473.6543
Hours: 11:30am-11pm daily (until 10pm Sun-Mon); dinner menu from 5pm
Cuisine: Hearty brasserie standards
Price: Moderate
Full bar; private banquet room; sidewalk seating
---
---
Send a letter to the editor about this story to letters@metronews.com.
---
[ Silicon Valley | Metroactive Home | Archives ]