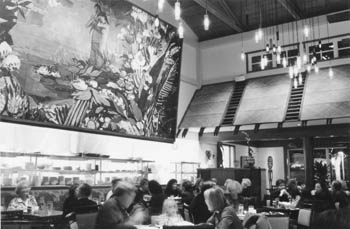 Photograph by Erika Pino

Contemporary Tiki: The gods of good food smile on diners at the newest Trader Vic's.

Jungle Love

Trading on its popularity, Trader Vic's finds a home in Palo Alto

By Joseph Izzo Jr.

THE OPENING of Palo Alto's Trader Vic's has been a long time coming. The date was put off more than once. I kept calling, but nobody seemed to know when--or even, at one point, if--it would open. That was when Vic's famous Mai Tai began haunting my thoughts. Drifting scents of spareribs from those wood-fired ovens wafted through every door. I saw tiki gods in my dreams.

While suspended in this limbo, I visited the Trader Vic's in Beverly Hills, the place I first saw a shrunken head when I was 12 years old. More than once, I drove over to Emeryville to snoop around the Trader Vic's there.

Then, finally, Captain Dwyer and I found out that the Palo Alto version, housed in Dinah's Garden Hotel, was ready. We immediately headed for the tiki lounge and ordered Mai Tais. Right from the gate, there was discussion--sometimes heated--over the ingredients of the original cocktail, the one Trader Vic Bergeron created decades ago. From what the captain and I concluded, this original has diverged into two recipes.

For my eight bucks, I prefer the "old style," shaken together with cubed ice--not crushed--and finished with a dark Meyer's floater--not Bacardi 151. When the ice melts a little and the flavors coalesce, the trade winds kick up and drums beat in far-off places.

We were seated in the central dining room, below a huge painting of a Polynesian mating ritual replete with towering images of ferns and flowers. Tiki gods of all shapes decorate the walls, imposing jungle mystery on the teakwood room. Though classy and new and quite contemporary, the restaurant carries the weight of a tradition dating back to 1934, when Bergeron opened the first restaurant in downtown Oakland.

The centerpiece of a Trader Vic's is its wood-fired oven, a form of convection cooking that dates back to the Han Dynasty in China. In this "roti" method, meats are slowly roasted in the heat of split almond wood, but never directly in the flame.

From Vic's oven came pork spareribs ($9), finished ebony and full of smoky nuances. The marinade on the meat was sweet, but not sticky or cloying. I wanted to eat only one but ended up eating three, hungrily stripping meat from every bone. Our second opener, seared Suku tuna ($12), arrived boat-fresh and fired rare with a spicy crust of sesame seeds and pink peppercorns.

The lobster bisque (on special that night for $7) had a consistency close to velvet and a flavor perfectly balanced with the essence of the shellfish. The presence of won tons--overcooked and breaking apart--proved more an intrusion than an enhancement. The Trader Vic's Salad ($7.50) promised hearts of palm and tomatoes but delivered frisee endive instead. It was good, but not what the menu described. Trader Vic's signature French dressing was lightly dispersed over the greens.

For entrees, we went back to the ovens for a round of Indonesian rack of lamb ($29.50), meticulously trimmed and arranged over a bed of butter-laced Singapore noodles. The natural flavor of the lamb was lightly accentuated by infusions of wood smoke. Side dishes of sautéed spinach ($5) and broccolini in oyster sauce ($5) came fresh and cooked to order. A 1997 Saddlerock Merlot--deep with berry--saluted the red meat with high compliment.

We also put fork and spoon to one of Vic's Calcutta Curries, crafted with Madras curry powder, onions, apples, cucumber, pimientos, carrots and coconut milk. We ordered the prawns ($21) and received them in a perfect row over a pool of pungent golden gravy. An assortment of relishes was placed at our table to fortify flavor.

Except for the overeager busboys, who whisked unfinished plates--like the rack of lamb--from our table, the service earned high marks. Our server knew his menu and described dishes without being long-winded or pushy about what to order.

Trader Vic's has a way of activating the imagination. Throughout our meal, we talked about storms at sea, about rum, pirates and famous beachcombers who spent their days in cutoff pants dreaming about hula maidens. On the way out, we winked at the tiki heads and said a fast prayer of thanks to Trader Vic, the man who started it all.
---
Trader Vic's
Address: 4269 El Camino Real, Palo Alto
Phone: 650.849.9800
Hours: 5-11pm Mon-Thu, until midnight Fri-Sat, until 10pm Sun
Cuisine: Polynesian-American
Price Range: $14-$30
---
[ San Jose | Metroactive Central | Archives ]