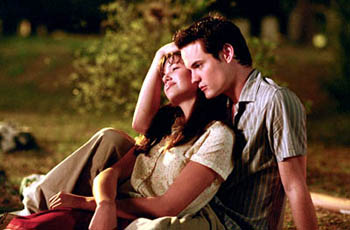 Higher Living Through Suffering: Mandy Moore and Shane West make sure that the audience shares their excruciating growing pains in 'A Walk to Remember.'

You Must Forget This

Even Mandy Moore fans might think twice before enduring the emotional glop of 'A Walk to Remember'

By Richard von Busack

A WALK TO REMEMBER is a movie to forget, but just try--this glop sticks to your skin like coal tar. Teen sensation Mandy Moore stars as Jamie, a wee preacher's daughter in Beaufort, N.C., who decides, as a kind of sacrament, to redeem an unpleasant boy named Landon (Shane West). Landon's been a mild delinquent ever since his cardiologist dad moved away, but his romance with this platitudinous sprite with the Celine Dion tremolo in her voice turns him around.

Jamie engages Landon with a love of art through singing. (When Moore ululated, I thought, "I never realized it before. I hate music.") And she further instructs him in spirituality: "Einstein said that the more he studied the universe, the more convinced he was that there was a higher power." (The more my cat studies the garage, the more convinced she is that there's a mouse.) In turn, Landon learns the meaning of chastity and charity. But he's not redeemed enough, so Jamie dies prettily of leukemia in order to instruct him further. "Without suffering, there is no compassion," she sighs. See this movie and suffer--maybe you'll be better for it.

The film claims to be based on a "novel" by Nicholas Sparks (Message in a Bottle). It's directed by Adam Shankman, who proves that the blandness of The Wedding Planner was no fluke--it's a career choice. Those who knew better but did it anyway for the bucks: Peter Coyote, lamentable as Jamie's God-bothering dad; Daryl Hannah, reduced to playing Landon's mom, trying to do the right thing without a father figure around the house; Denise Di Novi, Tim Burton's producer for years, who bankrolled this rotten marshmallow. It didn't seem possible to beat the Demerolic quality of TV's Seventh Heaven, but this is even more atrocious. The worst-of-2002 sweepstakes is now open--what possibly can hope to match A Walk to Remember?
---
A Walk to Remember (PG-13; 102 min.), directed by Adam Shankman, written by Karen Janszen, based on the novel by Nicholas Sparks, photographed by Julio Macat and starring Shane West, Mandy Moore, Peter Coyote and Daryl Hannah, opens Friday at selected theaters.
---
[ San Jose | Metroactive Central | Archives ]