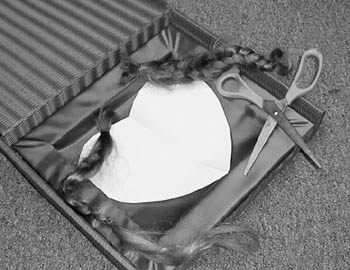 Hair Giver
For those willing to shed a mullet or a ponytail, Locks of Love is one more reason to feel good about a haircut
By Mary Spicuzza
SAMMY HAGAR DID IT, a longhaired colleague did it, and anyone considering a major change in hairstyle--from long to short--can do the same. And that is, donate to Locks of Love (www.locksoflove.org). Rather than asking for checks or cold, hard cash, the Florida-based charity devotes its existence to providing human hair wigs and hairpieces for financially disadvantaged children suffering from "medical hair loss."
Since 1997, the nonprofit has helped more than 300 children each year. Most of the hair recipients suffer from alopecia areata, an autoimmune condition that causes a complete loss of scalp hair in nearly 70,000 American children. Other Locks wig-wearers include cancer patients enduring chemotherapy and burn victims who are bald due to skin grafts.
Locks of Love began as a moneymaking wig company, but abandoned its capitalist roots when it elected a board of directors and went nonprofit. The only aspect of the for-profit wig biz that Locks retains is its professionalism and eye for detail--every hairpiece consists of more than 150,000 hairs, the equivalent of 12 ponytails, injected into a silicone mold of each child's head.
Other groups in need of that much hair would probably be desperate for loose hair any way they can get it, but Locks keeps a tough-love stance about its donation guidelines. Each ponytail or braid must be more than 10 inches long, not chemically damaged, clean, dry and placed in a resealable plastic bag with the ponytail's lengths written on the outside of the package. Shorter hair, as well as gray locks, can be donated--but only with the understanding that they will be sold at market value to benefit the organization.
The rules may seem strict to the wig-making novices of the world, but several inches of hair are usually lost in the prosthetic hairpiece-making process. Locks of Love isn't exactly suffering from lack of donations. Jennifer Cox, executive director of Locks, says that the tiny group receives 500-1,000 bundles of hair each week. The oodles of bundles are especially impressive considering that the organization boasts only one paid staff member and no marketing budget.
"We do get some celebrity attention," Cox says, adding that Hagar isn't the only hair-supportive star. "Lisa Ling from ABC's The View recently sent in her ponytail."
Shannon Fields, a young Florida girl suffering from alopecia areata, had always dreamed of having hair like Jenny Garth, one of the sexy stars of Beverly Hills 90210. She didn't actually receive Garth's hair, but Locks flew Fields out and she met her favorite celebrity during the last days of the legendary Aaron Spelling series. By the time she made it to Hollywood, she was sporting a new 'do, a combination of the hairstyles of Garth and Friends star Jennifer Aniston, another living hair legend.
While most wigs cost a bundle, these hairpieces are provided free of charge or on a sliding-scale basis, depending on the need of each child.
Those hoping to make donations for tax relief purposes should look elsewhere, though.
"Monetary donations to Locks of Love are tax deductible," the Locks press release explains. "Hair is considered by the IRS to be a body part, and is therefore not tax-deductible."
Deduction or no, one brave colleague made the cut and has sent off his ponytail after abandoning a very bad mullet cut (see last week's Metro cover story, "Me and My Mullet"). Nobody knows whether his lovely locks will be trimmed into a Friends-style Aniston bob or sliced into a Buffy-inspired 'do. But it will go to a child who will undoubtedly wear it better than our mulleted colleague.
---
For more information on Locks of Love, go to www.locksoflove.org, or call 561.963.1677.
---
[ San Jose | Metroactive Central | Archives ]