[ Metroactive Central | Archives ]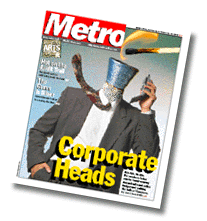 January 25-31, 1996
Cover
Not Waiting to Exhale: What would happen if all the yuppie, non-dreadlocked pot-smokers came out of the closet and decided, once and for all, to break out of stereotypes and stand up for moderate use of marijuana? With the current levels of paranoia, it could be a while before we find out.

News
Citizen's Arrest: Teresa Guerrero-Daley has worked as an undercover cop, a PI and an attorney. But nothing could have prepared her for her latest gig as San Jose's "independent" police auditor.

Public Eye: Members of the Portuguese business community say thanks-but-no-thanks to the promise of affirmative action.
Arts &amp EntertainmentMenu
Zahir's Café: Homey elegance and upscale amenities in Milpitas.

Vegging Out: A plethora of spiced-to-perfection vegetarian exotica at Santa Clara's Shilpa restaurant.

---

This page was designed and created by the Boulevards team.
Copyright &copy 1996 Metro Publishing and Virtual Valley, Inc.

---