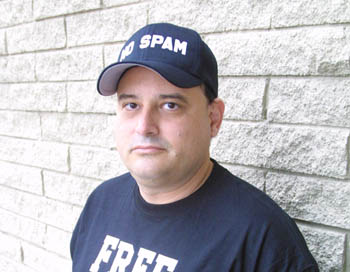 Photograph by Dan Pulcrano

Net Hero: Charles Booher, who committed suicide this month, enjoyed wearing this hat and 'Free Charles Booher' T-shirt given to him for a 2003 Metro photo shoot.

Death by Internet

Charles Booher fought the spam, and the spam won

By Dan Pulcrano

HOMEOWNERS fix leaf blowers and repair redwood fences outside the low-slung Eichler homes on Sunnyvale's Laurentian Way, just around the corner from where Jobs and Wozniak attended high school.

Last time I drove this way, it was to interview Charles Booher shortly after his arrest for emailing mutilation threats to DM Contact Management, a Canadian firm that had pounded his computer screen with penis-enlargement messages. The friendly, talkative engineer had become a net hero for verbalizing, in email and voice messages, his fantasies for dismembering Douglas Mackay, a major contributor to the lewd, privacy-invading and fraudulent spam tsunami that has been the bane of computer users everywhere.

On Jan. 13, a week before a court appearance on eight federal charges that could have put him in federal prison for up to five years, Booher sipped coffee with his schoolteacher wife, Theresa, then left for what she thought was a grocery run. The driveway was empty when she returned home that evening, and she filed a missing-persons report around 2pm the next day.

A couple of hours later, she opened a thin envelope that she found in the mailbox. "It was just a map, printed off of Mapquest, with two cross streets marked in pencil," she says.

She drove to the Stanford medical facility at the marked "x" and located his gold Saturn. Through the window, she spotted him in back, "slumped over with a bag over his head and a tube leading to a tank." Booher had asphyxiated himself by inhaling common helium.

As Jimi Hendrix sang, "Manic depression is a frustrating mess. ... Well, I think I'll go turn myself off." The world in 2005 had become a hostile place for the idealistic Booher, who proudly considered himself a nerd, a member of the technological brain trust that had made Silicon Valley what it was.

Paradoxically, it was one of techdom's most shining creations—the Internet—that materially contributed to his downward spiral. It conspired against Booher in three ways. First, it enabled the offshoring of programming work, rendering his career insecure. It transported the spam that drove the testicular cancer survivor to the brink with penis-enlargement pop-ups via some web-infected utility that had lodged itself in his Windows operating system. And when his response to the spam assault brought about his highly publicized arrest, the news was archived and indexed for any potential employer to call up with a few keystrokes.

"Things were going pretty well around Thanksgiving," his shell-shocked wife remembers. "He was working at KLA Tencor. We had money coming in." By December, however, Booher was unemployed again. The Boohers talked about moving to a place where living cost less. Charles Booher didn't want to move, though. He considered Sunnyvale "paradise." He had gotten cancer three times, each one after a move.

He had managed to secure some $50-an-hour contract programming work in Marin County in the summer, but that ended badly. He sued the Novato firm Veear Projects for $3,700 in back pay after the company stopped payment on a $1,200 check that had been marked "advance."

Company president Raj Vearr praised Booher's work but mentioned that there were some "performance issues" that led him to stop payment, saying a customer refused to pay for the work. He handed Booher six $100 bills on the court steps, and Booher returned home with the cash. Vearr said that Booher was happy with the settlement, and he had hoped to give him some more work. Vearr sounded shaken when he learned of Booher's death. "Oh my God, I am so sorry to hear that." Booher's widow says she plans to seek the balance of the money she feels is still owed.

In January, Booher was one of eight candidates who applied for a contract programming position at another Bay Area company. The hiring manager Googled Booher's name, and he didn't make the cut. Personnel consultant Rachael Bailey, who was helping Booher with his search for work, says he had missed a critical algorithm question on the hiring test, though she acknowledges that calling up search-engine results of potential hires is common. As to the implications of that, she says, "Who knows? It's all up to the individual and how they process the information."

The day before he hopped in his car for the last time, Booher emailed Bailey and thanked her for her efforts on his behalf. "I have tried to make the best of a very bad hand that life has dealt me," he wrote and explained the whole spam-rage incident, saying "spyware and spam are not victimless crimes" and "I apologize for the disappointment I may have caused you."

The same day, he emailed his friend Shawn Jipp. "I am in constant pain," he wrote. "My life is going down the drain. Other than that, things are not so bad."

He then typed on about international politics in a cheerful tone, though he mentioned that "I have had three interviews but have blown every one of them." Booher's friend Russ Feirstein says that Booher had been despondent because engineers were no longer valued in Silicon Valley and many of the best jobs were being transferred overseas. "A big part of his life was feeling good about his work as a software developer," Feirstein says.

"In post-boom Silicon Valley, employers don't value intelligence," he adds. "They value the bottom line. You're a commodity. Charles felt that the old days of Silicon Valley were gone. He was losing jobs to people in India who would work for a third of the pay."

The fear of going to jail and the publicity fallout from the spam-rage case worried Booher. After the Googling incident, he told friends, "I will never be able to work in the valley again."

Charles Booher's personal tragedy is one of a very smart but fragile person who was not well equipped to deal with the bare knuckles nature of the Internet and the brutal employment market of today's Silicon Valley compounded by an impending federal prosecution. "He was a simple guy with a complex mind," Feirstein says.

Although he was sorry for what he knew was inappropriate behavior, Booher will forever be remembered as the guy who stood up against the spammers, a scourge that legislators and the Internet's ruling lords have failed to address.

It's an ironic legacy, since Booher was mainly interested in creating software. He noodled away on his computer at all hours to produce CD copies of genome maps and low-cost software suites with secure encryption for the masses.

"Was I interested in becoming a martyr for a cause?" he asked in his 2003 Metro interview.

"No.

"I just wanted one particular spammer to leave me alone."
---
Send a letter to the editor about this story to letters@metronews.com.
---
[ Silicon Valley | Metroactive Home | Archives ]