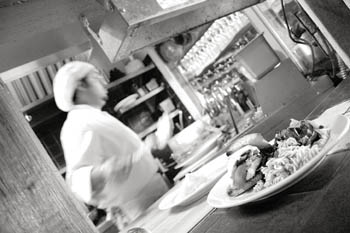 Photograph by Felipe Buitrago

Heaven Awaits: After 12 years, 71 Saint Peter beats the odds with staying power.

Supper Lasts

71 Saint Peter revisited

By Stett Holbrook

FOOD TRENDS come and go and can leave what was once a hip restaurant tired and old just a few years later. The restaurants with staying power, however, rise above fashion and stick with good food that continues to please year after year.

From time to time, Metro will revisit previously reviewed restaurants to see how they're holding up. First up is San Jose's 71 Saint Peter. It's been six years since we reviewed the restaurant. Now in its 12th year, it continues to satisfy with its hearty but refined Mediterranean-influenced French and Italian fare. There's no move toward low-carb entrees or a small plates menu. Chef/owner Mark Tabak and co-owner Armand Tiano hit upon a winning concept and have stuck with it.

The tiny, brick and wood-sided restaurant feels like it was uprooted from a Parisian alley and dropped down on San Pedro Street. The cozy bistro has a worn charm that draws you in right away. In warm weather, dining on the sidewalk patio feels downright European.

The restaurant makes good use of its small space. Open kitchens became a restaurant design trend in the 1990s and allowed chefs to show off their pricey Italian wood-fired ovens and gleaming Wolf stoves. But 71 Saint Peter's fishbowl-like kitchen is another story. There are no mirrored granite surfaces or prominently displayed brand-name appliances. This is a working kitchen about the size of a sailboat galley. But there's a carefully orchestrated artistry going in those cramped quarters.

Steamed mussels and clams ($9), swimming in a broth infused with wine, butter, sun-dried tomatoes and basil, were plump and bursting with fresh, mineral flavors like they were just plucked from the sea. Dunking the complimentary rosemary focaccia and French bread into the broth when the shellfish are gone is mandatory. The roasted garlic and bacon vinaigrette cloaks the generous spinach salad ($6.50) and gives it a smoky quality that marries well with the sweet pears and goat cheese. The pan-seared foie gras ($12.75), bathed in a shimmering huckleberry and red onion marmalade, is rich and decadent but the sweet sauce was piled on too thick for me.

71 Saint Peter makes few mistakes but the crab cakes ($8.50) are one. These weren't crab cakes but rather crab-flavored bread crumbs pressed into a patty. It's crab season, for chrissakes. A crab cake ought to contain more than a rumor of the advertised crustacean.

The restaurant's hearty entrees, many made with luxurious pan reductions and laboriously constructed stocks, are where it shines brightest. Wild mushroom risotto ($13) with black truffle oil and pan juices elicits a deep sigh of pleasure after the first bite. The earthy truffle essence pairs perfectly with mushrooms and meaty au jus. One minor point, though: Except for the yellow foot mushrooms, the shiitakes, crimini and portobello mushrooms aren't wild. They're as domesticated as a house cat.

The dry-spiced and grilled lamb sirloin ($21) with mint balsamic au jus hit my pleasure button, too. The lamb was juicy and robust with no trace of gaminess. And no need for a knife here. The supremely tender meat yielded willingly under the edge of my fork. The excellent veal osso buco special ($22) spent hours slowly braising and easily fell away from the bone. The roasted duck ($19) was flavorful and its syrupy raspberry black pepper demi-glace sauce was great.

Desserts are good but don't score as high as entrees. Previous reviews heaped praise on 71 Saint Peter's crème brûlée ($6). I found it good but not great. Crème brûlée is as common these days as seared ahi (also on 71 Saint Peter's menu), and while sufficiently creamy and rich, it's not markedly different from other restaurants that serve this workhorse dessert. For a big dose of chocolate, the sour cream chocolate cake ($7) and accompanying vanilla ice cream delivers.

Service is smooth and professional. During one visit my waiter suggested I reconsider my order because he thought it was too much. A less conscientious server wouldn't have said anything and just pocketed a larger tip. On a second visit, however, the careful service became rushed as the restaurant filled up. When he unceremoniously plunked the dessert down seconds ahead of the bill it was clear the server wanted us to go, undoing some of the good will that came before. But from food to ambience to service, 71 Saint Peter has the staying power for many more years to come.
---
71 Saint Peter
Address: 71 San Pedro St., San Jose.
Phone: 408.971.8523.
Hours: Lunch 11:30am-closing Mon-Fri; dinner 5pm-closing Mon-Sat.
Price range: $13-$24.50.
---
---
Send a letter to the editor about this story to letters@metronews.com.
---
[ Silicon Valley | Metroactive Home | Archives ]