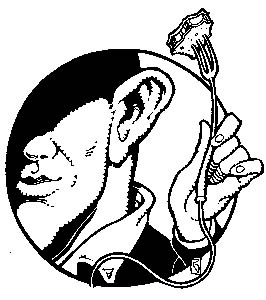 Live Feed

Ethnic Food Decoded

By Stett Holbrook

OVER THE years, I've developed a mental glossary of ethnic foods and ingredients in my duties as a restaurant critic and food writer. Drop me into a Mexican, Japanese or Indian restaurant, and I'll do pretty well, but I confess I need some help when I venture further afield into less familiar territory like, say, Senegalese or Estonian cuisine. But discovering new dishes and learning about new ingredients is part of what makes eating out so enjoyable.

When in doubt, I'll consult my reference library and start Googling away to learn about an unfamiliar cuisine. But the publication of Daniel Blum's Pocket Dictionary of Ethnic Foods (Word Craft Publishing, wordcraftpub.com, $9.95) has made life a bit easier for both food critics like me and ethnic food lovers.

The slim, maroon-colored book, which looks suspiciously like a Zagat guide, is filled with more than 1,400 ethnic dishes from everywhere from Afghanistan to West Africa. The book is especially strong in South and East Asian cuisines. Blum is the president of a home-inspection service company in Washington, D.C. Besides being home to a militant religious fundamentalist regime, our nation's capital is a United Nations of ethnic eateries, and it is clear that Blum has spent some serious time eating around town. Over the course of his eating out, Blum compiled a glossary of dishes that grew into this book.

I did my best to stump Blum and racked my brain for terms he omitted. Where's Mexico's huitlacoche (corn fungus) or Uzbekistan's classic noodle dish lagman? But the book is quite comprehensive, and it is obvious that clear Blum is a serious chowhound.

Manresa Overseas

You already know that Los Gatos' sublime Manresa Restaurant is one of the most sought-after reservations in California. Now the Brits are taking note, too. Earlier this month, the London Observer named Manresa and chef David Kinch as one of the "20 Big Ideas in 2005." In particular, the paper's food critic Jay Rayner said his 26-course (they were small courses) meal at Manresa was his most memorable in 2004.

"The three-course structure is old hat, as the tapas-isation of restaurants takes hold," says Rayner. "It pointed up the simple truth that the starter-main-course-pudding structure really is as much of a bore for chef as for dinner."

Manresa general manager Michael Kean says reservations have been coming in from London as a result of the good press. That should make landing a Saturday night reservation even harder.
---
Send a letter to the editor about this story to letters@metronews.com.
---
[ Silicon Valley | Metroactive Home | Archives ]