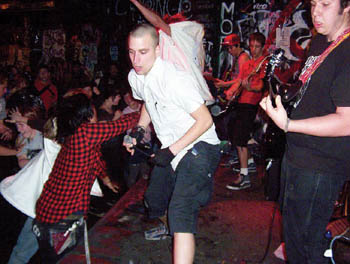 A Right to Be Hostile: Hardcore punks Hostile Takeover play the Cave on Saturday.

Cave Dwellers

A new all-ages venue serves the youth

By Todd Inoue

ONE OF the most common grouses among San Jose live music fans is the stunning lack of all-age venues. Campbell's GASLIGHTER books all-age gigs regularly; Sunnyvale's CRASH does them once a month. Now a new youth scene is sprouting on the grounds of a church that is changing the impression that the South Bay is strictly 21 and over.

Four months ago, ANDRUS ILJIN founded THE CAVE, a venue on the grounds of FATHER'S HOUSE (previously known as CALVARY CATHEDRAL CHURCH) near 101 and Tully. The bands are multidenominational—some are Christian, most aren't. They all have a common goal: rock out. The Cave has been booking a steady procession of local and touring punk, metalcore, screamo and indie bands. A November show featuring NOVICE and PLANS FOR REVENGE brought out 300 kids. The Cave is booked through April, so obviously, there's an underserved market out there.

The setting is safe and the music is pre-screened. Bands sign a contract that forbids cussing, drug use and blasphemy. "I think mostly it's a place for kids to come and have a very clean atmosphere to have fun in the music scene," says Iljin. "It's an outreach for kids. We have bands keep things very clean. The bands are asked to keep the message positive."

The Cave is staffed by volunteers and is a nonprofit. They share a sound system with the church and return it before Sunday service. Bands are paid and whatever is left over goes back to the venue. One of the bookers, TODD SCHUSTER, grew up in San Jose. He put on shows in Los Angeles and Sacramento.

"To my memory, when I was young, there wasn't a lot of things to do especially for the rock scene that (1) that was going to stay open and (2) one that was going to be safe," Schuster says. "The kids that have come to our space have been quite amazing and supportive. They enjoy the atmosphere."

Church administrator STEPHANIE GREENLEE has been to a few Cave shows. She says things are working out for all involved. "I can't really comment on the music because I'm older," Greenlee says. "But it's safe. When we first started, kids would comment, 'There's so much security.' That's intentional. I think parents feel good about letting their kids see shows on church grounds. They know they're safe." The Cave is located at 2165 Lucretia, San Jose (408.972.1639). Shows start at 6:30pm and curfew is 11pm.
---
UPCOMING SCHEDULE:
Jan 28: Project Bluebird, Comadre, Love Hope Fear, Strikeout, Red Fall, Shades of Eden
Jan 29: Jim Jones Brigade, NCS, Los Dryheavers, Red Fall, Hostile Takeover
Feb 5: Fighting Jacks, Roper
Feb 18: Something Like Silas
Feb 19: Drist, Midsummer Machete Club, Mentis
Feb 25: Novice, Yesterday Rising, A Burning Water
Mar 5: Thousand Foot Crutch
---
Crash Landing
As mentioned above. THE CRASH is a venue run by the City of Sunnyvale Teen Advisory Committee. They book shows once a month for high school students only. This Saturday, Jan. 29, the Crash welcomes ONLY FOR THE DAY, SEVEN SECRETS, 5606 and THE MITS. The show begins at 7:30pm and a valid high school ID is required. The Crash is located at Fair Oaks Park in Sunnyvale. Check the website for more information and upcoming shows: www.thecrashinsunnyvale.com.
---
Send a letter to the editor about this story to letters@metronews.com.
---
[ Silicon Valley | Metroactive Home | Archives ]