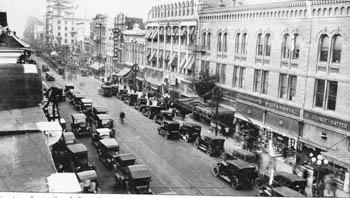 SoFA, The Early Years: Arcadia Publishing's new book includes a shot of San Jose's South First Street, circa 1925.

Old-School San Jose

The city that once was still lives in a new photo book about San Jose's historic downtown

By

WHATEVER you think about downtown San Jose—good or bad—one thing is certain. The neighborhood is a constantly changing place. Back in the 1950s, it functioned as the major retail shopping district of San Jose. Then City Manager and sprawlmeister Dutch Hamann came along and decided to annex every piece of neighboring land he could get his hands on. Now, in 2005, we look at downtown and see the ever-changing center of a gigantic suburb with nearly a million inhabitants.

Thankfully, all history is not lost. For example, although many who attend Christmas in the Park or Music in the Park don't know that City Hall used to be right there in the middle of that plaza, they can see awesome photos of it in Bob Johnson and Lauren Miranda's photo book, San Jose's Historic Downtown. The book is part of Arcadia Publishing's Images of America series, one that chronicles local histories through photographs and the stories those photographs tell.

Familiar with the corner of Third and San Fernando? The one occupied by overpriced bile-colored condos? Well, that's where Joseph Belloli ran the biggest supermarket in San Jose in the late 1800s. How about the hideous Valley Title Building at the southeast corner of First and San Carlos that houses the Chamber of Commerce? That corner used to house the Hale Brothers department store in 1932. Ask any old-timer. They'll tell you the store closed in 1968.

Think of all the times you've staggered out of the SoFA district and passed by that Vietnamese supermarket at Second and San Salvador. Ever wondered about that parking lot across the street, the one next to Bo Town restaurant and usually populated by pigeons? That site used to be the dwelling place of Benjamin Cory, San Jose's first physician. The photo is on page 121, and Cory was a member of San Jose's first City Council.

Ever been to Spartan Stadium for an Earthquakes soccer game or a San Jose State University football match? On page 64, a photo shows what the facility looked like in 1933 when the capacity was 4,000. Want to see photos of when the Knight Ridder building was nothing but a parking lot or when the Aconda Hotel at Santa Clara and San Pedro was a French restaurant in the 19th century? They're all in the book.

Everyone has walked through Park Center Plaza where all the banks are—right across Market Street from Plaza de Cesar Chavez, that is. If you want to see what it looked like when it was first being constructed in 1969, you can catch a view on page 37. That same year, Mike Mitchell of Holmes Properties said, "From the standpoint of the property owner, we have finally experienced the long-awaited breakthrough in downtown San Jose—and a full-scale building boom is on. Within two years, you won't recognize this city." That was 36 years ago, and folks are still uttering similar sentiments.

Arcadia Publishing also just published a humble photo essay of Milpitas history, compiled by Robert Burrill, the man behind the classic B-flick The Milpitas Monster. Those who have long since forgotten that Milpitas was repeatedly mentioned in episodes of Sesame Street during the 1970s can refresh their memories. Readers will learn that, along with the city of Stockton, the Milpitas Police Department had the first canine unit in California. And of course, The Milpitas Monster is rightfully covered in glorious detail.

Why should you care about any of this? Because history is not just for cantankerous curmudgeons. San Joseans (and Milpitans) should know their roots. Like any relationship, if you plan to have one with this city, you should acquaint yourself with its past, present and future as well as the various identities that downtown continues to weave for itself. Like the propaganda says, "It's your downtown."
---
Send a letter to the editor about this story to letters@metronews.com.
---
[ Silicon Valley | Metroactive Home | Archives ]