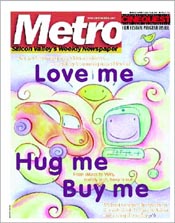 For the Week of
January 28-February 3, 1999
Cover: Just Kiss It
The creators of once boxy and bland machines are embracing a new style of touchy-feely design that reaches out to our collective aesthetic soul: cuddletech.
News: Road to Ruin
A Cupertino woman is leading the fight to stop dynamiting along a road in Yosemite.
Willow Glen: The return of the roof rats.

Los Gatos: Council approves revised design for Toll House remodel.

Monte Sereno: Monte Sereno gets 2-for-1 on new deal with Loventhal as manager/planner.
Silicon Vitamins: Local firm launches herbal supplements tailored to the ills of high-tech workers.

Public Eye: If Eye had a Hammer.






Preaching to the Rock Flock: That old-time rock & roll religion is good enough for the Black Crowes.
Super Smooth: The Heads Up Super Band gives contempo jazz a good name.
Audiofile: Reviews of the latest CDs by Insolence and Plastikman.



On the 'Road Kill' to Success: Bay Area director Matt Leutwyler doesn't want to make calling-card movies--he's focusing on a feature-length future.
Sister Sounds: Musical prodigies Hilary and Jackie grow up in sophisticated real-life weeper.
Burnouts: British comedy Still Crazy satirizes dino-rock.
Stone Cold: Sharon Stone isn't up to remade Gloria.



California Gold: The California Cafe reinvents itself as a culinary gem.



Musing on Mozart: TheatreWorks explores the contradictions of creativity in Amadeus.



Amazons of the Airwaves in Print: A new study compares the 'Tough Girls' of '70s pop culture with today's hardy heroines.



Please don't forget to write! Metro welcomes letters. Like any great work of art, they should be originals -- not copies of letters sent elsewhere. Include address and daytime phone (for verification purposes only). Letters may be edited for length and clarity or to correct factual inaccuracies known to us. Postal: Metro Letters, 550 S. First. St., San Jose, CA 95111. Fax: 408/298-0602. . Emailers, please include name, city of residence and phone number. Letters printed will list email address unless otherwise specified. Letters to the editor are not currently published in the online version of this paper.