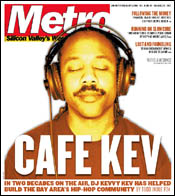 For the Week of
January 29-February 4, 2004
Cover Story: Cafe Kev:
In two decades on the air, DJ Kevvy Kev has helped build the Bay Area's hip-hop community.
News: Wayne's World, the Next Generation
Community-access television in San Jose will soon undergo major changes. Will that be enough to put it on a par with award-winning channels in Mountain View and Palo Alto?
The Fly: New superintendent left to clean up school district financial mess.



Biter: Biter heads up to Canada in search of ex-Quakes coach Frank Yallop.
Notes From the Underbelly: Once upon a time, Palo Alto had real underbelly.
Techsploits: The kinky side of sci-fi geekdom.



Raising Tokyo: Satoshi Kon's 'Tokyo Godfathers' uses anime to invigorate an old-fashioned tale of three bums and a baby.
No Effects: The time-travel shock waves aren't up to snuff in 'The Butterfly Effect.'



This Is Slowcore?: This winter, hunker down with Timonium's stunning release 'Until He Finds Us.'
Please, Hamell, Don't Hurt 'Em: One-man punk band Hamell on Trial took on the world. At last count, he's up five to nothing.
Aural Fixation: Insolence played a warm-up for Japan at San Jose's VooDoo Lounge.



Pucker Up: Blowfish Sushi brings raw fish to the beautiful people.



Boppin' With the Blues: TheatreWorks rocks the house with 'Memphis' musical about birth of rock & roll.
The Family Endures: City Lights Theater Company follows a family's attempt to rebuild itself.
Fun With Fido: Tabard Theatre Company's new family-friendly show 'The Dog Sitters' shows some bite in its bark as it pokes fun at the foibles of canine keepers.



Please don't forget to write! Metro welcomes letters. Like any great work of art, they should be originals -- not copies of letters sent elsewhere. Include address and daytime phone (for verification purposes only). Letters may be edited for length and clarity or to correct factual inaccuracies known to us. Postal: Metro Letters, 550 S. First. St., San Jose, CA 95111. Fax: 408/298-0602. . Emailers, please include name, city of residence and phone number. Letters printed will list email address unless otherwise specified. Letters to the editor are not currently published in the online version of this paper.