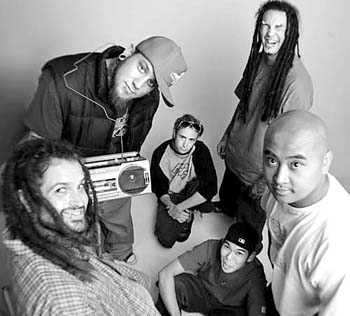 Insolence hits up Japan's Sonicmania 2004

Rising Higher

Insolence played a warm-up for Japan at San Jose's VooDoo Lounge

By Sarah Quelland

THE LAST TIME INSOLENCE played San Jose proper was Nov. 25, 2002, when the band performed at a Rockstars and Bitches show at Kleidon's Lounge under the name I.N.S. That long track record of playing outside the city limits finally ended on Jan. 20, when Insolence headlined a special $2 Tuesday night show at the VooDoo Lounge with SECURITY, Zeromind and Called to Ruin.

The members of Insolence looked thrilled to be playing in San Jose again, and there was an added urgency and an even more explosive charge to their furious rasta-metal-punk-rock performance. "This is where we're from. This is where Insolence came from," a bulked-up Mark Herman, half of Insolence's vocal team, told fans, eliciting cheers from the crowd.

The VooDoo show was Insolence's last live warm-up before it departed for Japan for a week to participate in Sonicmania 2004, a two-day festival held in Tokyo and Osaka. There, Insolence will be part of a lineup that includes the Stray Cats' Brian Setzer and Slim Jim Phantom, Rancid, Thrice, S.T.U.N. and Quarashi.

It's amazing to think that, within only a matter of days, the local band will go from playing to about 200 folks on a stage so small that DJ Jerry "Da Hermit" Dalalo had to set up on the floor, to playing for more than 20,000 people in Japanese arenas. It's interesting, too, that the band is more popular in a country it hasn't visited in two years than it is on its own shores. Insolence's Warner Music Japan release, Stand Strong, is available by import-only to the States but has reportedly moved about 50,000 units overseas. Though the band will only spend a week in Japan this trip, it's already planning to return in a few months for a headlining tour.

On Tuesday, Insolence concentrated on songs off its Maverick Records release, Revolution, and the new Stand Strong, including "Rude Boy," "Put Down Your Gun," "Operation Irie" and the Insolence party song "Fuck Off," which Herman introduced by saying, "This song's about not doing what people think you should do." The band ended its set with Revolution's "Poison Well" before returning for a one-song encore of a hardcore punk song so new it didn't even have a title yet.

After the show, I caught up with Herman, who said, "I had a good time. I felt like I was in my element. It was cool for all those people to come out and represent." He's excited about playing in Japan. "The crowds are huge. The kids go nuts. It's going to be amazing!"

When they get back, Herman says "We're gonna keep playing. The machine's rolling. No break time." The band's going to continue working on writing and recording new material, shopping to American labels and playing live shows. Visit www.insolence1.com for updates.

HOT TOPIC: Barring any last-minute developments, NorCal metal site www.Powerslave.com will sign off this Saturday (Jan. 31) at the stroke of midnight. Bands would be well advised to get any content they want off the site now before it disappears. To honor the years of hard work, and say thanks and farewell, a tribute show takes place on Jan. 31 at iMusicast in Oakland with Dead and Alive, Kuru, G2K, DownFactor, Hostility, Starch and a one-time reunion of Stitch (featuring current members of Mercury Sound). Visit www.imusicast.com. ... A new nightclub called Glow will be opening mid-to-late-February at the old Cabana location in San Jose's SoFA district. More on that soon. ... The Los Gatos Outhouse celebrates the winter season indie style with the two day Winter Whiteout bash featuring the Velvet Teen, Duvall, Santiago and Morning Calling on Friday (Jan. 30) and Ted Leo and the Pharmacists, Fiery Furnaces and Shinobu on Saturday (Jan. 31). Shows are all ages and start at 7pm. Visit www.lgouthouse.com. ... JJ's offers a cure for winter blues this Friday (Jan. 30) with the 2004 Guitar Extravaganza where Rene Solis and the Persuaders, Laura Chavez and John Wedemeyer will perform. Visit www.jjsblues.org. ... In other winter news, Strata joins Trapt, Smile Empty Soul and Finger Eleven on this year's SnoCore outing. The Campbell-based band is mixing its self-recorded album with Jay Baumgardner and has the song "Never There" (formerly "She Stabs") slated for inclusion on The Punisher soundtrack. Meanwhile, before SnoCore, Trapt headlines the Edge on Feb. 21 with Aphasia.
---
Send a letter to the editor about this story to letters@metronews.com.
---
[ Silicon Valley | Metroactive Home | Archives ]