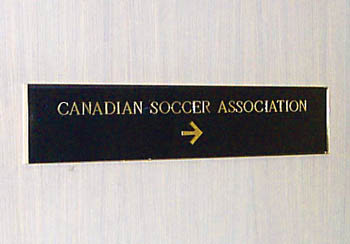 Photograph by Dan Lenarduzzi

Biter

Soccer Moves

Biter heads up to Canada in search of Coach Yallop

By

LATELY, Biter has carried on quite a bit about the San Jose Earthquakes, and one particular yarn is that the coach recently resigned. After turning around the most embarrassing franchise in Major League Soccer to win two championships in the three years he was here, Coach Frank Yallop stepped down last month. At least that's how all the press releases described it.

Stepped up would be a much better term. His native Canada lured him away to coach the Canadian national team instead. As of next month, he'll be based in Vancouver, and the offices of the Canadian Soccer Association will move into the Vancouver Whitecaps office at 780 Beatty St., Suite 250--Yallop's new headquarters. Which probably makes sense, because he played for Canada's national side for years and spent half his childhood in Vancouver.

But Biter wasn't going to take this matter lightly. No siree. San Jose is not going to be discarded like an ex-lover dropped off on the side of the highway. We will not be ignored. It's fatal attraction time and our first vengeful idea was to storm the Vancouver offices with a machine gun, screaming, "CANADA STOLE OUR COACH!" If we can't have him, Canada can't either.

Being the paranoid conspiracy theorists that we are, Biter also has to suggest that this is really Canada's revenge for the United States trying to steal hockey away from Canada. Twenty years from now, Yallop will be commissioner of Major League Soccer, and there will be 24 Canadian teams in MLS and only six American squads--just like hockey, but the other way around.

We just couldn't allow this to happen, so Biter decided that we would indeed fly up to Vancouver and infiltrate Yallop's future command center. Of course, nothing's there yet--just an empty office with a sign on the door (see photo)--but Whitecaps personnel told us that Yallop's arrival is highly anticipated. They look forward to the national team's office moving in next door.

"It provides benefits to our club," said Ben Brown, head of media relations for the Whitecaps. "It'll bring a better profile for Canadian Soccer on the West Coast. Hopefully, we'll be working pretty closely together with those guys."

Biter has to admit we then gave up on the revenge theory, after refreshing our memories about San Jose-Vancouver soccer similarities. Like the San Jose Earthquakes, the Vancouver Whitecaps recently changed their moniker back to their original one from the old NASL days in the '70s. In fact, the first match both teams ever played was against each other on May 5, 1974. Bob Lenarduzzi, now director of soccer operations for the Whitecaps, played in that game. Johnny Moore, general manager of the Quakes until a few weeks ago, was part of that 1974 San Jose team.

The similarities don't stop there. The Whitecaps won the championship in 1979. Local tour guide Tom Ryan told us it was the only thing the city has ever won. Likewise, Yallop led the Quakes to two MLS cups, the only major-league titles that San Jose has ever won. And now Yallop will set up shop in Vancouver. Soccerwise, there will always be a connection between the two cities. So much for paranoid revenge conspiracies.

After four magnificent days in Vancouver, we flew back to San Jose only to learn the Quakes might be bought out by Mexico's City's Club America. Great. First Canada steals the coach and now Mexico might steal the rest of the team. It turned out this was just a rumor, but that didn't stop Biter from considering a flight south of the border and brandishing that machine gun for real.
---
Send a letter to the editor about this story to letters@metronews.com.
---
[ Silicon Valley | Metroactive Home | Archives ]