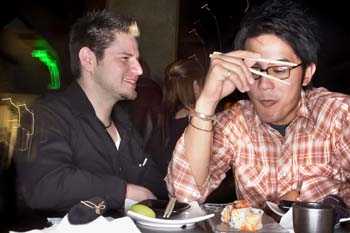 Photograph by Charlie Nucci

Reel Life: The weekend scene at Blowfish, like the sushi itself, is on a roll.

Pucker Up

Blowfish Sushi brings raw fish to the beautiful people

By Aaron Robinson

IN SAN FRANCISCO, when you're fishing for a sushi-lovers' favorite place, the answer is almost always, "Blowfish." Reasons range from the restaurant's house music and crafty cocktails to the chef's purple hair. It's the kind of place that attracts seekers of sushirical style, and Santana Row is the perfect South Bay host for this genre.

When we arrived, it was after 10pm and the entrance was roped off. After 10, the DJ starts spinning, and the scene transforms into a party that rages until 2am. That Santana club vibe prevailed--privileged and hip, yet still casual, walking the red carpet with jeans and a T-shirt.

Blowfish's decorative formula is augmented by an adroit feng shui. A far wall displays subtly illuminated panes of glass, and wall-side tables run booth/chair. Japanese anime is everywhere--projected on the wall, on the televisions, in framed stills, on the menu. This is a lively place, loaded with energy; and on a Friday night, it was happenin'.

Lured by the recipes described on the specialty cocktail list, we sat in the bar and sipped a pair of Sweet Leilanis (sweet nigori sake, mint, peach and cranberry juice, coarsely blended to a slush, $7) while readying our palates with some picturesque nigiri. Salmon draped over tangy-sweet sticky rice ($3.95) looked like a rose-colored quilt separating at the seams, and the hamachi ($4.75) was so delicate that our teeth sunk through it like razor blades on butter.

At the table, where we hydrated ourselves with cucumber garnished water, chewed on buttery edamame and watched food sculptures drift by on the arms of an attractive waitstaff, we waited anxiously for the ritsu roll ($9): albacore and ahi tunas with avocado and tobiko, wrapped in nori, lightly battered, flash-fried and served with a martini glass of citrus ponzu sauce. I was fascinated to find that the tuna had a more delicate, lighter texture than the avocado. It was the favorite dish of the evening.

A pair of oddly shaped pouches made up the Fluffy Crustacean ($13): two lobster and crab meringues, tempura-battered and fried. Since we weren't really in the mood for the salty donut exterior--or the rich crustacean whip concealed within--we eagerly went back to what we loved about Blowfish: the sushi. The waitstaff-recommended ahi tartare salad ($11) arrived ready to stack with wonton crisps and a bowl of baby arugula dressed in a mild black-vinegar dressing; misted with truffle oil, this concoction was not only fun but made me aware of the creativity riddling the Blowfish menu.

The Godzilla roll ($10.50) may not have been as big as the name implies, but it was monstrous in flavor. Sweet shrimp, mango, avocado and caramelized cashews wrapped in rice and sprinkled with roasted coconut and aonori swept through the flavor spectrum.

When it comes to sushi, so much depends upon the rice. You don't want it to overkill, or be gummy or al dente, or be temperature-extreme. The rice at Blowfish is perfect.

The same quality control can be found in the cocktail selection. In all the drinks we could not stop rapidly consuming (the bittersweet Lychee Sidecar, the Kern's Nectar-like Manga Mojito and the insatiably refreshing Peach Nympho--all $7), we did not find one that was dissatisfying. The experience redeemed the phrase "Drink like a fish."

The only complaint I could imagine hearing is that the portions are too small and the prices too high. But it is not a full belly that you are paying for; it is the perfection of cuisine and atmosphere.

I was curious to see how Blowfish could exceed the already extraordinary aesthetics of the forerunning creations with dessert. A Chocolate Quartet ($7.95) of gooey plum-wine chocolate pound cake, dark and white chocolate mousses, chocolate ice cream and a trio of sauces with spun-sugar springs bouncing out of the tops had glamour you only see on TV and flavors you only read about in cookbooks. It was, as the Blowfish slogan promises, to die for.
---
Blowfish Sushi to Die For
Address: 335 Santana Row, Suite 1010, San Jose
Phone: 408.345.3848
Hours: 11:30am-2:30pm, 5pm-10:30pm Mon-Thu, Sun; 11:30am-midnight Fri-Sat; lounge open until 2am
www.blowfishsushi.com
---
---
Send a letter to the editor about this story to letters@metronews.com.
---
[ Silicon Valley | Metroactive Home | Archives ]