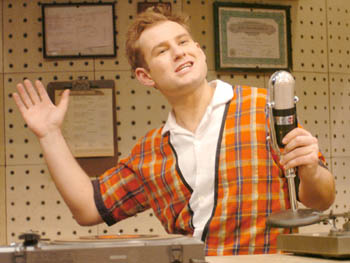 Huey's News: Early DJ Huey Calhoun (Chad Kimball) takes a turn behind the microphone in 'Memphis.'

Boppin' With the Blues

TheatreWorks rocks the house with 'Memphis' musical about birth of rock & roll

By Marianne Messina

THE NEW PRODUCTION at TheatreWorks, Memphis, opens in a church with a African American cast singing vibrant, upbeat gospel music while behind them, high on a catwalk, the bent silhouettes of field workers file by, picking cotton. Next, smooth stage engines exchange walls and roll in tables, a bar and a stage platform, and we're on the west side of Memphis in the late '40s (segregation days), at an all-black club called Delray's. (There must have been some good chemistry between stage manager Rebecca Muench and heavy-hitting scenic designer Bill Stabile, because they have not only managed challenging feats of set movement, they have also woven the movements into the context.)

At this point, in walks white boy Huey Calhoun (Chad Kimball), drawn to the club by his love for the blues. Club owner Delray Jones (J. Bernard Calloway) asks Huey what he's doing on the "dark side of town"--"Take a look around the room," says Jones. "This is Beale Street. We don't see many white people around here." TheatreWorks' home in Mountain View imparts a certain irony to the line. For if you pulled back the proverbial camera and "took a look around the room," you wouldn't see many black people. Which is unfortunate, since Memphis marks the era when black and white cultures first began to mingle in the American mainstream. Telling the story of a white DJ who chicken-choked the establishment by spinning "race music" doesn't make Calhoun into a white shepherd. Instead, it's clear that Huey is not so much a leader as a man following, as he puts it, "the music of my soul."

There are countless good things to say about the show. Susan Mansure, with her seamless timing, stands out as Huey's mom. Mansure pulls off a comedic song peppered with spoken bits and never breaks character or resorts to clichéd gestures. Though Montego Glover (as Calhoun's interracial girlfriend, Felicia) sometimes seems to be stretching her vocal chords threadbare in the belt-out sections, she reigns over the softer, sweeter passages. Her R&B vocal ornaments are so sensual they tickle.

As for the music by famed Bon Jovi keyboardist David Bryan--the words fun and competent come to mind. Pensive junctures in the story often lack the cinch, those grab-you-by-the-tear-duct melodies that make bittersweet out of bitter. And there is room for more intricate harmonic layering in the choral sections. Still, Bryan has total control of the power and party elements. And these are helped along by the crisp, live band, with its fat horns and luscious acoustic piano.

Kimball and Derrick B. Baskin (as Gator) offer some fine singing as well. Both in singing and acting, Kimball is rangy enough to follow Huey's challenging arc. His Huey remains sanguine and likable, even when he hits his lows, partly thanks to playwright Joe DiPietro's sharp comedic lines. Between DiPietro's light-handedness and Gabriel Barre's direction, Memphis casts the world's ills as ever-present shadows (Huey's limp, for example), but the spotlight shines on the music and the unstoppable force of change.
---
Memphis, a TheatreWorks production, runs Thursday-Friday at 8pm, Saturday at 2 (Jan. 31 and Feb. 7) and 8pm, Sunday at 2pm (plus 7pm on Feb. 1), Tuesday (Feb. 3) at 7:30pm and Wednesday at 8pm through Feb. 15 at the Mountain View Center for the Performing Arts, Castro and Mercy streets, Mountain View. Tickets are $20-$48. (650.903.6000).
---
---
Send a letter to the editor about this story to letters@metronews.com.
---
[ Silicon Valley | Metroactive Home | Archives ]