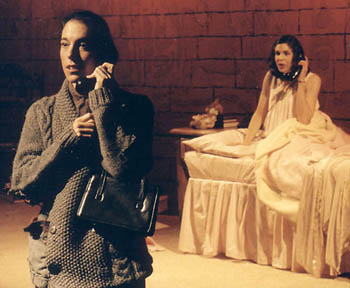 Courtesy of J. Brown/ Eagan Photography

Sister Sounds: Lusia (left, Rachel Martin-Bakker) and Rose (Sonja Starkovich) try to understand the forces that kept them apart in wartime.

The Family Endures

City Lights Theater Company follows a family's attempt to rebuild itself

By Marianne Messina

FOSE WEISS is a New York working girl of the thriving late 1940s, right down to her "Sweet Surrender" bath oil, when, at the insistence of her father, Mordechai, she finds herself hosting a sister she barely remembers: Lusia. Having stayed back in Poland with their mother, Lusia saw World War II firsthand and spent years in a Polish concentration camp. City Lights Theater Company has chosen A Shayna Maidel (Yiddish for "a pretty girl") as its first serious drama in more than two years. And if a recent production is any indication, they chose wisely.

When Lusia (played with warmth by Rachel Martin-Bakker) timidly steps into the world of washing machines and so much food that "you can't eat it all before it spoils," the tension is exquisite. In putting what's left of the family back together, Mordechai (C.D. Feinstein) and Rose (Sonja Starkovich) aren't just opening a home to an estranged sister, they're opening their historical narrative to a painful past.

The production frames this past, Lusia's memories, by setting most of it on the bare floor space in front of the constructed stage platform that serves as Rose's apartment. (The platform itself has a sort of mutant star shape--abstract symbol or accident?--which works well thematically, but the jutting star points caused some awkwardness for actors on the floor.) A Shayna Maidel connects with the audience through icons--photo albums and dolls stand in for stories, stories stand in for emotions--which frees up the actors to simply become their characters. Still, the characters demand incredible focus and inner reserves. The City Lights company handled them with mixed consistency. Starkovich does a wonderful regression in the "Mama" sequence, but is less forthcoming in earlier scenes where the groundwork for that intensity should be laid. Lusia's missing husband Duvid (Mark Gavartin), in a somewhat underwritten role, remains more a symbol of hope than a man. Feinstein gives a powerful delivery when Mordechai compares his list (of deceased family members) to Lusia's more updated list. Mordechai reads and checks off the names of his dead brothers, sisters, nieces and nephews with a cool matter-of-factness that Lusia later compares to "taking inventory of dry goods." In this way, Feinstein gives his Mordechai a psychological armoring that is hauntingly reminiscent of the Nazis, who catalogued teeth and hair with the same clerical indifference. Barbara Lebow's text, rich with sayings (not to mention Yiddish language) that have universal appeal, speaks to anyone who's ever had a family. Rose and Lusia's Mama (Lisa Wiseman) was fond of saying, "If your grandma had a beard she'd be your grandpa." In the context of the play, she is telling Lusia there was nothing she could have done to save her mother. But as a saying it represents a nexus binding the generations. It echoes the parental saws we all remember rolling our eyes at, but over the course of the play we're reminded how those silly saws seem to gain untold wisdom as we mature.
---
A Shayna Maidel, a City Lights production, plays Thursday-Saturday at 8pm and Sunday at 7pm through Feb. 21 at City Lights Theater Company, 529 S. Second St, San Jose. Tickets are $15-$28. (408.295.4200)
---
---
Send a letter to the editor about this story to letters@metronews.com.
---
[ Silicon Valley | Metroactive Home | Archives ]