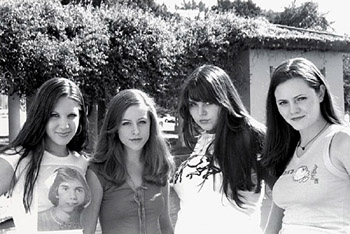 There is no cure for Donnas fever.

Whoa Donnas!

Palo Alto's rock & roll princesses tore it up at the Edge

By Sarah Quelland

LOCAL RADIO STATION CHANNEL 104.9 celebrated turning 2 with a huge birthday bash that absolutely packed the new Edge in Palo Alto. An assortment of Channel 104.9 listeners and local rockers came out in force last Friday (Jan. 24) to catch Ama, Evanescence, Maroon 5 and local heroines the Donnas. Actively promoting their hot new album, Spend the Night (Atlantic Records), the Donnas seem to be everywhere lately, including TRL and Saturday Night Live. When Cinderella came over the Edge's sound system, there was no doubt the girls were in the house.

Years ago, the Donnas' sound could easily be described as the Go-Go's meet the Ramones. But after 1999's Get Skintight, the girls took charge and started writing all of their own material. Both Turn 21 and Spend the Night celebrate their love of '80s glam rock. Live, their enthusiasm for the genre becomes even more obvious. In particular, guitarist Donna R cops from Poison's C.C. DeVille without apology.

As headliners, the Donnas played a generous 18-song set. They concentrated on songs from Spend the Night, mixing it up with highlights from Turn 21 and Get Skintight and pulling "Rock 'n' Roll Machine" from the vaults. Natural favorites included "Do You Wanna Hit It," "Are You Gonna Move It for Me" "Take It Off" and "Who Invited You."

One of the coolest things about the Donnas is that, unlike so many female pop and rock acts, they seem like real girls. They wear normal girl clothes and have normal girl hair. They aren't using their bodies to sell their music. They just take the stage and rock the joint. On Friday, all four Donnas looked to be having a blast in front of their enthusiastic hometown crowd. Their next date with the Bay Area is Feb. 26 at the Fillmore with OK Go and Rooney.

SLUDGE MASTERS: Making enemies since 1998, www.metal-sludge.com has to be one of the most entertaining hard-rock and metal sites on the web. As a matter of fact, Donnas drummer Donna C is the most recent participant in Metal Sludge's 20 Questions feature. Metal Sludge personalities include "Jani Bon Neil," "Bastard Boy Floyd" and "Ozzy Stillbourne," figments of the imagination of the anonymous staff, who, from the safe cloak of their pen names, pull no punches. Now Metal Sludge is going to start reviewing CDs from unsigned bands. Bands brave enough to subject themselves can send two CDs, a promo shot and band bio to Metal Sludge, c/o Reviews, P.O. Box 3024, Gary, IN 46403-3024.

CHECKING IN: At deadline, Larry Trujillo still had no news to report regarding the reopening of Plant 51. ... Meanwhile Johnny V's won't be opening on Jan. 31 as hoped, but Johnny Van Wyk says the delay is simply a matter of paperwork, and he's ready to go. He anticipates the new nightclub should open sometime in early February, with DJs spinning seven nights a week.

BAR WARS: The saga of the old Woolworth building cintinues. The folks who operate Slim's in San Francisco are the latest contenders in the bid to turn the downtown San Jose space into a nightclub. The Knitting Factory is still in the game. More to come.

HOT TOPIC: Powerslave.com and Zero magazine have teamed up to release the NorCal Underground Metal Compilation. This Friday (Jan. 31), Kaos, Greenhouse Effect, Down Factor and Brokeneck play the CD-release party at the Holiday Bowl in Hayward. The $8 admission includes a copy of the album. ... The Gallery hosts the No Idea record-release party this Saturday (Feb. 1) with Emanon, Silent Lambs, Super Group Sps, Masterfaders, Tangent and Blahzay the Akademic and an MC battle with a $100 prize. Doors open at 7pm, and tickets are $7. ... The public is invited to view new men's fashions in designer Ronnie Glenn Bogle's Nigel Who? clothing line at a full-length fashion floor show this Saturday (Feb. 1) at d.p. Fong Art Gallery. The new seasonal collection features hand-woven knitwear in a variety of earth tones. The show is free with limited VIP seating. Call 408.271.9125, ext. 2, or email [email protected] to make reservations, and visit www.nigelwho.com for more information.
---
Send a letter to the editor about this story to letters@metronews.com.
---
[ Silicon Valley | Metroactive Home | Archives ]