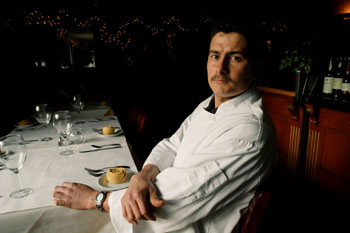 Photograph by Paul Myers

On a Roll: Siena's executive chef José Romero creates meditative Mediterranean fare.

Back Street Joys

Willow Glen's Siena Bistro keeps some tasty entrees hidden behind a modest exterior

By Aaron Robinson

ISN'T IT poetic when the most rewarding culinary treasures are found hidden in an alley? A few weeks ago, my father and I were driving through the back parking lot of Le Boulanger on Lincoln Avenue when we noticed a beautiful outdoor patio with a familiar mural painted on the outer wall. It was Siena Mediterranean Bistro, and stumbling across it was like finding a trapeze in a teapot.

Siena's heated patio is actually larger than its modestly decorated interior, and I'm sure that in the summertime you couldn't find a more comfortable outdoor atmosphere. It being January, however, we sat inside, surrounded by a collection of vintage European liquor-ad posters, the ones that have grown annoyingly popular over the past decade.

Before I could get to the entrees, I began salivating over the appetizer list. The elements of each dish seemed so well composed that I was already beginning to sample them in my head. The service, though efficient, was impersonal. The wine list was small and not to my taste. I was, however, pleased with the crisp melon character and clean finish of the Groth Sauvignon Blanc ($8.25), a white wine not often found offered by the glass.

The Groth made a handsome suitor for the sautéed gulf prawns ($9.95) with a divine ginger-lime-cilantro cream, mashed potatoes and crispy fried shallots--a perfect balance of accommodating flavors. The prawns had no trace of iodine in the aftertaste and, though firm, burst with moist, delicate juices. The shallots added a nice texture contrast, but the mashed potatoes served no point other than to hold up the prawns.

The double-baked three-cheese soufflé ($8.95) arrived with mixed greens and olive bread. It was certainly tasty, but I had expected something more airy. The soufflé made me think of bread that had been saturated in a sharp fondue, rendering the thin sliced olive bread a superfluous addition.

To refresh our palates, we ordered the peppercorn-encrusted ahi cooked rare and sliced thin over red grapefruit sections, red onion, avocado and organic greens ($11.95). The savory orange vinaigrette was the most impressive component--citric, tangy, sweet and not overdone. The acid burned off all oil residues and readied us for the entrees.

Normally, when I dine, I find that the appetizers are far superior to the entrees. In this case, the roles were reversed. The Moroccan Cornish game hen ($23) came saturated in spices of cumin, ginger and cinnamon, sweetened by honey. Couscous cradled the hen, while butternut squash, yellow squash, zucchini and onions smothered the ripe meat, making it the heartiest serving of a half bird I've ever encountered.

Venison can be a hard dish to conquer. In this case, the rosemary venison medallion ($23) had just the flavor we were looking for but was too chewy. The dish's currant-balsamic sauce, chunky mashed potatoes and delicately sautéed baby vegetables comprised an otherwise pleasing quartet. Our server recommended that I pair the venison with the 1999 Mazzocco Cabernet Sauvignon ($8), a tightly wound tannic vintage that only began to open up after it was already too late in the meal.

The entrees were so good, in fact, that we ventured further, into the realm of starches. Siena's risotto ($14)--tender chunks of butternut squash, pumpkin and fresh sage stirred through creamy Arborio rice and goat cheese--made for a splendid vegetarian selection.

The dessert menu arrived concise with promise. A homemade brioche bread pudding ($6) over rich caramel sauce topped with buttery, brandy-kissed sautéed apples belongs in the "simply amazing" category of the bread pudding hall of fame. Runner-up was the Chocolate Sandwich ($6), dense vanilla-bean gelato snug between two molds of flourless chocolate cake with crème anglaise, raspberry sauce and mango syrup.

Siena's exciting menu enticed us to overindulge. I am happy to admit that I will be dining on the leftovers for the rest of the week.
---
Siena Mediterranean Bistro
Address: 1359 Lincoln Ave., San Jose
Phone: 408.271.0837
Hours : Lunch 11am-2:30pm Mon-Fri; dinner 5-9pm Tue-Thu, 5-10pm Fri-Sat
Beer and wine only
---
---
Send a letter to the editor about this story to letters@metronews.com.
---
[ Silicon Valley | Metroactive Home | Archives ]