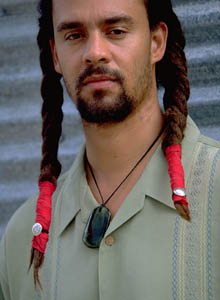 Frantic Situation: Michael Franti speaks from the heart, which is the most gangsta thing to do in these times.

Louder Than a Bomb

To Michael Franti, it's easier to follow your heart than chase dollars

By Todd Inoue

IN 1992, Michael Franti and his band, the Disposable Heroes of Hiphoprisy, threw down a boom shot against the Gulf War. On "Winter of the Long Hot Summer," Franti describes politicians marching off to the Middle East over a simmering Wally Badarou sample: "Meanwhile, a budget was placed in our hands / as the deadline in the sand came to an end / So much for the peace dividend / One billion a day is what we spend, / and our grandchildren will pay for it 'til the end." Eleven years later, the song feels eerily prophetic, right down to the references to recession, a gelded Congress and a Bush man behind the joystick.

Today, Franti has become something of a supercrusader. The Bay Area-based leader of Spearhead inhaled tear gas on the front lines of anti-WTO rallies and lent his time and talent to support Mumia Abu-Jamal, anti-death penalty legislation and marijuana decriminalization. As the United States edges closer to invading Iraq, Franti now gears up for another round of antiwar rallies. On Jan. 31, he and his band will take the stage alongside Ani DiFranco, Ozomatli, Chuck D. and Saul Williams for the Not in Our Name concert.

After more than a decade spent on the front lines, Franti acknowledges that protest organizing has changed dramatically since the Gulf War, what with email lists, websites and 24-hour copy places ready to spit out banners and signs with provocative messages.

"In the Gulf War, things were pretty spontaneous," Franti says. "Right after the first air attack, people just went out into the streets and started marching; I remember going out to the Golden Gate Bridge. There was less opposition to the war leading up to the bombing. Now, people have a deeper sense of what it means to bomb Iraq again. People are really upset about it. The movement is growing, and more people want to get involved."

Getting involved is Franti's forte. As lead singer of Spearhead, Franti has rapped and sung about AIDS awareness ("Positive") and homelessness ("Hole in the Bucket"). After the band's second album, Chocolate Supa Highway, failed to achieve the Fugees-like standards Sony had set for it, the label dropped the group. Spearhead put "blowing up" on the back burner and kept true to its consciousness-raising mission. Its 2001 album on Six Degrees, Stay Human, was centered on the death penalty. The band is finishing up a new album called Everyone Deserves Music, which will be out in May on Artistdirect.

"Our band is more successful than ever, both musically and economically," Franti says. "We've been realistic about our scale of economics ... I would love to make as much as a public school teacher. If I was hitting gold [-record status], I'd be making as much as a cop. I do this because I love it, and the experience I have through music, traveling, performing and writing is so enriching."

The upcoming show will benefit the Central Committee for Conscientious Objectors, as well as NION. The lineup is loaded with a new generation of folk heroes. DiFranco fills the Bob Dylan role, playing politically charged tunes on acoustic guitar. L.A. funk salsa band Ozomatli grew out of protest-music roots, playing benefits for the L.A. Peace and Justice Center.

Public Enemy's Chuck D. has long been the voice of reason in hip-hop. Saul Williams, who got a lot of hype from the movie Slam and his solo album, Amethyst Rock Star, will perform a spoken-word set. Franti and Spearhead will rock the party and the minds, as they always have, as they always will.

"Mumia Abu-Jamal said that the role of an artist today is to 'enrage, enlighten and inspire,'" Franti says. "I would add to that 'enrage, enlighten and inspire others to become more compassionate.'"
---
The Not in Our Name concert begins at 7:30pm on Friday (Jan. 31) at the Berkeley Community Theater. Tickets are $30-$80. For more info check the website www.nionbayarea.net or call 510.594.4076.
---
---
Send a letter to the editor about this story to letters@metronews.com.
---
[ Silicon Valley | Metroactive Home | Archives ]