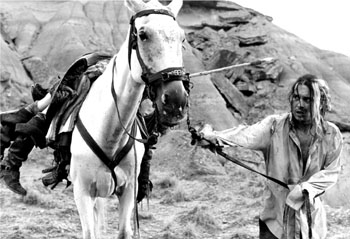 Steed Role: Johnny Depp leads a horse to water in the documentary 'Lost in La Mancha.'

Munched

A documentary traces the Terry Gilliam's quixotic attempt to film Cervantes

By Richard von Busack

WHO KILLED The Man Who Killed Don Quixote? That's the question asked in Lost in La Mancha, a documentary by Keith Fulton and Louis Pepe. Terry Gilliam's aborted attempt in 2000 to film Cervantes' novel was blighted, the film suggests, by the "Quixote Curse." Still, neither hubris nor supernatural intervention blighted Gilliam's plans. He fell victim to the usual on-the-set troubles, which, in this case, his completion insurance wouldn't cover--a "force majeure" (an act of God).

There are fragments that remain of Orson Welles' own unlucky previous stab to film Don Quixote in the 1950s and '60s, with Akim Tamiroff as Sancho Panza. These shards were glued together into a "reconstruction" by Welles' assistant director, Jess Franco, on the occasion of the 1992 World's Fair in Seville; this wreckage was shipped to San Jose for a maladroit night a few years ago at Cinequest. One image that stands out is a scene of Welles (playing himself as a filmmaker filming Don Quixote) atop a hotel near a neon sign advertising Don Quixote brandy; the hint of a pre-Godardian approach is the most interesting thing onscreen.

Similarly, Gilliam tries a framing device in The Man Who Killed Don Quixote, casting Johnny Depp as a modern adman traveling back in time to meet the real-life Don, who mistakes him for Sancho Panza. The documentary shows us very little of what Gilliam had in mind. There are some props on view, and in one scene we see an actor trying on Quixote's shambling armor in a costume department. The best scenes feature some shirtless Goya-like giants Gilliam recruited from some of the local peasants. And Jean Rochefort, the French actor, who's mostly a comedian, looks Quixotic enough in the one scene we see where he's rescuing some prisoners from a medieval chain gang.

But The Man Who Killed Don Quixote is a European production with money from all over the continent, shot in English. Rochefort had learned English for the part, and in his one scene the dialogue sounds phonetic. Even giving Gilliam the benefit of the doubt, it's hard to imagine that Rochefort would have started to sound more natural by the end of filming.

Gilliam cooperated with Fulton and Pepe before on a "Making of" documentary for Gilliam's Twelve Monkeys, so the film has a bland tone to it--the squabbles aren't especially cinematic. The film sells the idea of Gilliam as a dreamer trying to behave himself after the debacle of The Adventures of Baron Munchausen, which, money loser that it was, happened to be the director's last really remarkable movie. Gilliam shows no interested in story mechanics; he favors strange, enchanting images--Tim Burton might as well be Gilliam's son. In Don Quixote, an old man's stubborn insistence on fancy over fact, may be too much like Munchausen for Gilliam's own good. I'd argue that The Man who killed Don Quixote never made it to the screen, not because of the rain in Spain or Rochefort's back problems, but because, perhaps, at heart, it's an unfilmable novel: a rambling medieval tale with mean slapstick in it, which has been reimagined as a Romantic-era fable for too long and needs to be approached from some yet undiscovered angle.
---
Lost in La Mancha (R; 89 min.), a documentary by Keith Fulton and Louis Pepe, opens Friday at the Towne Theater in San Jose.
---
---
Send a letter to the editor about this story to letters@metronews.com.
---
[ Silicon Valley | Metroactive Home | Archives ]