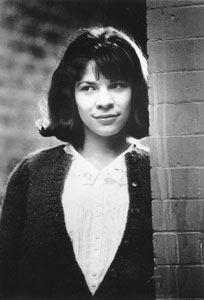 In the Beginning Lili Taylor first captured the full attention of moviegoers in Nancy Savoca's 'Dogfight.'





Taylor Made

Cinequest picks Lili Taylor as Maverick Spirit Award winner

By Michael S. Gant

GUEST TURNS have never been that important to the success of 'The X-Files, so the 1998 episode titled "The Mind's Eye" offered a real surprise: indie queen Lili Taylor in a starring role. Playing a blind woman suffering from a kind of second sight that forces her to witness the murderous visions of a jailed killer, Taylor brought to the character Marty Glenn an uncomfortably fierce emotional aggressiveness of a kind not often seen on series TV. Defiant, pissed-off and terrified all at the same time, Taylor's Marty repels and pushes away everyone who tries to help her--Mulder, Scully, even an audience that wants to sympathize with her plight--only to force a painful resolution on her own terms.

Film lovers, on the other hand, already knew how far Taylor was willing to stretch to make a role her own, so it's fitting that Cinequest has chosen Taylor as a Maverick Spirit Award winner at this year's festival. On March 3 at 2pm, at the AMC Saratoga 14, Cinequest will screen Dogfight and host a Q&A session with Taylor. Mystic Pizza (1988) gave audiences their first real look at Taylor (along with Julia Roberts), but it was Nancy Savoca's Dogfight (1991) that announced Taylor as a screen presence. In 1963, on the eve of their assignment to Vietnam, four Marines play a cruel game to see who can bring the ugliest date to a dance. Birdlace (River Phoenix) settles on Rose (Taylor), a homely, poetic girl who turns at first furious, then surprisingly tender when she learns of Birdlace's deceit and sees through to the frightened youth behind the swagger. In the same way, prolonged exposure to Taylor's unconventional looks makes the viewer realize that here is a beauty born of concentrated attention and a grounded stillness.

Since Dogfight, Taylor (as industrious a devotee of offbeat parts in offbeat films as Parker Posey) has turned up again for Savoca (in Household Saints); submerged herself in a large cast twice for the master of the ensemble, Robert Altman (Short Cuts and Prêt-à-Porter); played Edna Ferber in Mrs. Parker and the Vicious Circle; taken one in the neck for Abel Ferrara's metaphysical vampire movie The Addiction; surfaced in the mainstream in The Haunting; and delivered a memorable turn as one of John Cusack's girlfriends in Stephen Frears' High Fidelity. In 1996, Taylor scored a stunning trifecta at the Sundance Film Festival, earning a Grand Jury Prize for Acting for I Shot Andy Warhol, popping up in the Icelandic-Japanese comedy Cold Fever and blowing away the critics with the teen rage of Girls Town, which won a Filmmakers Trophy and a Special Jury Prize for collaborative achievement. Girls Town, Taylor told Metro's interviewer, was "shot in 12 days, for, like, no money." She went on to articulate what might be called a maverick's creed: "It's been very important for me to follow my gut or my heart. ... I've had moments of doubt, when I've questioned whether my way is the right way, whether I'll end up alone with my morals in the corner. But this year, I'm realizing that the hard work has really paid off. ... I've started to realize that you can do it your way. There are no rules."
---
Cinequest 12 runs Feb. 21-March 3 at the Camera Cinemas and the San José Repertory Theatre in San Jose and the Aquarius in Palo Alto. Lili Taylor will appear March 3 at 2pm at the AMC Saratoga for a screening of 'Dogfight,' followed by a moderated Q&A session. Tickets are $15; 408.295.FEST or www.cinequest.org. (Full disclosure: Metro is a major sponsor of Cinequest.)
---
[ Silicon Valley | Metroactive Home | Archives ]