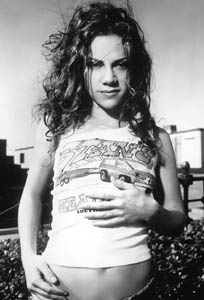 No More Drama: Life has been good to Nikka Costa.





Costa Del Sol

Platinum at age 10, Nikka Costa is just getting started

By Yoshi Kato

HER LIFE STORY has the core elements of a compelling telepic or docudrama. The daughter of producer, arranger and songwriter Don Costa (Dinah Washington, Tony Bennett) and goddaughter of Frank Sinatra, Nikka Costa made her recording debut at age 5 on a Don Ho Christmas album that her father produced.

"I was around during the Frank Sinatra era, when Vegas was really hot, and there was a lot of jazz around," Costa says of the myriad musics with which she grew up. "But my dad was friends with a lot of different types of cats and musical people. I remember that Sly Stone was in our living room, and my dad was really good mates with Quincy Jones. Plus my mom loved country, so there was all kinds of shit going on."

Two years later, she joined her father's orchestra for an encore performance of "On My Own" at a concert in Milan and was on her way to recording her first album. Released overseas the following year, it went platinum in Europe, Israel and Central and South America.

Her father died when she was 10, while she was promoting her sophomore album. She retired from music for four years before recording her third album. Moving to Australia after graduating from high school, she gigged steadily and made her fourth album, Butterfly Rocket, which boasted more rock & roll than the pop sounds of her earlier recordings. Word of her talents made its way back stateside, and she was signed to D'Angelo's Cheeba Sound label.

Returning to the United States in 1997, Costa spent two years on her domestic debut, Everybody Got Their Something (Cheeba Sound/Virgin), which was released last spring. With co-production from her husband, Justin Stanley, and New York DJ Mark Ronson, the album extends the musical traditions of San Francisco in the '60s, Los Angeles in the '70s and New York in the '80s while adding a distinctly modern voice to the mix.

With myriad sounds such as scratchy guitars, gentle piano and steamy basslines, the album features contributions from the likes of keyboard deity Billy Preston, bassist Pino Palladino and drummer Ahmir "?uestlove" Thompson of the Roots and the Philadelphia Experiment.

Costa co-wrote or wrote all the songs on the album, did all the vocal arrangements and singing, and played Wurlitzer, acoustic guitar, Fender Rhodes, celeste and piano. "Well, I knew how long I was going to have to sing those songs for. And since it's not my first record, I've been at it for a while," she says. "So I definitely have a large hand in what was going down."

In a live setting, her personality pours out onto the stage and into the crowd. There's a communal feeling among the band members and between the musicians and the audience. Whether clapping in unison to the head-bobbing "Like a Feather," rocking out to the empowered sentiments of "Hope It Felt Good" or slinking to the funky "Some Kind of Beautiful," Costa and her musical mates encourage a celebration that leaves no one--on or off the bandstand--behind.

"It's important, because I wanted to put on a show. I didn't want to play the songs and not communicate," Costa says of interacting with her band and not just being backed by it. "And I also don't want to be this 'solo artist.' I mean, I am a solo artist, but I don't like that vibe of it's all about me, like 'You guys just stay in the back and wear black.'"

Costa hit the Bay Area twice last year, playing Bimbo's in April and again in November, with the latter show one of many sold-out dates on her last tour.

"It's about spreading my philosophy--without sounding really retarded and clichéd--that everybody has 'their something,' " she says "And if I had to explain it, my 'something' is that we all love different kinds of music, and there shouldn't be any reason why we shouldn't all have a great time with a bunch of different people in the same room, listening to a bunch of different stuff.

"So that's the whole point. That'll probably be the point for the rest of my life," she states, with a characteristic chuckle.

Forget all the typical trademarks of Nikka Costa--her big voice, catchy songs, flowing red hair, even her famed backside cleavage. What really captures the singer's spirit is her laugh. Ranging from a giggle to a guffaw, it punctuates her speech and brings to conversations the same sense of joy, adventure and savoir-faire that is reflected in her diverse and highly personal sound. Her laugh, just like her music, is infectious.
---
Nikka Costa and Kofy Brown perform Thursday (Jan. 31) at the Usual, 400 S. First St., San Jose. Admission is $12. (408.298.9375 or Ticketweb)
---
[ Silicon Valley | Metroactive Home | Archives ]