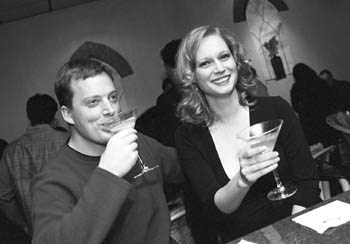 Photograph by Erika Pino

Here's to the Spicy Life: Diners Roderick Hogan and Sabine Sklar enjoy a pre-curry cocktail.

Rising in the East

Turmerik blends innovative presentation and a distinguished culinary background for a colorful dining experience

By Christina Waters

TURMERIC IS THE prevailing spice of Indian cookery--the magical powder that lends the deep yellow tinge to many curries and sauces in the vibrant cuisine of the subcontinent. It is also, not coincidentally, an apt name for Sunnyvale's newest spicy dining spot, Turmerik, where a well-designed upstairs dining room is an appropriately yellow hue.

Turmerik is long on atmosphere. A beautiful peach-toned cocktail lounge, punctuated by rattan and silk furniture, offers fine libations plus jazz in the evenings. And then there is the dining room, where wall tapestries glitter with tiny mirrors that reflect the room's thick white table linens and fresh flowers.

The menu's attention to authentic tandoori classics and complex curries represents the culinary partnership of chef Arvind Bhargava of Washington, D.C.'s Bombay Club and tandoori chef Hemant Mathur from New York's Tamarind Restaurant. Add the eclectic and serious wine list created by Rajat Parr, and you have a recipe for attracting a discerning clientele.

On our visit last week, the food took our taste buds on a ride through the heady spice realms of fenugreek, garlic, cloves, cardamom, pepper, tamarind, cumin and masala. But the service still needs work in this 6-week-old establishment. Friendly faces came round regularly, sometimes bearing food, sometimes not. An order of tea never arrived, and few of our questions about preparation were answered to our satisfaction.

On the other hand, an amuse bouche was brought that charmed us completely. Along with glasses of exceptional Qupé Syrah 1999 ($11), we enjoyed the feather-light potato fritter laced with cashews served with pungent tamarind chutney.

Attractive presentation is the rule here, with silver dishes and artistically arranged sauces adding visual appeal. An appetizer of tandoori scallops ($12) was tiny and highly salted, served in a tulip of crisp potato slices. Less salt on the moist, succulent scallops might have allowed their delicacy to shine through.

Unfortunately, we were not invited to order nan, nor did we think of the soft flat bread until the end of our very lengthy meal. From the tandoori menu, I chose a pricey entree of jumbo prawns ($27), and we negotiated for a mixed curry entree, one item from the vegetarian list ($16) and another from the nonvegetarian listing ($22). The mixed result--a delicious mustard-scented cauliflower curry with potatoes and green peas joined by a combination of lobster, shrimp, fish and single scallop in a complex green curry sauce--was priced at $22, the cost of two nonvegetarian curries. This pricing strategy should have been clarified when we ordered.

The curries arrived on a hammered silver tray filled with tiny bowls of condiments. The curries themselves were in equally tiny bowls with rice piled in the center of the tray, rather than in its own bowl for easy maneuvering. The cool yogurt-cucumber dip raita was joined by an exceptional lentil dal, lovely basmati rice and the two fine curries.

The effect of the succulent lobster in its drenching of fiery green curry was wonderful, even if the chutneys--peach, cilantro and tamarind--were produced only after we were halfway through our dinners. My trio of tandoori prawns--each the size of Bombay--was fragrant with that distinctive smoky flavor of tandoori cooking. On the side was a tender salad of baby greens innovatively presented in a hollow lobster shell. The greens against the crustacean crimson made yet another attractive statement.

When the delicious nan made it to the table, we dredged it through the various chutneys and curries--one of the joys of Indian dining. The potent spices, which inevitably wear out even the most Olympic palate, remain wonderfully operatic during those first few bites. Played against the soft warm bread and the cool yogurt, the curry spices weave an exotic spell. Many of the flavors--especially those of the masterful curries--made our dinner at Turmerik memorable.

Desserts ($6), however, never rose to the occasion. A milk pudding with golden raisins called phirni was insipidly sweet and the mango "sorbet" proved to be mildly flavored mango ice cream. Otherwise, for inviting décor, drinks and curries, Turmerik makes a promising impression.
---
Turmerik
Address: 141 S. Murphy Ave., Sunnyvale
Phone: 408.617.9100
Hours: Mon-Sat 11:30am-2:30pm, 5:30pm-10pm
Cuisine: Indian--tandoori and curry specialties
Extras: Full bar, live jazz
---
[ Silicon Valley | Metroactive Home | Archives ]