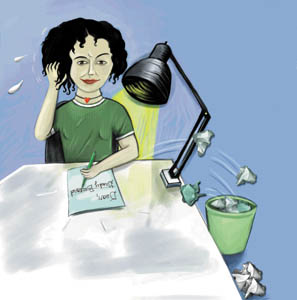 Suicidal Tenancies: Renegotiating the rent--if it's still at peak-level prices--is often just a matter of asking. Many landlords would rather not have to find new tenants.

Revenge of the Renters

Turning the tables on the landlord takes courage, but a renter's gotta do what a renter's gotta do

By Allie Gottlieb

MY APARTMENT IS not a consumer item. Sure, I exchange cash for it, and it sops up half my salary. But my apartment is much more--it's an integral part of my ability to exist. It's a necessity. It's warmth, a bed, TV, cats and a coffee maker.

However, last week, while reading about rental housing markets, something occurred to me: My apartment is a product. What's more, I'm paying too much for it. I know this because of growing vacancy rates, unemployment statistics, deflating median and average rent rates, not to mention a chorus of move-in bonuses showing up in the classified ads.

Six months ago, I had to apply with bulging bank statements and perfumed credit reports to weasel my way into a drafty (but cute) 500-square-foot, one-bedroom apartment on a charming side street in an urban downtown. Now the apartment ads are wooing me with lower rates and promises of $500 off a month's rent. The tables have turned. Glee.

So, on Jan. 20, I decide to take the big step and write a letter to my apartment's property management company asking that they consider lowering my rent from $1,395 to $1,250. There's no legal reason they have to oblige--I'm locked into another six months at my current rate, which gives the renters' market a chance to reverse itself and my apartment's management company time to ignore my request. But the possibility of saving $145 a month is worth a shot.

Before I write my businessy letter to the management company, I check the Craigslist and MetroRent websites for some proof that better deals exist. The search is fruitful. I find a dozen cheaper one-bedrooms up nearby streets. (Two listings must be ignored, though, because they forbid cats.)

These findings give me a boost, and I include them in my letter. I throw in the fact that I like my apartment but I also like my money, pointing out that the discount would cost the company less in one year than if my apartment sat vacant for just 39 days. Meanwhile, I try to bear in mind, without being too self-righteous, what Jamie Matthews, a San Jose housing-code enforcement administrator, told me: "Landlords are business people. It seems like it would be foolish business not to try to keep a good tenant."

Getting Lucky

I'll confess I didn't think of this renegotiating-the-rent thing myself. I took a cue from Palo Alto renter Eric Moyer, who works at a Santa Clara telecommunications company. In October, Moyer decided his rent had outgrown its worth.

"I just happened to notice that the same apartment [building] I'm in had a posting on the Internet for a cheaper apartment," Moyer told me. So, after checking out the vacant apartment, which he said was similar to his current place, he asked his landlord for a $150 cut in rent. "He hemmed and hawed and said, 'Let me think about it,'" Moyer recalls.

In the end, facing the prospect of finding a new trustworthy tenant, the landlord gave Moyer the discount. Moyer, who wouldn't disclose his rent or address but said his building is generally a little costlier than others in the area, was satisfied with the deal. "I didn't have to move," he says. "So, I save a little bit of money, and he still gets a little bit more money than he would if I had moved."

Moyer isn't alone in his successful deal-cutting, according to Ami St. Laurent, manager of the Cherry Creek Apartments in west San Jose. St. Laurent estimates that 20 tenants in her 130-unit complex have renegotiated their rents in the last eight months, something building owners wouldn't have dreamed of a year ago.

"The market value was too high at that time, and there were no vacancies at all," she explains. Now, nine Cherry Creek Apartments are vacant, the rents have dropped from $1,750 to $1,295 for a two-bedroom and from $1,300 to $995 for a one-bedroom, and new tenants get $500 off their first month's rent.

The Cherry Creek Apartments' ad in the San Jose Mercury News boasts that the building has the "best value in west San Jose." But according to St. Laurent, even with her building's substantial drop in rents, that claim is not necessarily true. "That was just a little line that the owners wanted to throw in there to compete with other apartments."

First Generation: Renegotiating the rent comes more naturally to business.

Landlords Lose Ground
Ramo Pinjic, community activity worker at San Jose's Rental Dispute Program, who fields calls from angry or confused landlords and tenants, has a front-row seat at the slow-economy rental-housing show. When landlords were living large, the majority of calls to the dispute line were about evictions and rent increases, Pinjic says. "Now, people are moving out," he explains. "Probably, they found a cheaper price. If I receive a tenant call, usually they ask how to get a deposit back."
San Jose's rental market has undergone a metamorphosis. According to December 2001 data from RealFacts, a Novato-based multifamily-housing research company, San Jose's average rent fell to $1,424 by the end of last year from an early-2001 high of $1,807. Around the same time, the city's vacancy rate swelled from a mid-2000 low of .7 percent to 2.3 percent at the start of 2001 to a substantial 7.5 percent by year's end.
"Once again the hardest-hit market area was the Silicon Valley, where average rents, for all unit types, declined by 10.6 percent during the fourth quarter," RealFacts CEO Caroline Latham reported on the company's website.
According to the latest information from the Association of Bay Area Governments, which represents the 101 cities and nine counties in the Bay Area, Santa Clara County's average rent for all apartment types fell from an early-2001 high of $1,950 to $1,690 by September. In Oakland, average rents dropped by 6 percent between September and December 2001, and occupancy fell by 1.2 percent, RealFacts data shows.
Sonoma and Santa Cruz counties didn't see cheaper rents. Sonoma's rose negligibly, while Santa Cruz's average rents jumped by 6.8 percent. Occupancy in both counties fell, however, by 2.8 percent in Sonoma and by .7 percent in Santa Cruz.
But in tech-trampled cities like San Jose, the result of these market shifts is clear: Month-to-month tenants like Moyer--formerly some of the least powerful players in the landlord-tenant game because they didn't even have the security of a written contract--now have the greatest leveraging tool of all: They can move.
One rental locator agency is leaping on this turn of events. "When you moved last year, it was a landlord's market. Now things are different," a Jan. 21 letter from MetroRent to its database of customers points out.
MetroRent, which has offices in San Francisco, Berkeley and San Jose, reports that San Francisco rents are down almost 20 percent and vacancies are triple what they were a year ago. For a $50 fee, the agency will provide "negotiating leverage" to tenants in the form of renter-friendly data. "If you're a good tenant, your landlord would probably rather lower your rent than have you move out," MetroRent's letter declares.
"Right now, it's a renters' market," acknowledges Kathy Thibodeaux, CEO of the Tri-County Apartment Association, a powerful 3,000-member nonprofit group that mainly represents rental property owners and managers in Santa Clara, San Mateo and Santa Cruz counties. "Owners haven't had to deal with that in a long time, so there's probably some relearning that has to go on."
Thibodeaux is busy trying to help apartment owners and managers handle losing the upper hand. "My message to owners," she says, "is be aware of the current market. Don't let it catch up to you. Don't let your tenants move out before you realize what's going on."
Thibodeaux is crafting an article for her association's February publication with tips for her constituents on "accepting that the market has changed" and "how to market your properties." In addition, TCAA has scheduled a seminar on "leasing in a renters' market" on Feb. 6 in San Jose. This topic will also be discussed at the association's upcoming Spirit of America conference at the Santa Clara Convention Center in April, Thibodeaux said.
Still High-Rent
Housing advocates say all this may be true, but in a place that still has some of the highest rents in the nation, things are no better at the low end of the economic spectrum. "Housing here is so bad, it's so limited," says Janice Carolina, a paralegal at Legal Aid Society's Housing Project, "negotiating down is not happening."
Ted Gullicksen, office manager for the San Francisco Tenants Union, agrees. "Generally it's more hype than reality," he says. "Tenants have had little success renegotiating rents."
In fact, Gullicksen says, landlords get creative in order to avoid lowering rents. He points out that studies cited in the 1988 book Rethinking Rental Housing show that landlords would rather keep an apartment vacant than lower the rent.
"What we do tend to see," he says, "is some landlords trying to come up with schemes." He gives the example of the rental rebate, a discount method attorneys advise owners not to try, because legally, the rent equals what's actually charged. For example, a landlord could try to unofficially lower a rent of $1,000 by charging the full amount and then writing the lessee a check for $100, thereby lowering the rent to $900. But, legally, the rent would be considered $900, and any raises to it would operate under rent control ordinances pertaining to that amount.
Ultimately, despite a year and a half's worth of striking peaks and valleys in the cost of renting, the boom-and-bust cycle affects individuals differently.
"It's important to remember that the rents are lower than a year ago," says Gullicksen, "but still higher than a year and a half ago. So it depends on when someone moved in. Someone who moved in the peak of the housing crisis could find something cheaper. But somebody who moved in the middle of the housing crisis, before it peaked, would still find high rents."
Gullicksen, as a representative of the solidly pro-renter Tenants Union, is ultimately skeptical that tenants have gained much power. But we do have one thing going for us. "Generally the only leverage that tenants have is that they will leave," he concludes. "If a landlord feels that they ... will get substantially less" to rerent the apartment instead of lowering the rent, "then they might have a motive to do it."
Bearing this wisdom in mind, I tried to assume a respectful but forceful tone in my letter announcing my "intention to move out" when the lease is up in July, "unless we can renegotiate a rent that more closely reflects market rate," signing it "respectfully yours."
The company that manages my apartment has not responded yet to my letter. I don't expect them to jump right on it. But with at least nine apartments for rent advertised in my neighborhood with cheaper rents as of Sunday, Jan. 20, I'm confident that I can move if they don't.
[ Silicon Valley | Metroactive Home | Archives ]